Prophet Who Says He Visited Heaven After Heart Attack Charged With Running Prostitution Ring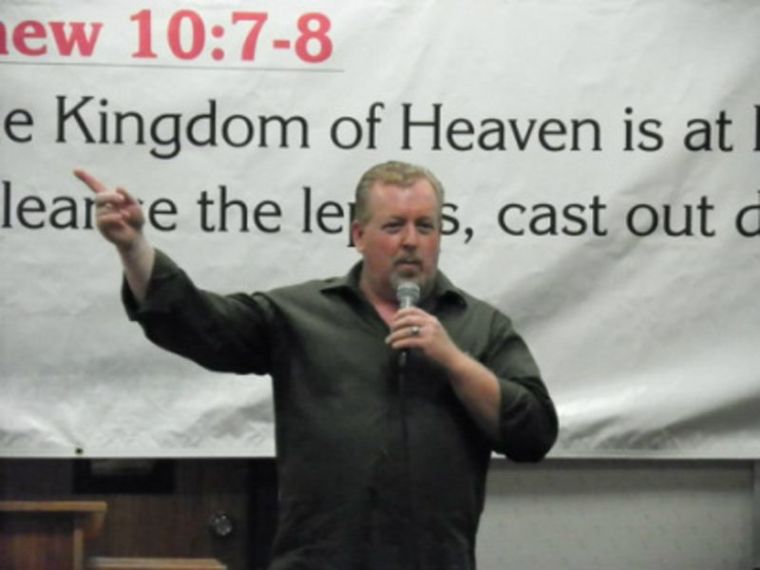 A 55-year-old self-styled prophet from Broken Arrow, Oklahoma, who said he went to heaven one Christmas after a heart attack, was charged Wednesday for using the telephone number of his ministry to run a house of prostitution which he fronted as a massage parlor.
Prosecutors in Tulsa County allege the Rev. Walter Eugene Brazington Jr., of the All Nations Ministry Evangelistic Team attempted to "encourage, induce or persuade women to become inmates of a house of prostitution," according to documents cited by the Tulsa World. He was also charged with possession of a firearm while in the commission of a felony.
Tiffany Ann Roach, 40, an HIV positive woman who investigators caught negotiating with a client at the prophet's business, was also arrested.
Brazington explained on his ministry's website that he was directed by the Lord to preach the Gospel during his heavenly visit in 2008.
"While in heaven on December 25th, 2008, after having a massive heart attack, the Lord directed me to preach on the second coming of Christ. The Lord said that He wants the church to repent of its lukewarm state, repent of sin, repent of dead works, and to re-enter the harvest (2nd Chronicles 7:14 KJV). Although more than anything else, Jesus loves his church. He is not angry with us. He eagerly awaits our homecoming. Heaven's beauty is beyond belief. I love to share what I saw in heaven, the love of Christ, and what he told me about the last days," he stated.
He also promised to preach "repentance from sin" at any church that welcomes his ministry team.
"Pastors, when ANET is brought into your church as an outside ministry, we will preach (in love and in a gentle manner) holiness and repentance from sin. We will preach the good news and lay hands on the sick. We will also teach the body of Christ how to enter the harvest field and succeed at winning hearts to Christ. We will help your church find a hunger for the harvest — a hunger they never knew existed," he said.
Investigators say that they had Brazington's business under surveillance for more than a month and a half before they raided it on Nov. 20.
The prophet reportedly interviewed an undercover person for a job, according to an affidavit, and had the operative expose body parts to prove they were not with law enforcement.
"He tells the (undercover operative) he/she is completely safe here, that he's not a 'pimp' and treats the girls like staff," an investigator wrote.
Brazington reportedly also told the undercover operative that he also served at one time as a bodyguard for presidents, heads of state and celebrities and used to be a police officer.
On his website, he also warns that those who do not "live right" will not be allowed in heaven.
"Make no mistake, if you do not live right, you will not enter heaven! Again, let me emphasize, you must be born again, you must be water baptized, and you must go through the Cross to get to the Father. If you are living in sin, certain judgment awaits. Turn to Jesus, repent and walk away from sin for good," he said.
"Within the next few years, we will hear a bang, then a flash, and then the Church of Jesus will be in heaven. Those left behind who believe in Jesus face certain persecution from the antichrist. They will be hunted down and have your head chopped off. Make sure you are taken by Christ in the Rapture. Repent of your sin, share the Gospel with the lost and live holy."