Randy Weber Obama-Hitler Comparison Slammed, Texas Rep. Apologizes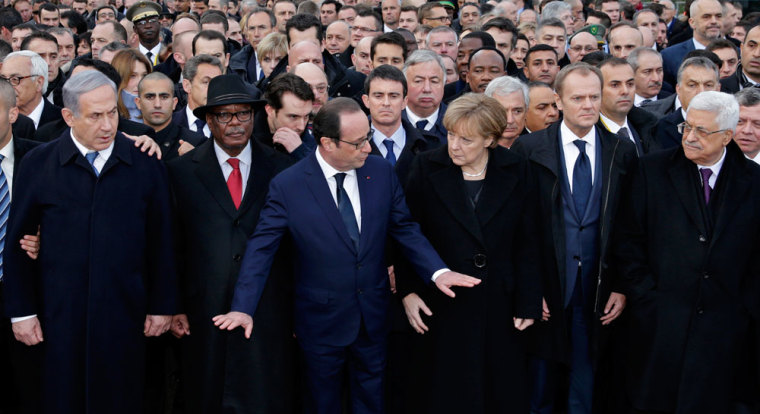 Rep. Randy Weber, R-Texas, apologized for comparing President Barack Obama to Adolf Hitler in a tweet on Tuesday.
"The mention of Hitler was meant to represent the face of evil that still exists in the world today," Weber said in a statement released Tuesday afternoon. "I now realize that the use of Hitler invokes pain and emotional trauma for those affected by the atrocities of the Holocaust and victims of anti-Semitism and hate."
His apology came after a great deal of outrage from the public regarding his tweet criticizing Obama for not attending a mass march in Paris. The march was a gathering of leaders paying tribute to the victims lost in the Charlie Hebdo attack and others lost in a separate attack. Many in the United States slammed the president for not attending the event or sending someone in a high position to attend in his place.
"Even Adolph Hitler thought it more important than Obama to get to Paris (for all the wrong reasons.) Obama couldn't do it for the right reasons," Weber tweeted.
He was not alone in his commentary about Obama's failure to attend the march. Republican Senator Ted Cruz wrote an opinion piece for Time magazine in which he called out Obama for not making the trip.
"The absence is symbolic of the lack of American leadership on the world stage, and it is dangerous. The attack on Paris, just like previous assaults on Israel and other allies, is an attack on our shared values. And, we are stronger when we stand together, as French President Francois Hollande said, for 'liberty, equality, and fraternity.' Our President should have been there," Cruz wrote, "because we must never hesitate to stand with our allies. We should never hesitate to speak the truth. In Paris or anywhere else in the world."
Obama did, however, take time to sign a book of condolences at the French Embassy in Washington and personally called Hollande to offer his support. CNN reporter Christine Amanpour tweeted about the French president's reaction to Obama's efforts.
"Senior official in Pres Hollande's office expresses deep appreciation for Pres Obama's strong statement & actions ever since the attacks. President Obama was one of the first leaders to call President Hollande on Wednesday, Senior Official in Hollande's office tells me," Amanpour wrote.
"As far as public signs of French solidarity from the U.S.—don't forget several public statements from the president, his call to Hollande and a condolence stop to the French Embassy, an administration official told CNN, with a White House official adding, "It is worth noting that the security requirements for both the president and vice president can be distracting from events like this. For once this event is not about us!"