'Real Housewives' Tamra Judge Gets Baptized, Jokingly Requests 'Blonde Version' of Bible (Video)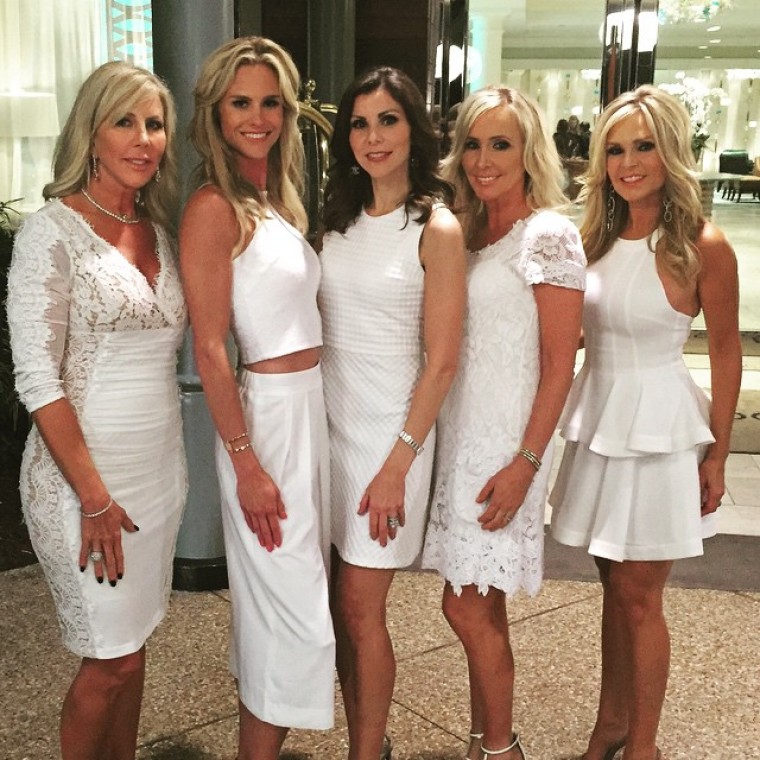 "Real Housewives of Orange County" star Tamra Judge got emotional while recalling her baptism ceremony, which will air as part of the show's season finale next week.
The Bravo TV star accepted Jesus Christ as her Savior in a ceremony that took place earlier this year and viewers will get to witness the special occasion on Oct. 12, ahead of the reunion show. California's Mission Viejo Christian Church Senior Pastor Mike Maiolo performed the baptism and Judge's loved ones, including her husband, Eddie, and co-stars attended the celebration.
"Do you believe that Jesus is the Christ, that He is the son of the living God, that He died on the cross and rose again for your sins?" Maiolo asks, to which Judge firmly replies "Yes."
"Then upon the confession of your faith, we can baptize you in the name of the Father, the Son, and of the Holy Spirit."
Judge is then gently tilted backwards into the water and she described the baptism experience as being very emotional.
"As I go under the water, I see my whole life like flashing before my eyes," she says during an interview with Bravo producers. "I feel like I've lived most of my life just lost. And now all these horrible feelings that I've had are just going away. And then I come up and it's like everything is so beautiful and everyone around me is beautiful and the music's beautiful. It's amazing."
Prior to the big event, the thrice-married mother of four reflected on scripture with Maiolo at her California home. The pair discussed the significance of Acts 23:8 and Judge, who was not raised as a believer, joked about her struggle with Bible literacy.
"I'm on this spiritual journey and it's all a learning experience to me," she said before raising the issue of her biblical comprehension. "I've already accepted Jesus into my heart and now I want to know more, but the Bible is not an easy read. Because 'though-should-not-those-you,' what? No. They need to have a blonde version of the Bible."
Judge has come a long way since she first joined the hit reality TV show during season three. Even though she's been portrayed as the RHOC villain in recent years, viewers have seen a much softer side of the grandmother this season and she attributed this change to her newfound faith.
"Well, I think that last year was — I hate to blame it on the editing, but I'm going to blame it on the editing big time," Judge told The Christian Post. "Every year there's somebody that has a really bad year and I think last year was my year.
I think in the past six months I've felt like a new person. But it's just one of those things where I wanted to make it right with the Lord and I knew the journey I was on. I'm not saying like, I'm perfect and I'm not saying I'm at church every single Sunday. I try to go every Sunday; I'm joining a Bible study. As you know, your mindset changes [after being baptized]."