Remembrance of 9/11 Terrorist Attacks: Prayer Services Sweep the Nation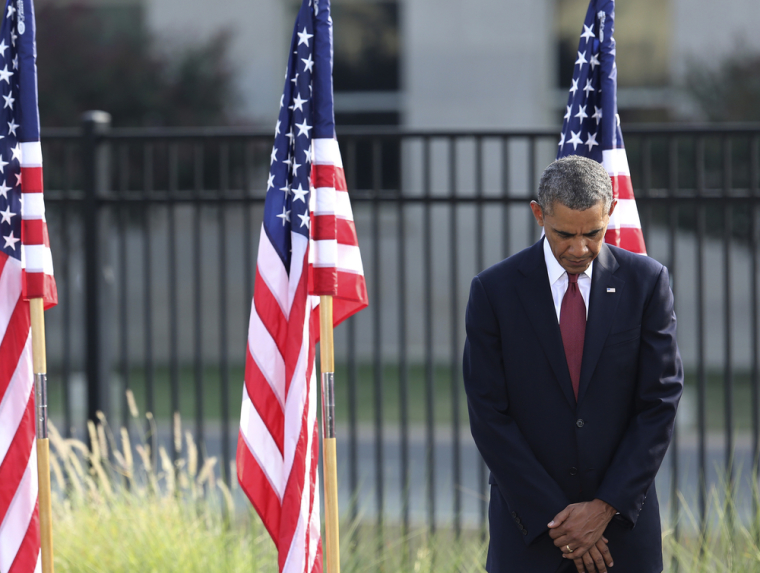 Much of America is preparing for the 13th anniversary of the 9/11 terrorist attacks with hundreds of prayer rallies and memorial services planned for this week.
Cities across the nation are planning prayer services for Thursday, Sept. 11 in remembrance of the attacks on the World Trade Center and the Pentagon on that same day in 2001. In Greenville, South Carolina, concerned Christians will join together at the Peace Center plaza for a prayer rally that will focus on American families, the world and the future, according to organizers. The rally will be held from noon to 1:30 p.m. and is nondenominational and nonpartisan, reported GreenvilleOnline.
Moreover, a candlelight prayer service in observance of Sept. 11, 2001 will be hosted by the Knights of Columbus at Sacred Heart Church in Klamath Falls, Oregon on Thursday at 6:30 p.m. Other cities planning memorial services include Galveston, Texas; Burlington, New Jersey; and Staten Island, New York, among countless others. Check your local newspaper listing for more services near you. Habitat for Humanity is also using the anniversary of the 9/11 attacks as a day to build interfaith understanding as Jews, Muslims and Christians have committed to an Interfaith Journey that begins this Thursday in Oshkosh, Wisconsin.
President Barack Obama will be joining those remembering the events from Sept. 11, 2001 this week. First, the Commander in Chief meets Tuesday with the bipartisan congressional leadership about his strategy regarding the Islamic State, which has taken areas of land in Iraq and Syria in an attempt to establish a caliphate that presents possible threats to the U.S. Then, one day before the 13th anniversary of the terrorist attacks on the World Trade Center and Pentagon on Wednesday, Obama is scheduled to address Americans on his strategy regarding the Islamic State. The following day, the president as well as First Lady Michelle Obama will lead a moment of silence commemorating 9/11 on the South Lawn at the White House. Later that day, the Obamas will attend the annual September 11th Observance Ceremony at the Pentagon Memorial.
Meanwhile, family members of September 11 victims are not only honoring their late loved ones, but they are also taking a stand against religious intolerance. A new bus ad campaign sponsored by September 11th Families for Peaceful Tomorrows is intended to promote interfaith unity. The ad reads, "Islamophobia is not pretty. Let's build Bridges, not walls. Hate hurts, hope heals."
Peaceful Tomorrows Project Director Terry Greene, who lost a brother on United Flight 93 on Sept. 11, 2001, explained more about the organization while speaking to the Huffington Post.
"We wanted to make a clear statement that our 9/11 family members do not want to promote fear and hatred in our names," Greene said. "We believe that unity and interfaith tolerance are the path forward to a more peaceful tomorrow."