Republican Governor, Democrat Mayor Discuss Partnership: 'He's Stuck His Neck Out for Me'
NASHVILLE – The Republican governor of Tennessee, Bill Haslam, and Democratic mayor of Nashville, Karl Dean, shared on Wednesday how they have cooperated and worked effectively together despite political differences.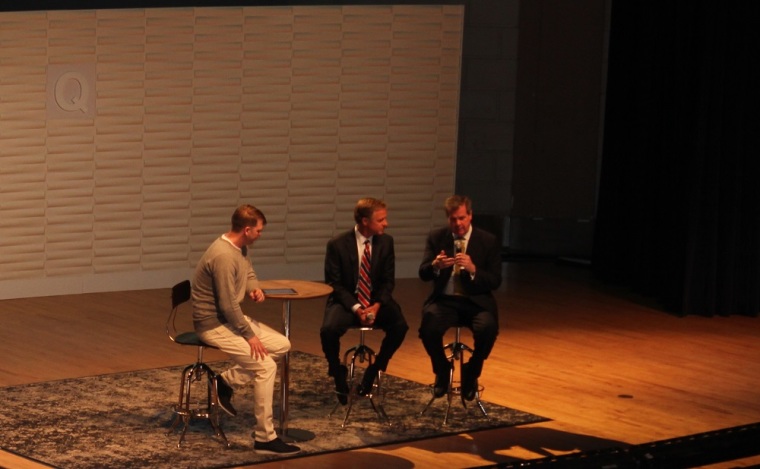 According to Haslam, while 97 of the 132 state assembly members and senators are Republicans, the mayors of the state's five largest cities are Democrats.
"One thing that actually helps at the issue of the state and local level is that because cities and states are forced to balanced their budgets, the issues look a little different, whereas in Washington you don't have that situation and there's a lot of issues that end up being philosophical discussions but nobody ever has to make a decision about we're going to spend this and not spend that, said Haslam. "Because of that you're forced to get on the same page a little more than Washington."
Dean said that although he is a Democrat and "proud of it," it does not necessarily affect the day to day realities of his job.
"There's a famous quote from [former] mayor LaGuardia of New York that 'There's no Democrat or Republican way to pick up the trash," Dean quipped. "My job and I think the governor's job too is that you're looking for results. You want to get things done. You want to move the city forward ... Your job is not to have political victory."
"So one lesson would be, when you're looking for who to vote for, look for people who will actually solve problems," he added.
Both men testified to the fact that the other had supported him, at times at his own expense. Haslam offered public education as one area where he and the mayor had found common ground.
"Mayor Dean has stuck his neck out on a number of occasions on issues around the form of and change of public education and has taken hits from his party on some issues and I've taken some hits from my party on some issues but both of us know, if we want, Nashville's going to be a great city and Tennessee going's to be a great state and we want it to be, we have to change the expectations around education," said Haslam. "When I've seen him do some fairly courageous things and take some hits from guys on his team, it's made me think, if other people are going to do it, I should do it too."
Dean praised Haslam as a "national leader on education reform," and said he did not believe "party labels mean much when you're trying to get results. You've got to do what will make a difference."
He also mentioned health and economic issues, (including a new downtown AAA baseball park) as areas where he and the governor have found commonality.
Lyons also asked Haslam, how he as both a politician and Christian, intended to make a decision on the 10 Tennessee inmates set to be executed later this year.
The governor explained that because no official date for the executions has been set, he was unable to frankly speak on "when it comes to 11 p.m. the night before, what exactly that will feel like."
As the legal process unfolded in the next couple weeks, Haslam noted it was his "responsibility to dive into the individual situation, talk to as many smart people about that situation as I can, and pray about it, and make the decision."