White Evangelicals Dominate the Election's Early Calendar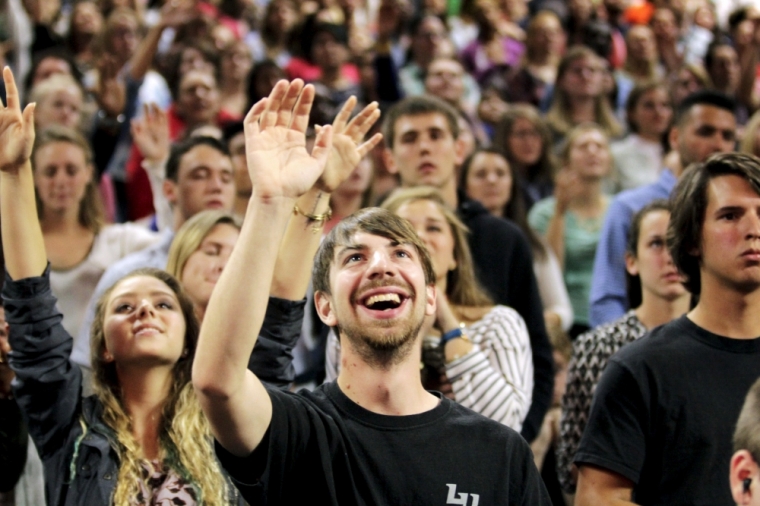 Many observers have framed the 2016 Republican nomination contest as a multilane highway, looking at the candidates' ideology, insider-versus-outsider status, and/or early state focus. As the race has developed, more and more there appears to be an Iowa lane and a New Hampshire lane, though some candidates — such as Marco Rubio — defy easy categorization. Still, on the Iowa side of the dotted line, the importance of the state's white evangelical voters is paramount. Candidates such as Ben Carson, who now leads most polling there, as well as Ted Cruz, Mike Huckabee, Bobby Jindal, and Santorum are particularly gunning to win over born-again Christian conservatives in the Hawkeye State. There might be concern about all of these candidates splitting the white evangelical vote too many ways and allowing a more establishment-flavored candidate to win, but there are still so many candidates in the field that it's possible that this might end up being more of a problem in the New Hampshire lane.
Carson and Cruz, having more resources and support in the polls than the other Iowa-focused conservatives, are already looking ahead to later contests in other white evangelical-heavy states. Recent national and state polls that have evangelical crosstabs show Carson leading among born-again voters, and he's trying to build beyond that in the South by running a rap-themed ad in urban radio markets to target black voters. Meanwhile, Cruz has long regarded the March 1 "SEC Primary" (a reference to the NCAA's Southeastern Conference) as a vital part of his victory strategy, partly through his appeal to Christian conservatives. After all, the Texas senator announced his presidential run at Liberty University — a huge evangelical Christian educational institution founded by Rev. Jerry Falwell of Moral Majority fame — in Virginia, a state that votes that day. Cruz's home state of Texas, which also has a heavy white evangelical vote, is another March 1 state.
A mitigating factor for white evangelical primary influence
All this is to say that white evangelical Christians are going to impact the 2016 Republican nomination contest, just as they have in previous cycles. However, while at first blush the early weight of these voters might suggest outsized influence on the overall outcome, proportional delegate rules could make it difficult for a non-establishment, socially conservative candidate to win the party's nomination.
That is, states holding primaries or caucuses before March 15 will apportion their delegates proportionally, while some states holding contests on or after that date will have winner-take-all primaries or thresholds that could trigger winner-take-all provisions. Notably, Florida and Ohio — which have decently-sized white evangelical electorates but not over 50% — will hand their winners (or winner) all of their delegates on March 15.
Fully 71% of the delegates from states with 50% or more white evangelical electorates will have their delegations determined by proportional rules of some kind before March 8. Some of these contests will have winner-take-all triggers, but the field may still be too crowded to activate them. Conversely, 81% of the delegates determined after March 8 will come from states with less than 50% white evangelical electorates. As shown in Table 1, 57% of convention delegates are apportioned after March 8 (either in elections or at state conventions).
This is not to say that a white evangelical-oriented outsider candidate won't win the Republican nomination. But many states with large numbers of conservative born-again Christians will vote when many candidates may still be in the race, possibly splintering their delegate hauls. Nonetheless, if the white evangelical Iowa lane of the field winnows a great deal between now and March 1, it's possible that someone could take advantage and rack up a solid delegate take. Only time will tell, but there's little question that white evangelical Christians are going to be an important factor in determining the GOP nominee, particularly in the early going.
This article was originally posted here
Geoffrey Skelley is an associate editor at the University of Virginia's Center for Politics.