Republicans Should Pass Laws to Protect Conservative Student Speech, CPAC Panelist Says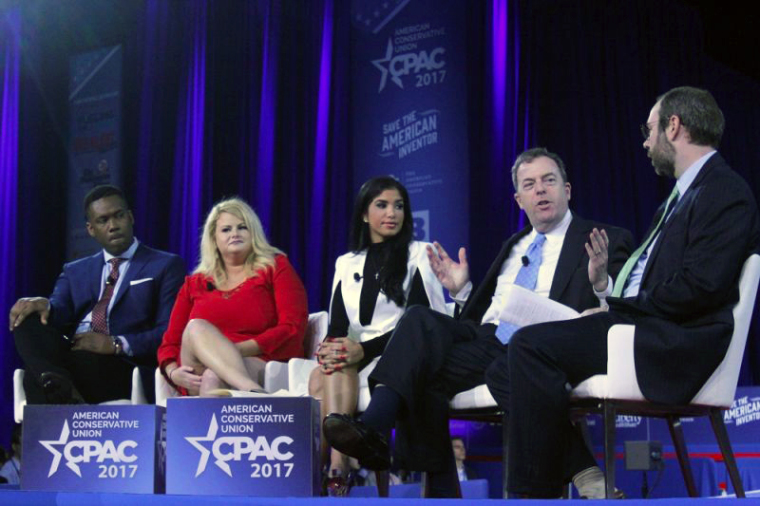 NATIONAL HARBOR, Md. — The right of Christian students to speak their minds on campuses nationwide will continue to be infringed by left-leaning academic leaders until Republican lawmakers pass laws that prohibit colleges from ignoring the rights of conservative students, a college dean told CPAC on Saturday.
Dr. Matthew Spalding, the dean of educational programs at the private Hillsdale College in Washington, D.C., participated in a panel discussion titled "Facts, Not Feelings: Snowflakes, Safe Spaces and Trigger Warnings" that also included two conservative activists with first-hand experience of voicing their conservative views on a college campus.
Numerous incidents have been documented in the last few years in which colleges, universities and professors have retaliated against or censored students who voice or want to voice their conservative beliefs on issues like marriage or abortion.
As recently as last year, it was reported that a master's student at Missouri State University was expelled from his counseling program because of his views on gay marriage. In another incident, a pro-life student group was stopped from erecting a temporary "Cemetery of the Innocents" at the University of South Alabama.
Panelist Madison Gesiotto, who gained notoriety as Miss Ohio USA 2014, was a law student at Ohio State University and received threats after penning a 2015 op-ed about how abortion is the "number one killer of black Americans." She explained to the audience that she was threatened and harassed by others on campus after her op-ed was published and there was even an effort to have her removed from her position at the school's law journal.
As previously reported, the Ohio State administration did little to protect Gesiotto and did little to crackdown on those who were threatening her. She said last year that administrators even tried to get her to apologize to the very same people who threatened her.
Gesiotto and fellow panelist Amanda Owens, the founder of the conservative group Future Female Leaders, gave the conservative college students in the audience advice on how to combat the bias against them on campus.
They suggested that they need to recruit fellow conservatives to join a campus group and partner with other conservative organizations and local lawmakers to advance their cause in the form of rallies and other public events.
They also said that student groups who are being censored by their college administration need to seek out legal groups like the Alliance Defending Freedom who are more than willing to represent their free speech argument in the court of law. Owens also suggested that conservative college students should create dialogue with students on campus in order to "humanize" conservative viewpoints so that others can understand the good intent behind their political stances.
But no matter what conservative college students do to combat bias and free speech crackdowns on their own campuses, Spalding asserted that there is a larger political battle at play and legislation from state legislatures is needed to solve the issue. He asserted that now is the time for the GOP lawmakers to step up and take action.
"The Republicans control more state legislatures then they have ever in the past. So they have a lot of leverage," Spalding explained. "Free speech, as it has been presented, is extremely important and we should fight these battles precisely as [Gesiotto and Owens] have laid them out, but you have to keep in mind that this is a political battle."
"When it comes to public campuses, the state legislatures need to use more leverage over them to impose more rules for free speech," he continued. "When it comes to private institutions, that is harder. How do you get leverage over them? What you need to do is break up the monopoly they have. The complete economic model of higher education is absolutely corrupt. They are getting 30 to 40 percent of their budget from government. This can't go on that way. There is no pressure on them to change their ways."
Spalding concluded by saying that Republicans need to go on the offensive when it comes to the matter of free speech on campus.
"This is a much larger political issue than merely, although it is extremely important, than merely free speech," he stressed. "We must defend our free speech but that's a defensive move. We need to go on the offense and go after the academy, especially these with huge endowments who you are paying $60,000 for tuition and room."
"It is absolutely absurd. Until there is real pressure on them to allow for this kind of discussion in some sort of way that allows for conservative voices, we are not going to see a change in these campuses."