GOP Sweeps Mid-Term Elections in Historic Wave, Takes Control of Senate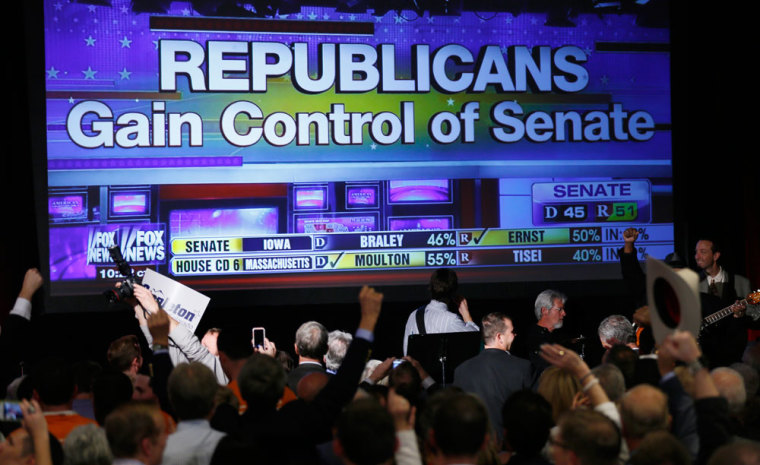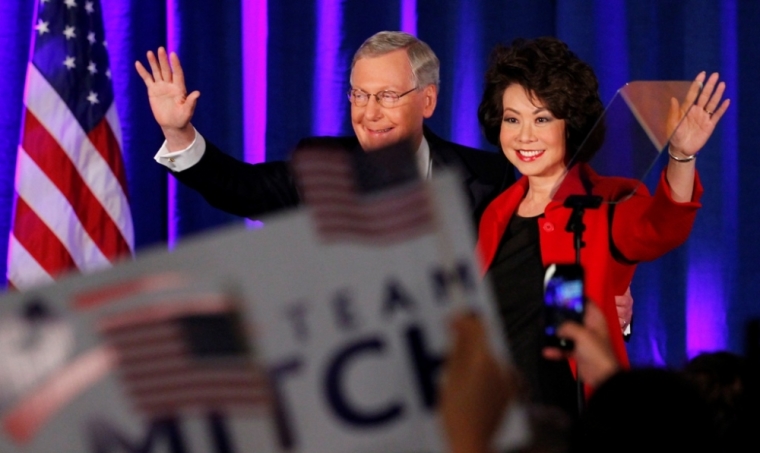 View Photos
Update: Oct. 5, 2014, 12:15 p.m.
The Republican Party gained the seats it needed in Tuesday's midterm elections to win a majority in the U.S. Senate, giving the party a majority in both chambers of Congress. The Republican Party might gain another Senate seat, for an eight-seat gain, if Alaska Republican Dan Sullivan is declared the winner over Democrat Sen. Mark Begich on Wednesday. And, if Republican Rep. Bill Cassidy wins the Louisiana runoff election against incumbent Democrat Sen. Mary Landrieu on Dec. 6, the Republican majority will increase by nine seats in the Senate.
The Republican Party has successfully gained the necessary number of wins to take control of the US Senate from Democrats, giving them majorities in both houses of Congress.
With results pouring in Tuesday evening, the Republicans are poised to gain a least the net-six needed to gain control of the Senate.
According to the New York Times election results site, Arkansas, Colorado, Montana, South Dakota, and West Virginia switched from Democrat to Republican control, and Democrats do not have a reasonable chance of switching any of the races that are yet to be called.
In Arkansas, Republican challenger Tom Cotton defeated incumbent Democrat Senator Mark Pryor.
In Montana, Republican Steve Daines beat Democrat Amanda Curtis and third party candidate Roger Roots.
In South Dakota, Republican Mike Rounds bested Democrat Rick Weiland and independent candidate Larry Pressler, a former Republican U.S. senator.
In Colorado, Republican challenger Cory Gardner unseated Democrat incumbent Mark Udall.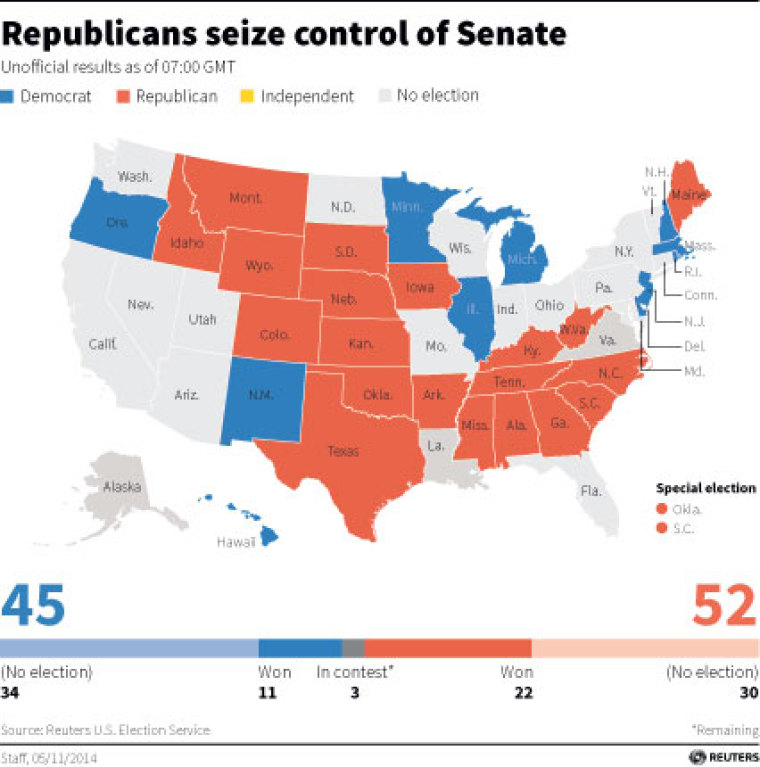 Meanwhile West Virginia Republican Shelley Moore Capito became the first female Senator to represent the state in Congress. Elected to the House of Representatives in 2000, Capito will take the seat left vacant by retiring Democratic Senator Jay Rockefeller.
After 11:30 PM EST, Iowa and North Carolina became the sixth and seventh pick-ups for Republicans. Jodi Ernst defeated Bruce Braley in Iowa, and Thom Tillis defeated incumbent Democrat Kay Hagan in North Carolina.
Republicans held on to three other seats that were expected to be close. Republican challenger David Perdue defeated Democratic incumbent Michelle Nunn to hold that Senate seat for Republicans. In Kentucky the Senate race was expected to be close, but Republican incumbent and Senate Minority Leader Mitch McConnell easily defeated Democratic challenger Alison Lundergan Grimes. In a close Kansas race, Republican Pat Roberts held on to his seat against incumbent Greg Orman.
In a first, South Carolina's Tim Scott became the first black Senator since Reconstruction to be elected to represent the former Confederate state. Appointed by South Carolina Governor Nikki Haley in 2013 to the seat of retired Republican Senator Jim DeMint, Scott won reelection against Democrat challenger Joyce Dickerson.
Democrats held their own, however, in New Hampshire. Democratic incumbent Jeanne Shaheen defeated Republican challenger Scott Brown.
At press time, Republicans have the potential to gain two more seats in Alaska and in Louisiana, which is expected to go to a runoff in December.
Republicans also found success at the gubernatorial level, with Florida re-electing Republican Rick Scott, South Carolina re-electing Haley, and Texas electing former state Attorney General Greg Abbott.