Rick Perry Not Seeking Re-Election; Vows to Keep Texas Pro-Life, Pro-Family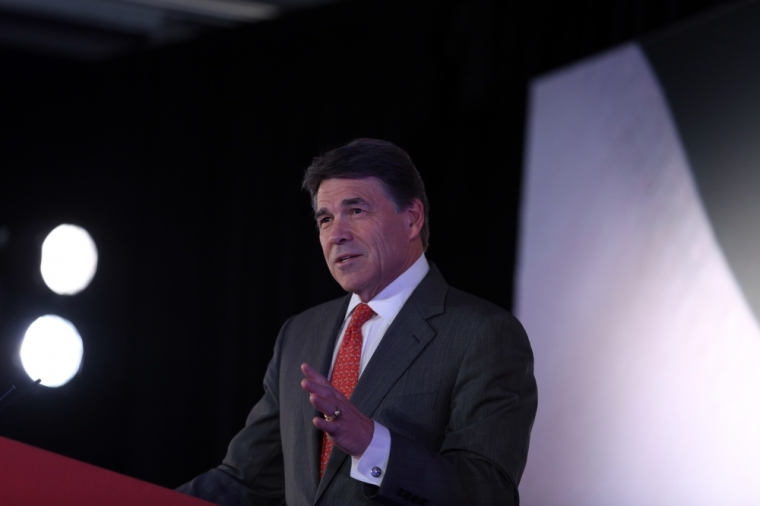 Texas Governor Rick Perry announced on Monday that he will not seek a fourth full term in 2014. Citing Ecclesiastes, the public servant who led more than 30,000 Christians in prayer at Reliant Stadium in 2011 said he will "pray and reflect and work to determine my own future path."
"We have better protected the right to life for Texas children and families, protected the sanctity of marriage, and respected the traditional values that made Texas the greatest state in the greatest nation on earth. We Texans are not afraid to fight for what we believe in," the governor said, touting a successful conservative tenure of balanced budgets, low taxes, and job growth. Following his successes, "the time has come to pass on the mantle of leadership," he said.
Perry is the longest-serving governor in the history of Texas. In December 2000, he finished then President George W. Bush's term, and was elected in his own right in 2002, 2006, and 2010.
During his speech, he mentioned passing seven balanced budgets and praised Texas' "entrepreneurial spirit" for the "1.6 million jobs … created in Texas since I became governor." This number represents "30 percent of the net new jobs created in America over the last decade."
He originally planned to announce his decision not to seek re-election by the end of June but delayed the statement after calling a special legislative session to pass a controversial pro-life bill. On Sunday, Perry promised the bill will pass, despite the widely-publicized filibuster by Democratic State Senator Wendy Davis in June. The bill would ban most abortions after 20 weeks of pregnancy.
Speculation about the Lone Star State's longest-serving governor has run since last October, when an aide allegedly told the Fort Worth Star-Telegram that his boss would run for the gubernatorial seat again in 2014. The Star-Telegram has since removed the post, but Political Wire kept the story, adding a statement from a Perry spokeswoman – "The only person to make that announcement is Governor Perry."
While rumors of a fourth full term have been disproven, whispers about a 2016 presidential run persist.
Following his failed bid for the 2012 Republican presidential nomination, sources told National Review's Betsy Woodruff that the governor would indeed run again. Perry himself mentioned this possibility in March, and David Carney, his top adviser during the governor's 2012 presidential run, said "there's no question" he'll be gunning for the top spot once again.
Perry's 2012 candidacy floundered after he forgot which government departments he would abolish if elected president, in a November 2011 debate.
In his Monday announcement, he simply stated, "Any future considerations I will announce in due time, as I arrive at any decisions."
Calling Texas "the envy of the nation," Perry emphasized the biblical theme of servant leadership.
"Public service is a sacred trust, and I am grateful for the privilege Texans have allowed me," he said.
Doubling down on his support for abortion restrictions, he said he would work hard to protect "the right to life for the youngest and most vulnerable."
"Texas is and will remain a pro-life, pro-family, pro-freedom state," he assured Texans.
Perry closed with the words of management consultant Peter Drucker – "Rank does not confer privilege or give power. It imposes responsibility."