Rick Warren Shares 5 Things Needed for Revival to Happen in America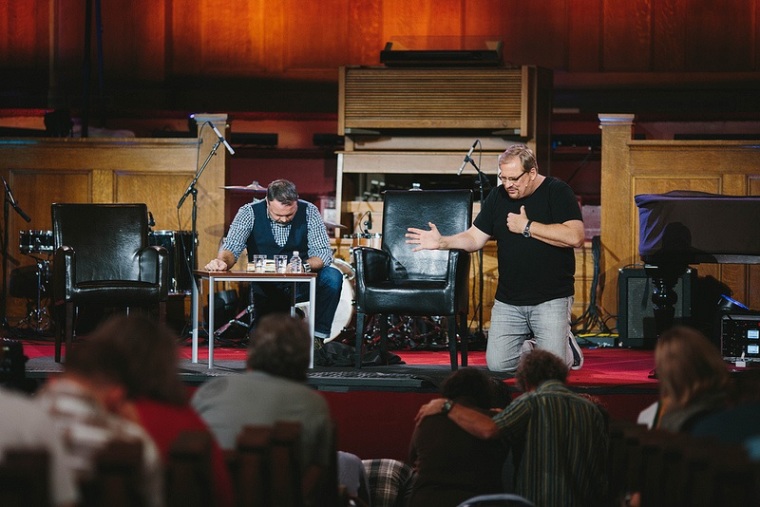 Pastor Rick Warren, whose best-selling books include The Purpose Driven Church, recently talked about what he called the "five renewals" necessary for a resurgence of faith to occur in the United States.
"If we are going to have a resurgence in our nation, a revival, a reformation, a renewal, a re-configuration of the church, when you study church history it always starts through certain stages and the first stage is personal renewal," Warren told The Christian Post backstage during the Resurgence 2013 conference in Seattle last week. "It has to happen in the heart. There has to be a revival in the heart."
Once there is personal renewal, then there is corporate renewal, a renewal within the church's congregation, he explained.
"That's when the church warms up. One of the ways you know a church is having corporate renewal is the singing gets better," Warren said. "Another way is that people like to stay around longer after church. If you go to a church and nobody is singing and everybody is leaving as soon as it's over, you don't have renewal there. You have a crowd, you don't have a [church] body."
Historically, over the last several hundred years, personal and corporate renewal existed in America in the form of an "annual revival," he told CP.
"You would bring somebody from the outside [of the local church] to speak, and people would confess their sins, and get right with each other, and the church would get growing," Warren said. "But, a lot of times [churches] don't grow past that because they don't go to the other renewals."
Warren, who was warmly greeted by conference host, Pastor Mark Driscoll, said that when he was asked to speak at the event he knew "right off the bat" he was going to deal with the "personal issue of renewal, resurgence, revival, restoration, reformation, whatever you want to call it, in the life of the leader"
The third aspect of a resurgence is a "missional renewal" or "purpose renewal," he explained.
"When you get purpose renewal the church begins to grow and eventually you have to come to what is structural renewal because as an organization grows you have to change structure over and over," he said.
"If you keep growing you finally get the fifth one, which is cultural renewal. In cultural renewal the climate of the nation actually changes."
WATCH CP Insider: Rick Warren Shares 5 Things Needed For Revival to Happen in America