Rick Warren: You Don't Have to Forget in Order to Forgive
Rick Warren: You Don't Have to Forget in Order to Forgive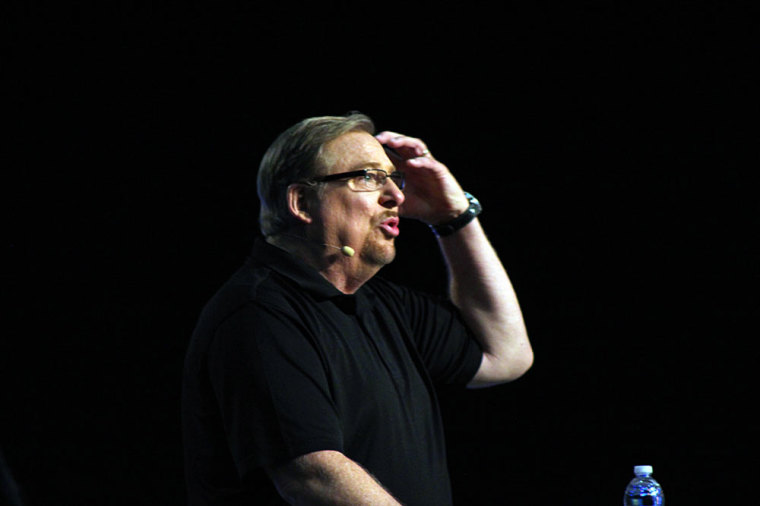 A person doesn't need to forget in order to forgive, says Saddleback Church senior pastor and best-selling author Rick Warren.
In a devotional published Tuesday morning on Rick Warren's Daily Hope, The Purpose Driven Life author addressed the common cliché "forgive and forget."
"You've heard this phrase over and over: 'Forgive and forget.' There's only one problem with it: You can't do it. It's impossible! You really can't forget a hurt in your life," wrote Warren.
"In fact, you can't even try to forget it. Because when you're trying to forget, you are actually focusing on the very thing you want to forget."
Warren went on to note that a more important part of the process of forgiveness is seeing what good that God can bring about from the act that needed forgiving.
"Forgetting is not what God wants you to do. Instead, He wants you to trust him and see how he can bring good out of it," continued Warren.
"That's more important than forgetting, because then you can thank God for the good that He brought out of it. You can't thank God for things you forget."
To justify his reasoning, Warren quoted from Romans 8:28, which says: "And we know that in all things God works for the good of those who love Him, who have been called according to His purpose."
This is not the only recently posted Daily Hope devotional by Warren that centers on the topic of forgiveness.
In an entry published on Sunday, Warren argued that the concept of forgiveness "may be the most misused, misapplied, and misunderstood quality in our culture."
"First, real forgiveness is unconditional. There's no attachment to it. You don't earn it. You don't deserve it. You don't bargain for it," said Warren.
"Second, forgiveness isn't minimizing the seriousness of the offense. When somebody asks for your forgiveness and you say, 'It's no big deal. It really didn't hurt,' that actually cheapens forgiveness. If it wasn't a big deal, you don't need forgiveness and you don't need to offer it."
Warren added in the Sunday entry that forgiveness "is only for the big stuff" and that one should not "use it for slights that are just minor issues."
"There are a lot of big deals in life. Have you noticed that? But there is a difference in being wounded and being wronged," wrote Warren.