Robert George 'Out of Danger' After Being Hospitalized With Life-Threatening Heart Complication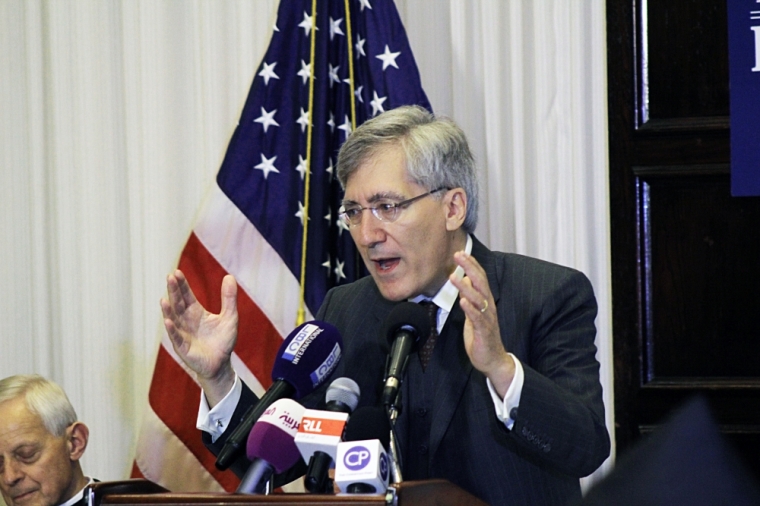 Princeton professor and prominent religious freedom and traditional marriage advocate Robert George has been hospitalized with a serious heart ccomplication that now appears as though it is no longer life threatening.
George, who is the chair of the State Department's United States Commission on International Religious Freedoms and the McCormick Professor of Jurisprudence at Princeton, began feeling abdominal pain on Sunday and checked himself into the University Medical Center of Princeton at Plainsboro in New Jersey, where he was diagnosed with a life-threatening tear on the inner layer of his aorta.
After he disclosed his condition, a number of George's friends, colleagues and peers asked followers on social media to pray for his health and a speedy recovery.
"After a day of observation and testing, his doctors concluded that he was suffering from an aortic arterial dissection. This is a very rare and quite serious condition," Ryan Anderson, one of George's former students and senior fellow at the Heritage Foundation, posted on Facebook Thursday night.
Anderson explained that George was in the hospital's critical care unit recovering from an aortic angiography, which appeared to have confirmed the original diagnosis. In an email from one of George's close friends, Anderson was told that George was later transported to the Weill Cornell Medical Center in Manhattan where an expert in these kinds of heart conditions is available.
"Robby sounded pretty good and quite lucid. Surgery is a last resort, because it would be risky," the undisclosed friend's email to Anderson states. "Right now he is being pumped with blood thinners, so that circulation to the whole body is restored (by making it so that the blood can pass through the aorta notwithstanding the anomaly there). Robby says that he is told that this can be a stable long-term solution, and thus that surgery might not be required at all."
Sherif Girgis, one of George's former students who co-authored the book What Is Marriage?: Man and Woman: A Defense along with George and Anderson, posted on Facebook Friday morning that he was told that surgery is no longer required and George's condition is past the point of being life-threatening.
"The latest, from a friend of Robert P. George 'Deo Gratias! [thanks be to God]," Girgis wrote. "I just spoke to him and he just spoke to the doctor. He is going to be okay (no surgery). He is past the life-endangering point. Keep praying for his recovery."
Bradford Wilson, the executive director of the James Madison Program at Princeton University, also confirmed that George is "out of danger."
"Although the condition can be life-threatening, we are pleased to report that Professor George now appears to be out of danger, thanks to swift and astute diagnostic work done by the staff of University Medical Center of Princeton before his transfer to Weill Cornell," Wilson said in a statement posted online. "Although the Superior Mesenteric Artery is a branch of the aorta, the condition is not a form of heart disease. It threatens the digestive organs by impeding blood flow to them. We are grateful for the prayers and good wishes of Professor George's many friends and admirers here at Princeton and around the nation and world. We look forward to providing additional reports on Professor George's recovery."
Many prominent conservatives took to social media to offer their support to George when they heard of his condition, including Russell Moore, Eric Metaxas and Republican presidential candidate and former Florida Gov. Jeb Bush.
"Please join me in praying for Robert P. George @McCormickProf this evening as he's been hospitalized in serious condition," Bush tweeted.
Author and radio host Eric Metaxas issued a statement to the The Christian Post on Friday calling George "a gift to the country."
"Robby George is one of the most brilliant minds of our time, and his willingness to winsomely engage those on the other side of the fiercest hot-button social issues is nothing less than a gift to the country," Metaxas said. "He's a dear friend and it's my honor to ask faith-filled prayers for his recovery."
Contact: <ahref="mailto:samuel.smith@christianpost.com">samuel.smith@christianpost.com,
@IamSamSmith
(Twitter)