Roundup: All the Sexual Misconduct Allegations Against Roy Moore So Far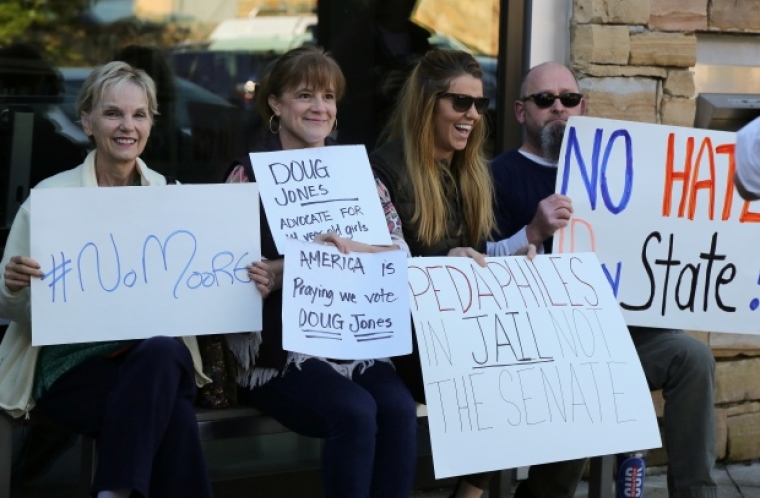 Alabama's Republican Senate nominee Roy Moore has been the center of national attention this past week as several sexual misconduct allegations have been lodged against him and have caused a number of prominent conservatives to question his candidacy.
The Washington Post reported last Thursday on an alleged romantic encounter Moore had with a 14-year-old girl while he was a single, 32-year-old man and also reported on his relationship with three other 16- to 18-year-old girls that occurred decades ago.
Since the Nov. 9 Washington Post report was published, others have come forward with their own stories of Moore's alleged perverted misconduct.
Leigh Corfman
The accusation: Corfman, 53, told The Washington Post that she met Moore when she was 14 sitting on a bench outside of a courtroom in Etowah County, Alabama, in 1979 while her mother was there for a child custody hearing.
She claims that Moore, who was 32 and the assistant district attorney at the time, volunteered to sit with her while her mother was in the courtroom. Moore reportedly asked for her phone number and days later, picked her up around the corner from her house and took her back to his home about 30 miles away.
According to The Washington Post, Moore "told her how pretty she was and kissed her."
"On a second visit, she says, he took off her shirt and pants and removed his clothes," the article reads. "He touched her over her bra and underpants, she says, and guided her hand to touch him over his underwear."
Corfman asserted that they didn't have intercourse. Corfman was the only one of the four women named in the Nov. 9 Washington Post article who had any sexual interaction with Moore that surpassed kissing.
Moore's response: Moore told conservative radio host Sean Hannity in an interview the day after the article was published that the encounter that Corfman described "never happened." Moore added that he never had any contact with Corfman and that her allegations are "completely false." Moore also called the allegations "politically motivated."
Debbie Wesson Gibson
The accusation: Gibson, who was also named in the Nov. 9 Washington Post article, claims that she was 17 when Moore was speaking to her high school civics class and asked her out on the first of their several dates. Gibson claims that she didn't go any further than kissing when she went on her dates with Moore.
Moore's response: In the Nov. 10 interview with Hannity, Moore explained that he doesn't remember speaking at Gibson's civics class. However, Hannity pressed and specifically asked Moore if he was saying that he never dated Gibson. Moore replied: "No, but I don't remember going out on dates. I knew her as a friend. If we did go on dates then we did. But I do not remember that."
Gloria Thacker Deason
The accusation: Deason was a third woman named in the Nov. 9 Washington Post article. She claimed that she was an 18-year-old community college student when she met the 32-year-old Moore at a mall in Gadsden, Alabama, where she worked at the Pizitz department store jewelry counter.
Even though the drinking age in the state at that time was 19, Moore allegedly took Deason on dates that included bottles of wine when they first started dating. Deason said they dated off and on for months. However, their physical relationship didn't go further than hugging and kissing.
Moore's response: In his interview with Hannity, Moore denied the allegation that he supplied alcohol on his dates with Deason and also contended that Deason was "19 or older" at the time. He stated that he "never provided alcohol" to a minor.
Wendy Miller
The accusation: Miller was also named in the initial Nov. 9 Washington Post article and explained that she met Moore when she was 14 and working as a Santa's Helper at the Gadsden mall. However, Miller said that it wasn't until she was 16 that Moore began asking her out on dates. Miller never went out with Moore because her mother forbade her from doing so.
Moore's response: In the interview with Hannity, the former Alabama chief justice maintained that Miller's allegation and the allegations from the other women must have been politically motivated because they haven't been brought up in any of the "five successful campaigns" he has run in his political career.
Beverly Young Nelson
The accusation: Following the allegations of the four women in the Nov. 9 Washington Post article, Nelson came forward at a press conference on Monday to accuse Moore of sexually assaulting her in a car when she was a 16-year-old waitress and student at Gadsden High School.
At the time, Moore was a district attorney in Etowah County.
"Mr. Moore reached over and began groping me and put his hand on my breast. I tried to get out and he reached over and locked (the door) and I yelled and told him to stop," Nelson said during the press conference, adding that he tried to force her head down to his crotch area. "I continued to struggle. I was determined that I was not going to allow him to force me to have sex with him. I was terrified. He was also trying to pull my shirt off. I thought he was going to rape me. I was twisting and struggling and begging him to stop. I had tears running down my face," she said.
Nelson added that at some point, Moore "gave up."
"He then looked at me and said, 'You are a child. I am the district attorney of Etowah County. If you tell anyone about this, no one will believe you,'" Nelson recalled.
Moore's response: On Monday, Moore told reporters that Nelson's allegations are "absolutely false." He added: "I never did what she said I did. I don't even know the woman. I don't know anything about her."
Elements of Nelson's story have been questioned by Moore's legal team. Reports indicate that as a judge, Moore signed documents pertaining to Nelson's divorce from her husband in 1999, a fact that Nelson omitted in the press conference.
Additionally, a signature that Nelson claims is Moore's in her high school yearbook does not appear to match the candidate's signature.
Moore emphatically denied Nelson's accusation in a letter sent to Hannity through Twitter on Wednesday. 
"I adamantly deny the allegations of Leigh Corfman and Beverly Neslon, did not date underage girls, and have taken steps to begin a civil action for defamation," Moore wrote.  "Because of that, at the direction of counsel, I cannot comment further."
Tina Johnson
The accusation: Johnson told Alabama.com in an interview that was published on Wednesday that she went to Moore's law office in 1991 to sign over custody of her daughter to her mother.
Johnson, who was 28 at the time, recalled that Moore began flirting with her almost as soon as she came in the office. After the papers were signed and Johnson and her mother got up to leave, she claims that Moore grabbed her buttox right after her mother had walked out of the room.
"He didn't pinch it; he grabbed it," Johnson was quoted as saying.
Moore's response: Moore has not yet publicly responded to Johnson's claim and didn't return Alabama.com's inquiry about Johnson's claims by press time.
Gena Richardson
The accusation: In an article published Wednesday by The Washington Post, the 58-year-old Richardson claimed that she also met Moore at the Gadsden Mall in 1977 when she was a high school senior and working at the Sears department store.
Although Richardson claimed that Moore asked her out on a date while at the Mall, she initially declined. However, she claimed that when she was in school one day, she was called down to the principal's office because Moore had called for her on the phone.
She stated that eventually, she agreed to go out with him. After their date at the movie theater, she recalled Moore driving her back to her car at the Sears parking lot and then giving her an unwanted "forceful" kiss.
Moore's response: The Washington Post reports that Moore's campaign did not directly address Richardson's allegations but argued in a statement that the new allegations are politically motivated.
"If you are a liberal and hate Judge Moore, apparently he groped you," the statement reads. "If you are a conservative and love Judge Moore, you know these allegations are a political farce."
Becky Gray
The accusation: The Washington Post also named Becky Gray in its Nov. 15 article, stating that Gray and Richardson were like Miller and Deason in the fact that they encountered Moore at the Gadsden Mall.
Gray told The Washington Post that she was 22 and working at the Pizitz department store when she first met Moore. She stated that she regularly had to decline his requests to go on dates.
After it became an annoyance, Gray said that she ended up complaining about Moore to her store manager.
Gray claimed that after her complaint, her store manager got Moore banned from the mall.
"I went to my manager and talked to him about it and asked him, basically, what could be done," Gray told ABC News Wednesday. "Later on, he ... came back through my department and told me that [Moore] had been banned from the mall."
Moore's response: Moore has not directly addressed Gray's allegations. However, Moore's lawyer reportedly told MSNBC on Wednesday that there "has never been a list with Roy Moore banned from being at the mall."