Russell Crowe Sings Christian Hymn to His 600,000 Instagram Followers (See Here)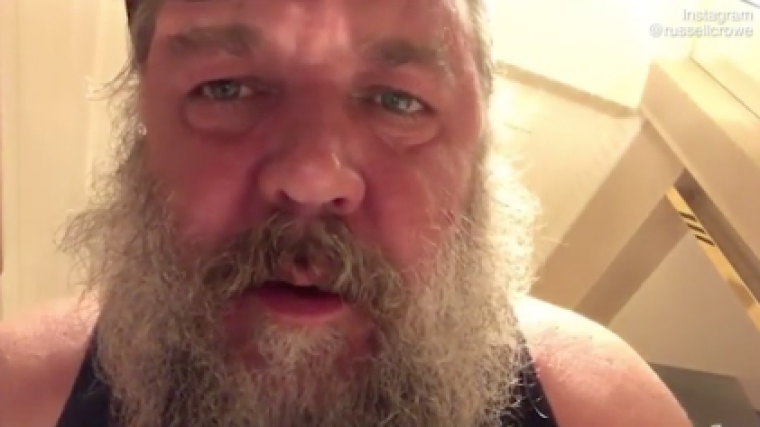 Actor Russell Crowe surprised his 600,000 followers on Instagram Sunday when he sang a Christian hymn as he combed his beard. 
Known for his roles in "Gladiator," "A Beautiful Mind" and the 2012 musical "Les Misérables," the Oscar Award-winning actor received praise from his fans who complemented his singing voice even while they were stunned by his new look. 
"In the sweet by and by, we shall meet on that beautiful shore," he sang repeatedly on Instagram as he combed through his bushy beard and hair.
The 1868 Christian hymn "Sweet By and By" became immensely popular in the 19th century. Since then, the song has been covered by noteworthy performers such as Elvis Presley, Louis Armstrong, Johnny Cash, Glen Campbell, Dolly Parton, Willie Nelson, Loretta Lynn and Kenny Rogers, just to name a few. Now, Crowe can be loosely added to that list of popular performers.
The 54-year-old actor groomed his long hair as he casually sang the tune. "The actor prepares," he captioned the video.
Apart from starring in Darren Aronofsky's "Noah" in 2014, which received a lot of criticism from Christians, Crowe isn't known for sharing religious messages.
Crowe, however, has said in the past that he's been interested in religion since he was a child. He told People magazine that he once explored Scientology after spending time with Tom Cruise over 17 years ago but that didn't stick.
In 2007, Crowe, who had never been baptized, told the Men's Journal that he was planning to be baptized in a Byzantine chapel he built on his ranch in Australia.
"It is consecrated and everything," he said.
He added that his son, Charlie, was baptized in that very chapel and that he planned to be next alongside his other son, Tennyson.
"I do believe there are more important things than what is in the mind of a man," he went on to say of his beliefs. "There is something much bigger that drives us all. I'm willing to take that leap of faith."