Russia Bans Foreign Same-Sex Couples From Adopting Its Children
A new Russian law has been signed that bans foreign same-sex couples and singles from adopting children - even if they come from countries where governments have redefined marriage to include gay couples.
Russian Prime Minister Dmitry Medvedev signed the decree this week, which will primarily affect European citizens from countries where same-sex marriage has been created.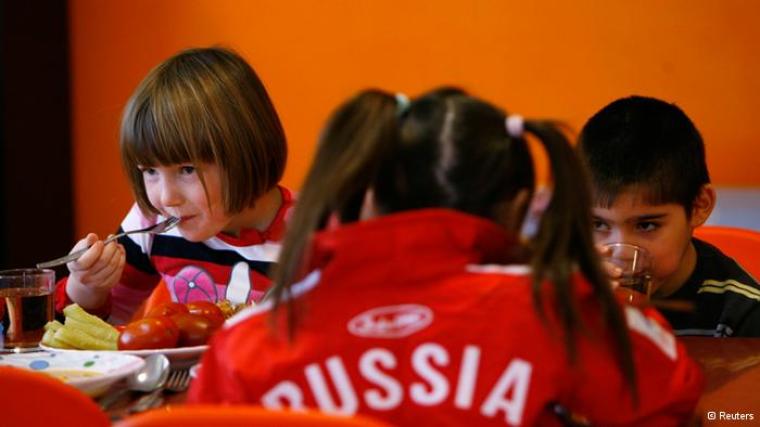 The ruling has no effect on the United States because of a law that Russia passed in 2013 that banned adoptions to American couples. The legislation came a year after the United States passed a law against Russian human rights abusers.
According to CNN, the law does little but codify what had seemed to be de facto policy as many same-sex couples or singles perceived to be gay had had little success adopting from the country.
Russia has faced criticism from various LGBT activist groups and supporters over recent months, who have accused the country of being hostile to gays.
In 2013, the State Duma unanimously approved a law that banned the distribution of "propaganda of non-traditional sexual relations" among minors, and made it illegal for citizens to organize gay pride events or equate gay relationships to heterosexual relationships.
Russian President Vladmir Putin defended the country ahead of this month's Winter Olympics, saying that unlike other countries, Russia did not criminalize homosexual relationships, but was simply looking to protect traditional family values in the nation by stopping children being influenced by gay propoganda.
"We don't outlaw anything and don't nab anyone. That's why you can feel safe and free here," Putin told reporters, asking that gay tourists "please leave our children in peace."
Since Putin became president of Russia for his third, non-consecutive term, he has increasingly called for the country to embrace its "traditional values" to stop the country from becoming like many Western countries, which he criticized as "genderless and infertile."
In December, Putin criticized the United States for its "non-traditional values," saying that the increased liberalized nature of the nation would adversely impact society.
"This destruction of traditional values from above not only entails negative consequences for society, but is also inherently anti-democratic because it is based on an abstract notion and runs counter to the will of the majority of people," Putin said.
Russia currently maintains the traditional definition of marriage as between one man and one woman. The country promotes that it is seeking to protect traditional family values as it has past years become home to the lowest birth rates of any developed nation.