Saeed Abedini Tells 100K at #FreeIran in Paris He Was Warned He'd 'Never Get Out of Iran Alive'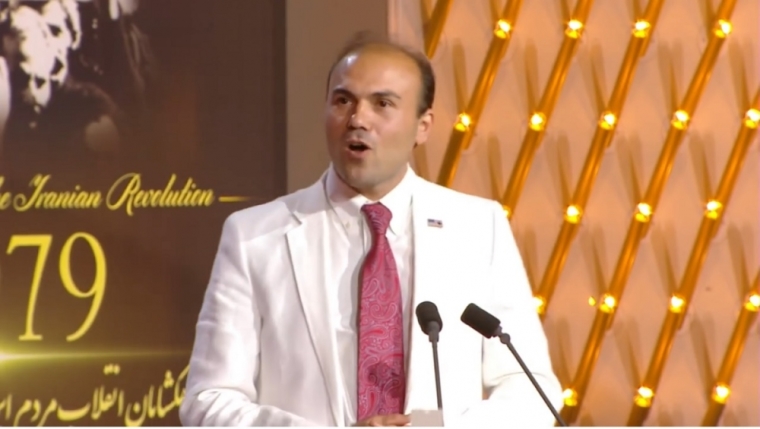 Pastor Saeed Abedini spoke before 100,000 people in Paris at the National Council of Resistance of Iran rally on Saturday, where he vowed that through faith in Jesus Christ, the "resurrection of the Iranian people" is coming soon.
"My presence here proves that each act of resistance will be a victory. A victory for freedom. The message of God in the Bible says that we should resist the face of tyranny," a smiling Abedini told the giant crowd.
The American pastor spent three and a half years in Iranian prison for his Christian faith, before finally being released in January as part of a hostage-prisoner exchange. In prison, he was beaten and pressured to renounce his Christian faith, but he refused to do so.
Abedini said that while it is not a reality yet, he hopes that one day all will be able to celebrate a "free future for Iran, a bright future."
NCRI, which is seeking to establish freedom and democracy in Iran, brought together speakers from a wide variety of fields on Saturday, calling for the end of oppression of minorities in the Islamic Republic.
Maryam Rajavi, president-elect of the NCRI, said: "Their expectation of the next U.S. president, as with other Western leaders, is to abandon the policy of appeasement, which emboldens the Tehran regime to intensify the suppression of the Iranian people while continuing the policy of exporting terrorism to the region."
Beside Abedini, other high-profile American guests included former House Speaker Newt Gingrich, former ambassadors to the United Nations John Bolton, former New York City Mayor Rudy Giuliani, and former FBI Director Louis Freeh.
U.S. Congressman, Brad Sherman, veteran of the Foreign Affairs Committee of the House of Representatives, said that the rally does an important job of raising awareness and inspiring the effort for freedom, and congratulated the People's Mojahedin Organization of Iran for "the critical role it played in exposing the Iranian regime's nuclear weapons program."
Abedini reminded the audience in his speech that God is "always close to the oppressed."
"Whoever opens his or heart, He will be his friend. The message of the Gospel is the message of the Love of God. He sent His Son to Earth, and whoever is faithful, will have eternal life," he added.
"We will soon see this rebellion in our country, in our hearts, and in our world, because Jesus Christ is bringing this message. The resurrection of the Iranian people shall arrive very soon," he added.
Abedini recalled that while he was in prison, he was told "for you it's the end, you will never get out of this prison."
The pastor reflected, however, that he is now certain that "evil will never win."
He also shared a story of reading passages from the Bible to his prison guards in Iran, and was joined by several other prisoners as well. He reflected that there was a sense of unity and common understanding among the different prisoners of consciousness there.
Abedini turned to the Iranian people, and said that they must be given the choice to elect their own leaders.
"The Iranian people are much more modern and ahead of [their] leaders. The people should be able to choose their friends, their religion, and its time to stop the slogans against America and Israel, we love them both," he added.