Samsung Galaxy S2, Note and Note 10.1 JellyBean Update Confirmed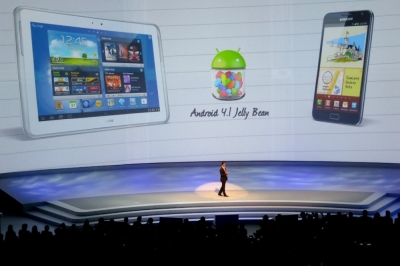 Samsung plans on rolling out the Android 4.1, JellyBean update for the Galaxy S2, Note and Note 10.1 in the near future.
The company announced this at its recent "Unpacked" event in Berlin where it unveiled the Galaxy Note 2 that will be in stores sometime next month. This device already runs Android 4.1, JellyBean.
Samsung also unveiled the Galaxy Camera at "Unpacked." This is the first point-and-shoot camera that has full access to the Google Play store and the ability to instantly stream videos and pictures once they are captured.
The Android 4.1, JellyBean update for the Samsung Galaxy S3 has reportedly leaked. The official update was originally scheduled to roll out sometime this month.
This leaked build of the software carries the number I9300XXDLI7 and it should officially begin rolling out any day now. This update is expected to be over-the-air, so Galaxy S3 owners will not have to access it using Samsung's Kies software.
JellyBean was introduced by Google back in June when the company unveiled its wildy popular Google Nexus 7 tablet. The software comes pre-installed on the Nexus 7 and the update for the software has already been rolled out to other smartphones such as the Galaxy Nexus and Nexus S.
The OS brings many new features to the Android platform, including a revamped notifications system, and the Siri competitor known as Google Now.
The software also features a redesigned search experience with a new user interface and faster Voice Search.
Google Now has the ability to answer voice commands and answer commonly asked questions such as what the weather will be, or how much traffic to expect, or even the score of a sports game.
Android 4.1, JellyBean Runs on T-Mobile G1