Satanic 'Black Mass' at Oklahoma Civic Center Met With Hundreds of Christian Protesters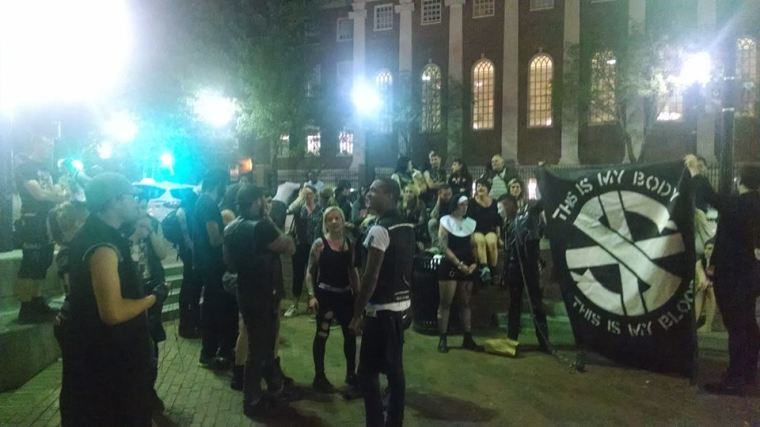 The highly anticipated Satanic "black mass" that was held Sunday night at an Oklahoma City civic center drew exponentially more protesters than actual attendees but the service continued as scheduled despite efforts from some protesters to disrupt the event.
As more than 80,000 people signed an online petition that condemned the Dakhma of Angra Mainyu Syndicate event, hundreds of people from many different walks of faith and different areas of the country crowded around the outside of the Oklahoma City Civic Center Music Hall in protest of the event which was created by the group's co-founder Adam Daniels. The event itself only had 43 attendees despite selling 88 tickets for a price of $17.50 per ticket.
Although most of the protesters stayed within their limits and maintained a peaceful display of differing religious and christian views, police had to intervene on several occasions to protect the service from being interrupted, according to a spokesperson for the Oklahoma City Department of Parks and Recreations.
"One woman was escorted off of our property by Oklahoma City Police as she kept trying to get inside the building and would not move back when asked," spokesperson Jennifer McClintock wrote in a statement to The Christian Post. "Another protester, dressed in costume as if he were to attend, also tried to gain access inside, but then backed off after police asked him to leave. Most of the protesters assembled prayed or sang peacefully in front of the facility where they were asked to gather."
According to Koco.com, the woman who was removed by police had broken into the building and shouted to the attendees "Jesus loves you, and I love you."
Daniels told Tulsa World that the "black mass" service, which lasted from about 7 p.m. to 10 p.m., included music from the band "God in a Machine" followed by a ritual where attendees denounced Jesus Christ and pledged allegiance to the devil.
One unnamed protester appearing in Rigged Reality Radio's video account of the protest said Satanic groups that blatantly hold services in the Bible belt embody all that is wrong with America.
"Nobody fears God nowadays," the protester said. "The people in America don't fear taking God's name in vain, they don't fear to take the name of Jesus Christ in vain and now they have gotten to the point where they are going to have an open Satanist meeting in the United States in a conservative town and conservative state. It's very important that they know that they are going to face judgement."
Despite receiving over 1,500 emails and hundreds of phone calls along with heavy criticism from Oklahoma City Archbishop Coakley Paul asking the Oklahoma City Department of Parks and Recreation to reconsider letting the group use its facility to host their "black mass", the department was forced by the first amendment to let the group use the facility or else face legal action from activist groups like the American Civil Liberties Union.
"If we had cancelled the event, we would likely have been sued by the ACLU, whom we know was watching the case very closely," McClintock stated. "In the past, when the City has attempted to interfere with an individual's free exercise of speech on our property, we have been taken to Federal court. We have lost each of those cases at our taxpayers' expense."
Although most of the protesters were there to speak out against Satanism, many protesters representing different Christian sects began verbal conflicts over the differing beliefs between the different Christian sects.
"There were a few verbal skirmishes between different Christian groups based upon differences in their faith, but those did not require police intervention," McClintock stated.
One group representing Israel United In Christ, can be seen in Rigged Reality Radios video using the protest as an opportunity to criticize other Christians.
"Repent and be converted," the group's representatives shouted. "That's the problem with you so-called Christians, all you want to do is [say] 'forgive me Jesus' and think [you] can go back and do what [you] want to do. When you convert that means you change. You come back to this Bible and you keep God's laws."
A congregation from the Archdiocese of Oklahoma City was unofficially involved, although they did not claim to protest. After a Holy Hour at St. Francis of Assisi with prayer services led by Archbishop Coakley, over 3,000 members of the congregation participated in a Eucharistic procession of the two blocks from the church down to the civic center and back up to the church for a benediction from the Archbishop on the churches front steps.
"It was an amazing moment filled with prayer and love, and a wonderful reminder of how powerful and gracious our Lord is in our everyday lives," Communications Director for the Archdiocese of Oklahoma City Diane Clay wrote in a statement to The Christian Post. "To watch nearly 3,000 people prayerfully walk through the streets of Oklahoma City and then get on their knees in silent prayer was an experience we will never forget."