Satanic Cross Outside Florida City Hall Matched by Christian Cross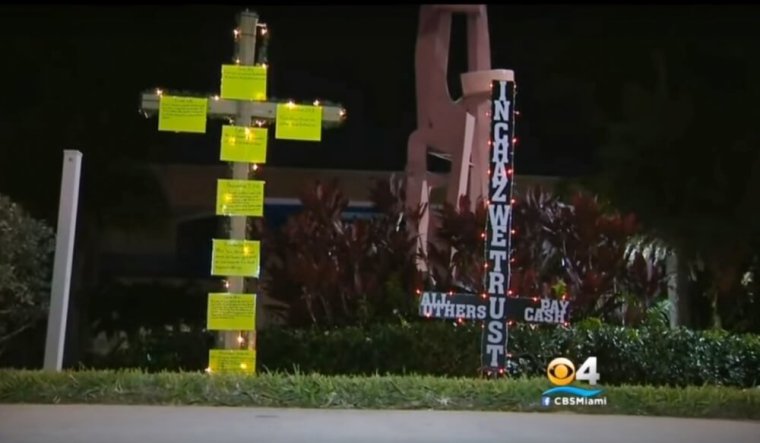 An atheist's effort to promote separation of church and state by putting up a Satanic cross outside a Florida city hall has been countered by a Christian by setting up a regular cross beside it.
Chaz Stevens, an atheist, was outraged by the nativity and menorah displayed in front of the Hallandale Beach City Hall in Florida during the holidays that he put up an upside down cross on the lawn with the words "In Chaz We Trust, All Others Pay Cash" written on it. The Satanic cross, which lights up in red when the sun goes down, symbolizes his protest at the government's involvement in religious activities, according to the Daily Caller.
In an interview with the Sun-Sentinel, Stevens said the government should not meddle in religious events. While he admits that his Satanic cross is tacky, he said it only serves to deliver his statement to the public and he plans to take it down before weekend, Raw Story reports.
The upside down cross is also part of Stevens' protest against the city mayor's plan to hang a banner bearing the words "In God We Trust," in government offices.
"It's not like I practice evil. We do not believe in Satan. We are atheists. However, we'll believe in Satan, in Jesus, we'll believe in whatever if it furthers our cause of Satanology," Stevens told CBS Miami in another interview. "…Which is promotion of our civic activism to further a discussion of our civil rights, of separation of church and state. And how we're doing that is we're using the hobgoblins of Christianity against themselves."
It is worth noting that the city has placed a notice next to the six-foot Satanic cross explaining that the structure is merely an expression of religious freedom. The sign also says the private installation does not represent the views of the city administration, the report relays.
To counter the Satanic cross, Hubert Jackson decided to put up a Christian cross next to Stevens' structure. Jackson, who serves as a deacon at the Higher Vision Ministries, said he obtained permission to put up the regular cross so as not to mislead people into thinking that the city endorses Satan.
Meanwhile, Stevens is brewing up a plan to put up Satanic crosses in other towns.