'Saturday Night Live' pokes fun at white evangelical vaccine hesitancy: 'Obstacles to herd immunity'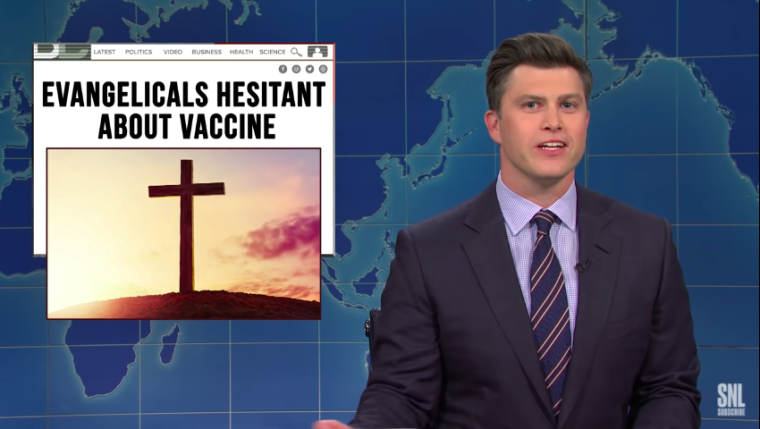 NBC's "Saturday Night Live" poked fun at vaccine hesitancy among white evangelical Christians over the weekend, calling the religious demographic "one of the biggest obstacles to herd immunity."
On Saturday's show, hosted by Elon Musk, "SNL" head writer and "Weekend Update" host Colin Jost pointed out that white evangelicals are the least likely religious demographic to get vaccinated.
"Experts say that one of the biggest obstacles to herd immunity is that many white evangelical Christians are refusing the vaccine," he said. 
Jost then quipped, "Look, evangelical Christians, I know you guys wanna get into Heaven, but it's not a race," which drew laughs from the audience. 
A Pew survey conducted in February of 10,121 U.S. adults found that 54% of white evangelicals "definitely or probably" plan on getting vaccinated or already have received at least one vaccination shot, the lowest of any religious demographic surveyed. 
COVID vaccines have been a controversial subject among some Christian groups in recent months. Some religious leaders and critics have claimed that vaccines have ties to aborted fetal tissue or contain microchips. Others have connected the vaccines with the "mark of the beast." 
But many high-profile Christian leaders, including Franklin Graham and Southern Baptist Convention ethicist Russell Moore, have urged people to get the shots. 
Graham is the son of the late evangelist Billy Graham. The humanitarian charity that Graham leads, Samaritan's Purse, set up several field hospitals to treat COVID-19 patients worldwide. He also told his 9.6 million Facebook followers that Jesus would advocate for vaccination.
"So, my own personal opinion is that from what we know, a vaccine can help save lives and prevent suffering," he wrote.
Outspoken conservative Pastor Robert Jeffress, who heads First Baptist Dallas, recently announced his church will hold a COVID-19 vaccination clinic after Sunday services later this month to encourage congregants to get the shot. 
"Our church will never be what it needs to be until you're back," Jefferess, one of the earlier evangelist supporters of President Donald Trump during his 2016 election campaign, told his congregation earlier this year, according to Dallas News. "The greater risk is the spiritual danger of staying isolated."
"I'm not forcing anybody to get the vaccine," he added. "That's your choice. But what I am saying is if you are not back yet, and would like to come back, one option is to take the vaccine, and therefore, you don't have to worry about what other people do or don't do here in the church."
Dr. Francis Collins, a Christian physician-geneticist and the director of the U.S. National Institutes of Health, has repeatedly discussed the safety and efficacy of the vaccines and has encouraged Christians to seek out the truth about vaccines instead of misinformation and conspiracy theories.
"I know people are tired of hearing these messages and having to be acting upon them, but the virus does not care that we are tired," he said during an online conversation about COVID-19 vaccines with the Southern Baptist Ethicist Moore.
"The virus is having a wonderful time right now spreading through this country, taking advantage of circumstances where people have let their guard go down. We need to be just absolutely rigorously adherent to things that we know work. But they don't work unless everybody actually sticks to them faithfully without exception."    
Southern Baptist leaders have also encouraged Christians to receive the shot.
J.D. Greear, president of the Southern Baptist Convention, tweeted a photo of himself receiving a shot. 
Moore, who heads SBC's Ethics & Religious Liberty Commission, argued that vaccines are a "cause for Christians to rejoice and to give glory to God," identifying medicine as a "common grace, discovered by human beings but given by God."
"We have all lost much during this pandemic. For Christians, one of the most awful aspects, apart from the deaths of those we love, is the isolation we have had from one another, along with our feelings of powerlessness to change the situation," Moore wrote in an op-ed for The Washington Post penned alongside National Association of Evangelicals President Walter Kim.
"The vaccines change that equation. By getting vaccinated as soon as our time is called, we can actively work for what we have been praying for — churches filled with people, hugs in the church foyer, and singing loudly together the hymns we love."
Kim and Moore contend that the vaccines help "express our love for neighbor — especially the sick and elderly — by reducing the chance that we might inadvertently pass along a virus that could kill them."