School District Investigates After Mass Baptism Takes Place Before Football Practice at Villa Rica High School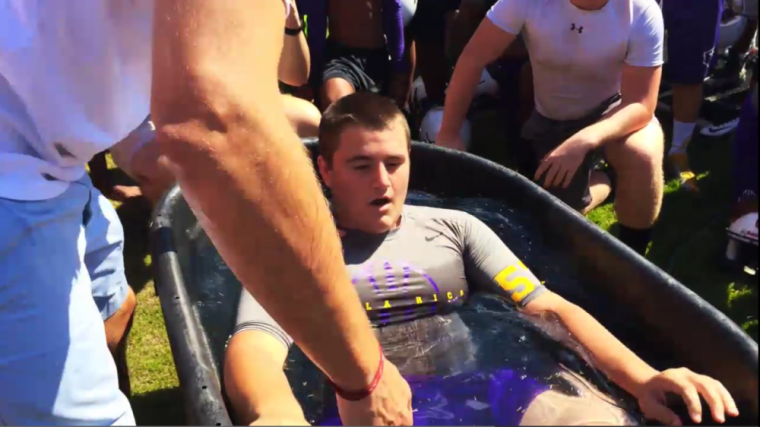 A Georgia school district has launched an investigation into the mass baptism of a football coach and some of his players on the grounds of Villa Rica High School last month after a protest campaign was launched by the Freedom From Religion Foundation when video from the event was made public.
The video of the baptisms, which was shot by a staff member of First Baptist Villa Rica church and posted to YouTube, has since been removed but a copy is available in this Fox News report.
"We had the privilege of baptizing a bunch of football players and a coach on the field of Villa Rica High School! We did this right before practice! Take a look and see how God is STILL in our schools!" the caption of the video read on YouTube before it was removed, according to 11 Alive.
Once the Carroll County School system was made aware of the video, however, they launched an investigation, according to a statement cited by 11 Alive.
"The Carroll County School System was made aware of a situation that took place at Villa Rica High School prior to football practice on Aug. 17. The district is currently looking into the specifics of this situation and will take appropriate steps to ensure all state and federal laws are followed," noted school district officials in the statement.
"I can't remember another case like this. … It's really misusing the authority of the coach to promote his personal religious agenda," Annie Laurie Gaylor of the Freedom From Religion Foundation told 11 Alive.
Kevin Williams, the pastor of First Baptist Church and members of his congregation were involved in the baptisms which attracted a diverse group of about 75 people — they were reportedly all voluntary decisions.
"We never meant to cause any problems for the school and we never thought we would get this much media attention for baptizing kids," said Williams whose church has provided both spiritual and financial support to the school community.
He explained that the church recently held a football themed worship service called "Gridiron Day" and one of the coaches asked if he could be baptized on the football field. A number of players, who had recently converted to Christianity, he said, also asked to be baptized as well.
"It was their choice to do that," said Williams. "We live in a free nation. People choose what they want. These people that got baptized — freely chose at a church service to accept Christ and this was a follow up to that."
Over the past few years, he added, several teenagers have committed suicide in the community and they are just trying to help by providing hope through the Gospel.
"We're trying our best as a community to reach out to these kids and love on them and show them there's a better way — there's hope," said Williams. "That's what we are providing through Jesus Christ to these kids."
WATCH THE BAPTISM VIDEO BELOW: