School Official Who Attacked Church for Wishing Muslims 'Blessed Ramadan' Apologizes but Won't Resign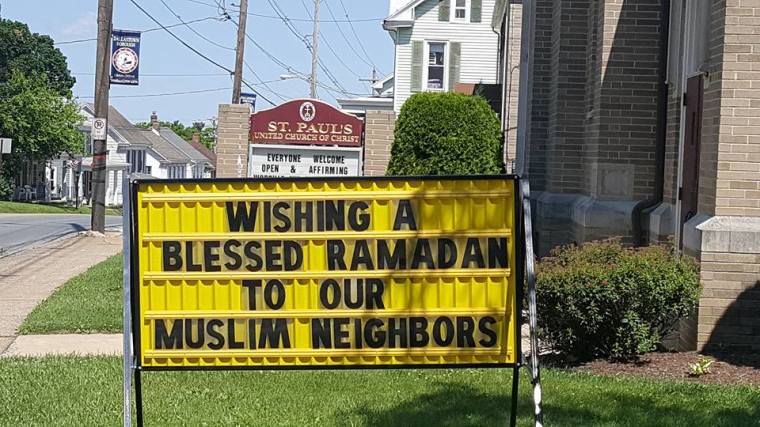 An elected school board member in Spring Grove, Pennsylvania, who publicly expressed outrage over a church's sign wishing Muslims a "blessed Ramadan" will remain in office, despite calls for his resignation.
Spring Grove Area School District board member Matt Jansen offered an apology Monday for his social media comments criticizing the pastor of St. Paul's United Church of Christ in Dallastown for posting a message in front of the church that reads: "Wishing a blessed Ramadan to our Muslim neighbors."
St. Paul's UCC Pastor Christopher Rodkey told The Christian Post that, speaking for himself, if Jansen was a school board member in his district, "I would be doing everything I could as a private citizen to demand his resignation."
"I am outraged that he said on Twitter after the Monday school board meeting that he wouldn't resign because the students of the Spring Grove School District needed him to protect them," Rodkey said. "One might ask, from whom? The context of the conversation shows that he was discussing radical Islam. This is an attitude that has no place on a public school board."
"At the board's meeting Monday, several people asked Jansen to resign," local news station WAVY-TV 10 reports, noting that Jansen had already said he had no intention of resigning from his position.
"After the meeting, Jansen reiterated his apology, saying he made a mistake and that he's disappointed in himself for not considering his role with the board before deciding to 'spout off,'" according to WAVY.
Rodkey told CP that although the school district said Jansen cannot be forced to resign since he committed no crime, he believes Jansen has, in fact, committed "two illegal actions."
"First, he intentionally harassed the church, and then encouraged others to harass the church using his social media reach. No one has doubted this and he has not yet taken down his initial Twitter post which encouraged others to harass us," Rodkey continued.
"Second, he used and abused his position of power as an elected official to meddle in the affairs of a religious organization in his community of which he is not a member, calling me and the church 'blasphemous,' and using this position he encouraged others to harass us."
Earlier this month, Jansen posted a tweet lamenting the message at St. Paul's UCC and posted the church's phone number on his Twitter account so that others could express their outrage at the sign.
Despite his public apology, as of Wednesday afternoon his tweet showing the church sign and providing the number has not been removed.
Rodkey explained to CP that the Ramadan sign has been taken down, as it was only scheduled to be up for a week. He also noted that while he publicly accepted Jansen's apology, he was skeptical of his sincerity.
"The apology gives the appearance that he is sorry that he got caught. And honestly, I would have no idea who he is had he not left the call on my mobile phone. I would have never seen his Twitter," Rodkey explained.
"So, in short, I accept the apology, despite my questions of its authenticity and the fact that it wasn't directed at us. But he has more to apologize for, and not just to us, but to the people of Spring Grove School District."