Scientists Create Half Chicken, Half Human Embryos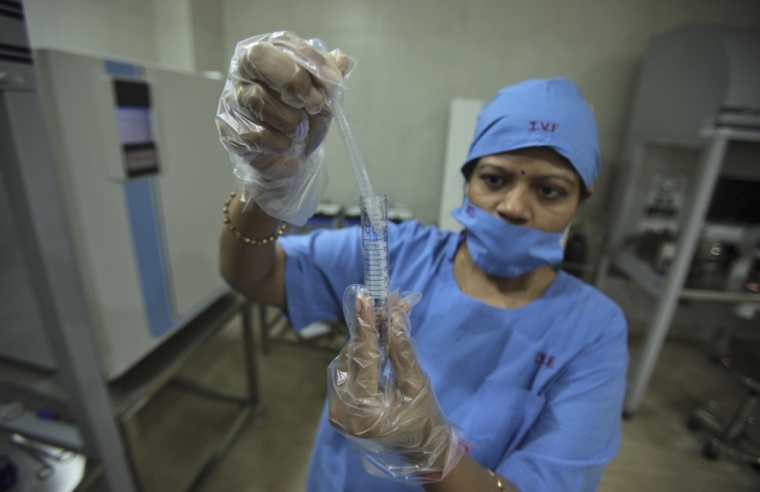 Researchers in New York have created half human-half chicken embryos, circumventing restrictions on research with human embryos, to observe for the first time how cells organize themselves.
A team of researchers led by Dr. Ali Brivanlou, a developmental biologist at Rockefeller University in New York, are the first-ever scientists to watch cells in a developing embryo organizing themselves as top, bottom, front and back, according to Scientific American.
To do so, they grafted human cells onto chicken embryos.
"No one knew what happens after the ball of cells attaches itself to the uterus," Brivanlou says in the study, published this week in the science journal Nature.
Organizer cells form a cell's top, bottom and back and dictate how the human body takes its form.
"Once you transplant the human organizer into a chicken embryo, the language it uses to instruct the bird cells to establish the brain and nervous system is exactly the same as the one used by amphibians and fish. … To my amazement, the graft not only survived, but actually gave rise to these beautifully organized structures," Brivanlou added, according to Daily Mail.
Ethical guidelines and laws in the United States restrict scientists from experimenting with human embryos more than 14 days old, which is about the time organizer cells begin to form. To bypass the laws, the researchers grew embryo-like structures derived from human embryonic cells, and then transplanted the structures onto 12-hour-old chicken embryos.
Dr. Martin Blum, a developmental biologist at the University of Hohenheim in Germany, believes the finding could replace the use of actual human embryos in laboratories, according to Express.
However, Brivanlou disagrees. "There is no substitute for studying the real embryo. Everything else we do when we try to model kind of oversimplifies it," he said in the study report. Scientists now need to find out how exactly organizer cells influence their neighbors, so that stem cells could be manipulated into regenerating specific tissues and organs, he added.
Writing for the website of the Southern Baptist Ethics & Religious Liberty Commission, Joe Carter, the editor of the NIV Lifehacks Bible, explained in an article published earlier why stem cells are so important to research and ethical issues the research involves.
"Stem cells provide a valuable tool for studying both normal and abnormal cellular processes. By learning how stem cells differentiate and become specialized, scientists hope to gain a better understanding of how cells in general work and what can go wrong," he wrote. "Second, stem cells may prove to be an indispensable source of transplantable cells and tissues for repair and regeneration. If stem cells can used to produce new and differentiated cells that are damaged because of disease (such as Parkinson's disease) or injury (e.g., spinal cord damage), it would transform regenerative medicine."
However, he continued, the process of obtaining stem cells destroys the embryo from which the cells are taken. "Because human life begins at conception, embryo destruction is immoral since it is the destruction of a human being. Even some people who do not believe that human embryos are deserving of full moral status worry about what the effects of normalizing such practices may have on society."
Advocates of embryo stem cell research, on the other hand, argue that it's unethical to hamper the human potential to heal disease and relieve the suffering of fully developed human beings. "They believe that the moral status of a 150-to-200-cell early human embryo should not take precedence over responsible scientific inquiry."
But "the Bible strongly suggests that human life begins at conception," Carter added.