Sec. of State Rex Tillerson Declines to Host Traditional Ramadan Reception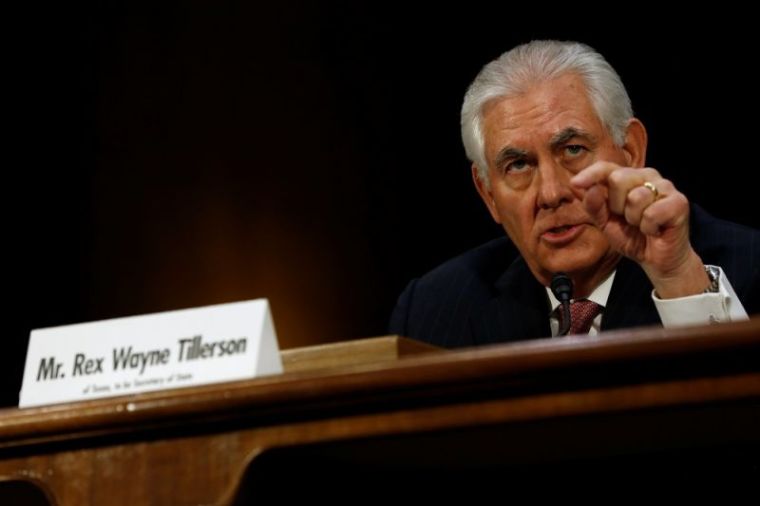 Sec. of State Rex Tillerson broke a nearly two-decade old tradition by declining to host a special celebration honoring the Muslim holy month of Ramadan, which takes place this year from May 26 until June 24.
As first reported by Reuters, the 65-year-old former ExxonMobil CEO has rejected a request from the State Department's Office of Religion and Global Affairs to host an Eid al-Fitr reception as part of official Ramadan celebrations.
Tillerson's move comes as secretaries of state from both parties have with few exceptions hosted a reception of some sort every year to honor Ramadan since 1999.
In some cases, secretaries of state have held "iftar" dinner celebrations during the holy month to break from the fasting of that day. In other instances, secretaries have hosted Eid al-Fitr receptions at the end of Ramadan.
The tradition was started by former President Bill Clinton's Sec. of State Madeleine Albright 18 years ago and has become a symbol of the United States' ongoing engagement with the global Muslim community.
The Office of Religion and Global Affairs sent out an April 6 memo that recommended Tillerson host an Eid al-Fitr reception, much like former Sec. of State John Kerry did in 2016. The event is usually attended by Muslim leaders, diplomats, Congress members and other key figures.
Reuters reports that the Office of Religion and Global Affairs received a response several weeks after sending out its April 6 memo saying that Tillerson had denied the request.
"We are still exploring possible options for observance of Eid al-Fitr, which marks the end of the month of Ramadan," a State Department spokesperson told Reuters. "U.S. ambassadors are encouraged to celebrate Ramadan through a variety of activities, which are held annually at missions around the world."
Farah Pandith, a former U.S. diplomat in the Bush and Obama administrations who helped plan Ramadan events at the White House and State Department, told Reuters that should Tillerson avoid hosting a major Ramadan celebration this in 2017, it could send the message that "it is not as important to this administration to engage with Muslims."
Since his election campaign, President Donald Trump has not maintained a good relationship with the Muslim community in large part because of campaign rhetoric calling for a ban on Muslim immigration into the United States. Trump also received criticism when he signed an executive order in the first days of his presidency banning immigration from seven Muslim-majority countries. However, that order has been struck down by a number of courts.
As CNN points out, there is no telling whether Tillerson's decision is related to the shake-up in the State Department. Because of budget cuts in the State Department, some fear that the Office of Religion and Global Affairs and other offices could end up being scrapped as a part of the agency's restructuring.
CNN reports that the State Department is expected to cut about 2,000 jobs over the next two-and-a-half years.
The news of Tillerson's denial comes after he released a statement last week in which he wished Muslims a "peaceful and blessed Ramadan."
"Ramadan is a month of reverence, generosity, and self-reflection," he stated. "Most importantly, it is a cherished time for family and friends to gather and give charity to those who are less fortunate. This time reminds us all of the common values of harmony and empathy we hold dear."
As for Trump, he received criticism for issuing a statement on Ramadan last week that called for the rejection of extremist ideas and terrorism.
"This year, the holiday begins as the world mourns the innocent victims of barbaric terrorist attacks in the United Kingdom and Egypt, acts of depravity that are directly contrary to the spirit of Ramadan," Trump stated. "Such acts only steel our resolve to defeat the terrorists and their perverted ideology."
Shadi Hamid, a fellow at the Brookings Institution who is also Muslim, told The Washington Post that Trump's statement tries to tie Muslim Americans in with the extremist violence happening throughout the world.
"We, as American Muslims, shouldn't be defined solely in our relationship to bad things that we have nothing to do with," Hamid said. "We're also normal people who happen to be Muslim and to see us and our history in America so narrowly is plain out offensive."