See How Pakistani Gov't Just Helped This Enslaved Christian Community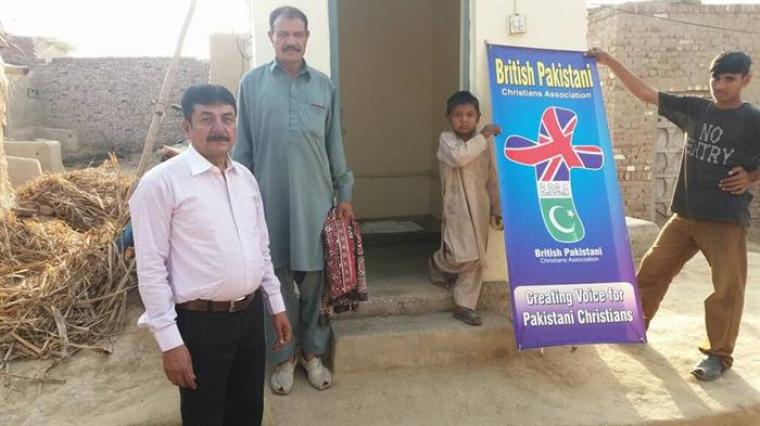 Accused of not doing enough to protect the Christian minority, the Pakistani government has taken steps to improve the quality of life for a community of poor Christians living in squalor as bonded laborers in a rural area of Jaranwala in the Punjab Province.
According to the London-based charity British Pakistani Christian Association, the High Commission of Pakistan in London authorized the construction of 10 brick washroom facilities that will serve roughly 100 Christian families who live in mud homes and are too poor to afford their own toilets, plumbing and clean drinking water.
Prior to the existence of washroom facilities, which were completed in February, the impoverished people in the community were forced to use open fields as toilets and even get their drinking water from unsanitary sources, such as puddles.
BPCA President Wilson Chowdhry told The Christian Post on Wednesday that the project was authorized by the Pakistan's High Commission in London after receiving a proposal for the project from the BPCA in 2015. He explained that the project was facilitated by the provincial government in Punjab.
BPCA discovered the dire situation in Jaranwala in 2014 when it came to the aid of two teenage Christian sisters from the community who had been abducted and gangraped by Muslim men while they were using the fields to relieve themselves in the middle of the night. They were found the next morning miles away lying on the side of the road.
"Whilst we were there, our intrepid officer Mehwish Bhatti came across many other families and discovered that Sherish and Farzana weren't alone in their use of fields as toilets. It was a very commonly occurring phenomenon amongst these impoverished families," Chowdhry stated.
"We also then discovered that most of them drink water in a very unsanitary way also," he added. "For instance, Mehwish found men drinking from puddles, where they would flick the water with their hand — a process that they seemed to think would filter out filth and other contaminants before drinking it. Some would lay a handkerchief on the floor and slurp through that."
Chowdhry said that after BPCA officers saw the conditions of the enslaved Christian community in Jaranwala, they knew that something had to be done.
"We approached a number of bodies," Chowdhry recalled. "And it just so happened that the First Minister at the Pakistan High Commission in London, the former first minister, who had been around the time we were protecting Sherish and Farzana, had seen our protest outside the Pakistani Embassy for [the imprisoned Christian mother on death row in Pakistan], Asia Bibi."
Chowdhry said that the first minister later invited him to have coffee. During their meeting, Chowdhry laid out a number of ideas for how the government can help poor Pakistani Christian communities.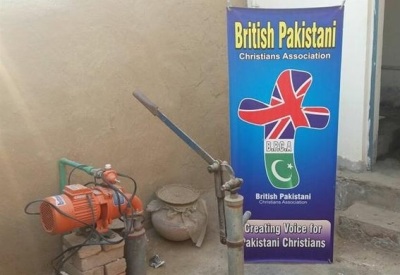 "During that discussion, I put forward the suggestion that we build these washroom facilities and he quite liked the idea," Chowdhry said. "Working with Mehwish, we managed to put a proposal across for 10 properties where we believed that these toilets would serve best use, allowing people to group as clusters and share facilities so that they would have access to clean water and have access to safe, sanitary toilet facilities. The owners of the properties in which these facilities are built have an agreement in place where they will share this with other Christian families in their vacinity."
Although the BPCA fell out of contact with the High Commission for a while, the organization was informed this winter that their proposed project was nearing completion.
Chowdhry said he was amazed by the fact that the scope of the project went above and beyond what the BPCA proposal requested. Initially, the BPCA requested that hand pumps be installed, stating that just one hand pump would cost a bonded laborer at least three years' worth of pay. However, more expensive electric pumps were installed instead.
"This project has gone beyond our initial expectations," Chowdhry asserted.
The government's support of the Jaranwala community comes as the government in Pakistan has been widely accused of not doing enough to protect the vulnerable Christian community, which makes up just over 1 percent of the nation's entire population.
With the government enforcing strict blasphemy laws, human rights advocates have long argued that the laws allow Muslims to falsely claim that Christians have committed blasphemy in order to settle personal scores with religious minority individuals without any credibility.
Additionally, activists say that Muslims who commit crimes against Christians and religious minorities often receive a certain level of impunity from authorities. A 2014 report found that anywhere from 100 to 700 Christian girls are abducted and forced into Islamic marriages each year while authorities do little to help the Christian families secure the return of their abducted loved ones.
Pakistan ranks as the fourth worst country in the world when it comes to the persecution of Christians, according to Open Doors USA's World Watch List.
Chowdhry told CP that there are more Christian communities throughout Pakistan that are similar to that of the community in Jaranwala and could benefit from government-installed washroom facilities.
Chowdhry met with officials from the High Commission of Pakistan in London on Thursday to discuss the possibility of installing washrooms in other communities and other ways the government can help Christians.
"Our meetings with the High Commission of Pakistan in the U.K. are becoming more productive," Chowdhry said. "We are developing a strong sense of a united goal to improve the rights and quality of life of minorities and we can be open and frank with one another. This means we have many unofficial discussions, the likes of which I cannot share any detail, but I can confirm it is enabling the BPCA to influence positive change into the area of minority rights."
"At today's meeting I shared a few more proposals for unrelated projects which we hope to gain support for from the Government of Pakistan and we have also been advised that they would like to work with us on projects of a similar nature to the successful washroom project in Jaranwala," he added.
Another community that could benefit from government-installed washrooms are Christians in Kasur, many of whom also work as bonded laborers, live in mud homes and don't have access to clean water. In 2015, a major flood hit Kasur and washed many of the mud homes away.