Sex and the Gospel Conference to Teach 'Foundation of God Sex'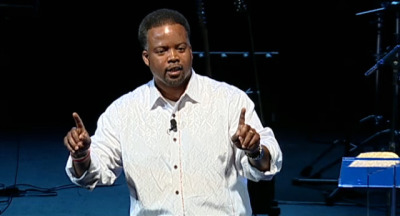 Sex is everywhere. It's used to sell movies, clothing and food, and can even lead to divorce. According to the husband-and-wife duo leading Crossover Bible Fellowship, if more people viewed sex from God's perspective, they might have fewer regrets and maybe even happier marriages.
But the Sex and The Gospel conference taking place April 5-6 at the nondenominational church in Houston, Texas, isn't just for married couples or adults. Pastor Blake Wilson told The Christian Post that his message on Biblical sexuality was actually inspired years ago by a group of teens at a retreat.
"As my wife and I began to speak on sex, the kids really responded...and so from there we started getting more and more invitations to speak on sex. The next thing you know, it kind of developed into a series. I became a youth pastor and we started putting more and more teachings together on it because kids were basically saying, 'Here's what we're facing and dealing with every day. These are the realities we're dealing with in middle school and high school, and we never knew God had anything to say about these issues," he said.
Wilson is lead pastor of the Houston-based Crossover Bible Fellowship, a congregation of 700-800 members with a strong youth presence. His wife, Dr. Ronique Wilson, leads CBF's Wise Woman Project and has done research on how family and religious beliefs influence the sexual decision making and behaviors of young women.
Wilson is known for his Biblically-based curriculum on sex, having shared it with NBA teams, churches across the country and, most recently, at the Advance the Church conference in North Carolina, where he said the message was an eye-opener for some who were surprised "how Biblically-based the message was as it relates to the culture."
"I think one of the things that came out of the conference the most is people being amazed at what God said," he told CP. "We've just never really been taught well concerning sex."
The 2013 Sex and The Gospel conference, which has so far seen nearly 300 people pre-register for the event, will feature Pastor Wilson as the keynote speaker and Dr. Wilson leading the women's breakout session on sexual identity. During the two days and six sessions, attendees will hear about "Four Play – The Foundation of God Sex," "Legal Sex," "Wise Sex," "Sexual Confusion" and "Sex in the Church."
As Dr. Wilson puts it in a promotional video for the conference, "We're inundated with sexual images by every area of our lives."
"I can even remember watching television and a rice commercial [came on]," she adds in the video. "There was a woman standing in lingerie cooking rice. They were using sex to sell rice."
"Back when I was growing up, you didn't even see certain TV shows with the couple sleeping in the same bedroom," Pastor Wilson says in the video. "Now, TV shows are totally driven by what's going on in the bedroom. So the culture needs to hear what is the proper way for an introduction of sex. But then the church needs to hear the proper introduction of sex."
Preachers have taken to the pulpit before to talk about sex and written numerous books on the subject, but Pastor Wilson believes Christians and churches have an obligation to keep the conversation going because Biblical sexuality "isn't being talked about enough."
"God's problem is not with sex, God's issue is with sexual immorality," he said, adding that he believes "the vocal chords and the mouthpiece of God are quiet on a subject that God has been talking about since Genesis 1 to Revelation 22."
"The original purpose for sex in the Bible was procreation, the first purpose of sex for a man and woman, husband and wife, was to reproduce God's image on the face of the earth. God wanted us to be fruitful and multiply, to bear His image and to raise up children that would reflect His character in the earth realm," Wilson said, noting that God's other purposes for sex in marriage are consummation, recreation and protection.
As for critics or skeptics, the pastor said, "I would just say really take some time to listen and hear and be well-informed, because we're not doing well with the sexually transmitted diseases that we have across the country, and people dying from those, children being raised out of wedlock. I think that if we would run the plays that God has instituted, we could possibly do better than how we're doing on our own."
More details about the 2013 Sex and The Gospel conference can be found on the official event website.