Shane Claiborne Blasts Tennessee's Decision to Reinstate Electric Chair: 'Electrocuting Someone to Death Is Evil'
Christian social justice advocate Shane Claiborne mourned a "sad day in the movement for a better world" after Republican Tennessee Governor Bill Haslam decided last week to sign a law that will authorize the state to use the electric chair if lethal injection drugs are not available for the death penalty.
"I don't think there is any good way to kill someone, but there is definitely an evil way – and electrocuting someone to death is evil," wrote Claiborne on Facebook. "No one speaks with more credibility than former executioner Ron McAndrew who describes what it is like to smell someone as they die by electrocution, and to watch someone's head smoke as they die. I cannot believe that we are actually considering the electric chair a viable form of 'justice' in the United States in 2014."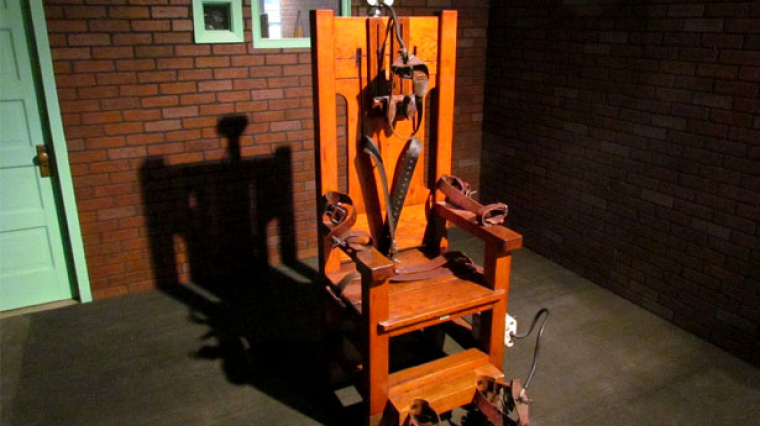 Claiborne, who is in the middle of writing a book speaking out against the death penalty, begged Haslam personally last month to halt the execution of 10 inmates currently set to die later this year.
In a post last month on Red Letter Christians, Claiborne characterized his conversation with the governor as inspired by Mother Teresa.
"With her characteristic cocktail of boldness and humility, Mother Teresa commissioned the governor with these simple words: 'Do what Jesus would have you do.' That governor halted executions. So before I knew it, those were the words rolling off my lips. I'm no Mother Teresa, but I hope this governor does the same thing her governor friend did," Claiborne wrote
After speaking with the governor, Claiborne also met with the Tennessee's death row inmates, adding that some of them personally invited the governor to pray with them and "one of them is writing a book with his victim's family, a book on forgiveness."
Claiborne added that it might also be "time for people of faith and conscience to start going to jail in TN — for nonviolent demonstrations against the 10 executions that are scheduled ... perhaps it is time for lots of us to join the great abolitionists already at work in Tennessee. Perhaps we should all consider laying our bodies in the way of the electric chair to stop such a horrific glorification of death. I really do think we will look back a generation from now, as we look back at slavery, and wonder — how did we possibly think that was okay?"
The same week that Claiborne spoke with Haslam, the politician also spoke at the Q Ideas conference in Nashville, Tennessee.
Conference founder and emcee Gabe Lyons asked Haslam, how he as both a politician and Christian, intended to make a decision on the 10 Tennessee inmates set to be executed later this year.
The governor explained that because no official date for the executions has been set, he was unable to frankly speak on "when it comes to 11 p.m. the night before, what exactly that will feel like."
As the legal process unfolded in the next couple weeks, Haslam noted it was his "responsibility to dive into the individual situation, talk to as many smart people about that situation as I can, and pray about it, and make the decision."
Christian writer and blogger Jonathan Merritt, who accompanied Claiborne on his trip to the prison, responded on social media to Haslam's response, quipping "How NOT to love your enemies."
"Not a peep from consv Christians on this barbaric development. But, oh the insanity over cake baking," he added, referring to a polarizing discussion several months ago over legislation which some argued would protect religious freedom, while others characterized as discriminating against the LGBT population.
Tennessee lawmakers passed the legislation in April, with a vote of 23-3 in the Senate and 68-13 in the House. Haslam signed the bill into law on Tuesday, but it's unknown when the chair might actually be used or given as an option to prisoners. The last time the electric chair was used for execution was in 2013, in Virginia, for inmate Robert Gleason, Jr. It is still an option for prisoners in eight states.
"There are states that allow inmates to choose, but it is a very different matter for a state to impose a method like electrocution," Richard Dieter, executive director of the Death Penalty Information Center, told the Associated Press. "No other state has gone so far."
Dieter also explained that he expects plenty of legal challenges to the electric chair once prisoners are given execution dates. Tennessee is the first state to not give prisoners the option of lethal injection or electrocution but will simply carry out the execution via electrocution if drugs are unavailable at the time.