Shirley Caesar, 11-Time Grammy Award Winner, Receives Lifetime Achievement Award Honor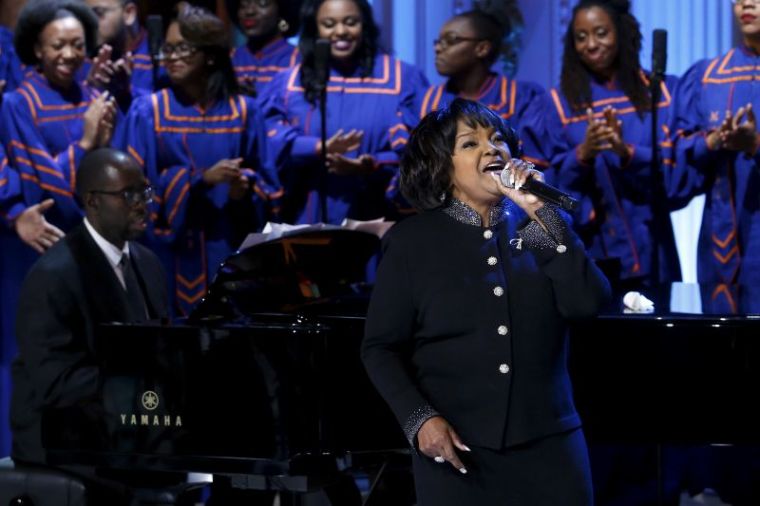 Gospel legend Shirley Caesar, whose 1988 song "Hold My Mule" recently became a viral sensation on YouTube, will be honored with a Lifetime Achievement Award from the Recording Academy during its Special Merit Awards ceremony in 2017.
The 11-time Grammy Award-winning artist, who is the pastor of North Carolina-based Mt. Calvary Word of Faith Church, where she co-pastors with her husband, Bishop Harold Ivory Williams, will add yet another award to her impressive collection.
"Recipients [of the award] comprise a prestigious group of diverse and influential artists who have crafted or contributed to some of the most distinctive recordings in music history," said Neil Portnow, president of the Recording Academy, in a statement on Monday, according to Eurweb.
Other award recipients include, Ahmad Jamal, Sly Stone, country legend Charley Pride, singer Jimmie Rodgers, and Velvet Underground. Singer-songwriter Nina Simone will be awarded posthumously.
Caesar's music career has spanned nearly 60 years, and has performed alongside Dorothy Norwood, the Caravans, Albertina Walker, Inez Andrews, James Cleveland, and Dolores Washington. 
Off stage, the 78-year-old Caesar is active within her community, serving on the Durham City Council and operating an outreach ministry, named after her, for nearly 40 years.
Last month, Caesar's hit "Hold My Mule" was remixed by fans nationwide who posted their videos on YouTube for the "U Name It Challenge." And one particular line from Ceasar's song continues to go viral: "I got beans, greens, potatoes, tomatoes, lambs, rams ... — you name it!" The verse became a mantra, earning its own Twitter hashtag #UNameItChallenge where individuals shared videos of themselves repeating the lyrics to music, and often adding their own choreographed dance moves.
While Caesar said she loved the fact that a song she recorded decades ago was turning into a viral cultural sensation, she was vehemently opposed to it being used in sexually suggestive twerking videos and even filed a $5 million lawsuit against an Atlanta DJ who featured alcohol in his video. 
The injunction was filed against DJ Suede (Keenan Webb), Jullian Boothe and Empire Distribution for unauthorized use of clips from her sermon in their video, which has since been removed from YouTube.
Judge Glenda Hatchett ruled that the video and its images of alcohol "violate the brand, image and name of a Christian pastor," adding that the song also jeopardized a deal Caesar was working on with famed rapper Snoop Dogg. 
In an interview with TMZ last month about the videos people were posting online, Caesar, whose latest album is Good God, said, "I like, what I would call, the original one [song] because it's taken from a recording session that I did at my church. It was a live recording session," she said, referring to her 1988 album, Live in Chicago.
The Christian Post reported that Caesar said she was OK with the dancing that often accompanied the remixed version of the song on social media, but asked women to stop posting videos of themselves "twerking."
"When you look and see all of the gyrations, and especially the women. I can even put up with the dancing, but all of the shaking and the twerking and all of that. I just want everybody to know that I'm a gospel singer, I'm a born again believer, I'm a pastor, and I don't ever want anything — not anything — to bring a [negative] reflection on what I stand for."
In a twist, however, Caesar said she approved of Snoop Dogg's holiday edition remix of her song called "U Name It Holiday Anthem," where he included spiritual undertones in his rhymes while describing his holiday feast and even made a reference to Caesar and broadcast personality Bobby Jones.
She has also capitalized on the internet phenomenon by creating a line of T-shirts and cooking aprons that feature lyrics from her song on the U Name It Shirley website. Proceeds from sales of merchandise will go to charity.