So. Baptist Leader Calls for Repentance, No Sermon at Annual Meeting: 'We Need God to Break Us Down'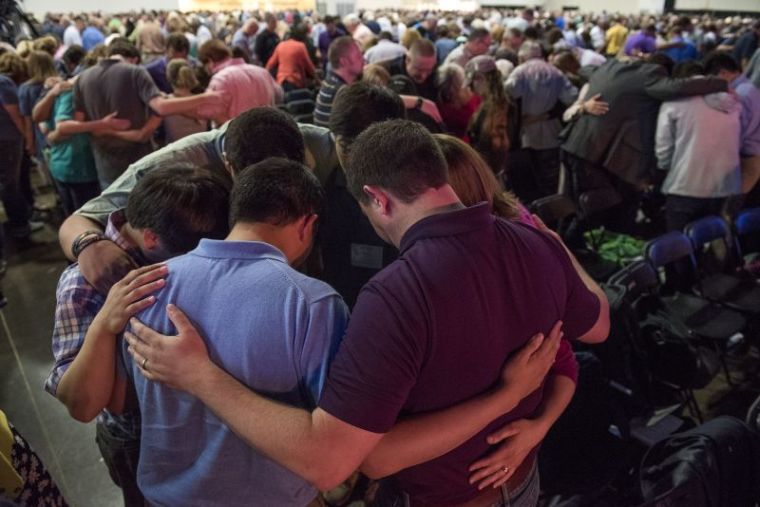 Amid the ongoing fallout from the firing of Paige Patterson, one of the most prominent leaders in the Southern Baptist Convention, many are calling for "repentance" and "reformation" ahead of their denomination's annual meeting.
In a Sunday blog post titled "What the Southern Baptist Convention Needs Right Now," Sam Rainer, who is president and CEO of LifeWay Christian Resources, echoed The Southern Baptist Theological Seminary President Al Mohler's May 23 essay describing how the judgment of God is on the denomination.
"God's wrath is upon us. Our God is a consuming fire. Excuses will work like tiny strands of straw standing against a raging wildfire. There should be no sermon at this year's annual convention. Leave the pulpit vacant. Let the room be silent and call the messengers to prostrate themselves in repentance," Rainer said.
"We need humility, not charisma. Our convention has wrongly elevated charisma over humility. The bold leaders with pithy lines tend to get the most attention. It's time we submit to humility instead of charisma."
The largest evangelical Protestant group in the United States has been engulfed in controversy starting in late April when a 2000 interview Patterson — the now former president of Southwestern Baptist Theological Seminary and one of the architects of what is known as the Conservative Resurgence — gave resurfaced. In the interview with The Council on Bibilical Manhood and Womanhood, he described the advice he gave to a woman whose husband was being abusive, telling her to pray for him, and appeared to discourage her from leaving him.
Subsequent stories pertaining to the mistreatment of women, the "toxic" environment at SWBTS, a 2003 failure to report sexual assault have since emerged, fueling debate about the leadership of the denomination and the treatment of women in their ranks.
While Patterson has been terminated from SWBTS, he is still slated to give the keynote sermon at the denomination's annual meeting next week in Dallas, which is considered a high honor in the Convention. But some have called for another preacher to replace him or, as Rainer urged, for no sermon at all.
Rainer, who is also president of Rainer Research and the co-founder and co-owner of Rainer Publishing, believes God is presently "purging" the denomination, which is currently a "dumpster fire, and we keep fueling it with shovels of manure."
"We need to care about character as much as we do about doctrine. We fought battles over doctrine, and the spoils of war went to power barons who lacked integrity. The conservative resurgence has not even brought about an increase in baptisms, much less revival. Instead, we are now flooded with the moral failures of former foot soldiers."
"We should be appalled. Horrified. Sick. No more 'break her down,'" he said. Rainer was referring to an email Patterson reportedly wrote to discuss meeting with a female student, who alleged in 2015 that she was raped by a was a Southwestern student and employee, so he could "break her down."
"We need God to break us down," Rainer stressed.
In a Friday tweet, Mohler reiterated his own feelings about the state of his denomination.
"My heart has been broken for my beloved Southern Baptist Convention in recent weeks, days, hours. Never more than in last few hours. WE are broken down, indeed. I pray for God to rescue us, and all those we are called to rescue."
Likewise on Twitter, Russell Moore, president of the Ethics & Religious Liberty Commission, the policy arm of the denomination, said Saturday: "It's time. It's time to believe the Bible, and to do what it says. It's time to love Jesus, and to protect those he loves. It's time to care about character, not about power or 'influence.' It's time for a reformation in the SBC. #SBC18 #SBCAM18."