Some Conservatives 'Have No Place in the State of New York,' Declares NY Gov. Andrew Cuomo; Sean Hannity Says He Will Leave and Take His Money With Him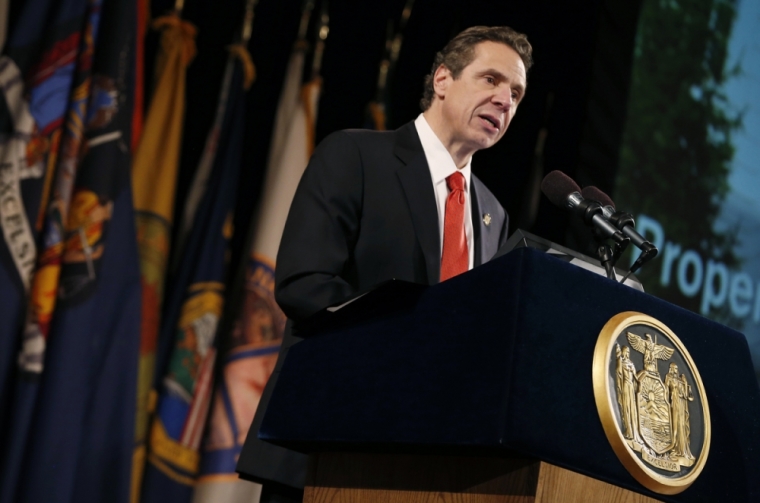 If you are conservative Republican against abortion or homosexuality New York Gov. Andrew Cuomo (D) says you have no place in the state and his comments have set off a firestorm of criticism from conservatives across America.
Cuomo made the declaration during a discussion with Susan Arbetter on 'The Capitol Pressroom' last Friday morning according to a report in Capitol Confidential.
He argued that there is currently a "schism" in the state Republican party which reflected a larger split among the party that is causing a lot of damage in Washington, D.C., before declaring that "conservative Republicans … have no place in the state of New York, because that's not who New Yorkers are."
According to the report, Cuomo noted:
"You have a schism within the Republican Party. … They're searching to define their soul, that's what's going on. Is the Republican Party in this state a moderate party or is it an extreme conservative party? That's what they're trying to figure out. It's a mirror of what's going on in Washington. The gridlock in Washington is less about Democrats and Republicans. It's more about extreme Republicans versus moderate Republicans.
… You're seeing that play out in New York. … The Republican Party candidates are running against the SAFE Act — it was voted for by moderate Republicans who run the Senate! Their problem is not me and the Democrats; their problem is themselves. Who are they? Are they these extreme conservatives who are right-to-life, pro-assault-weapon, anti-gay? Is that who they are? Because if that's who they are and they're the extreme conservatives, they have no place in the state of New York, because that's not who New Yorkers are.
If they're moderate Republicans like in the Senate right now, who control the Senate — moderate Republicans have a place in their state. George Pataki was governor of this state as a moderate Republican; but not what you're hearing from them on the far right."
The comments have enraged several high profile New York conservatives like FOX News' Sean Hannity who declared Monday on his radio show that he will leave the state.
"Now I want to tell you something — I was born and raised in New York," said Hannity. "I want you to know that and I can't wait to get out of here. I really can't. I don't want to pay their 10-percent state tax anymore. I live in the second-highest property taxed county in the entire country in Nassau County. I can't wait to sell my house to somebody who wants it. I can't wait to pay no state income tax down in Florida or Texas. I haven't decided yet, but I'm leaning Florida because I like the water and I like to fish."
"Gov. Cuomo, I'm going to leave and I'm taking all of my money with me — every single solitary penny," he added. "And by the way governor, because I work here — there's a whole bunch of people that work for me and benefit because I do two shows. And I guess maybe some of them will be out of work, governor. I'm sure you'll take care of them."
On Monday, N.Y. Republican Party Chair Ed Cox urged Mr. Cuomo to apologize to conservatives for making the "divisive" remarks.
"I call upon Governor Cuomo to apologize to New York's good conservatives and Catholics for his statement that they 'have no place in the State of New York' and to all New Yorkers for poisoning New York's politics with divisive rhetoric at a time when New York needs to be united to address its continuing economic problems," noted Cox in a press release.
In a response to the criticism a statement released by Gov. Cuomo's office said his remarks were being distorted in the media.
"If you read the transcript (below), it is clear that the Governor was making the observation that an extreme right candidate cannot win statewide because this is a politically moderate state (either moderate Republican or moderate Democratic). In the same response, the Governor went on to say 'it is fine' to be anti-gun control, and anti-choice" – as he respects both positions," the statement noted.