So. Baptist Convention Repudiates Church Display of Confederate Flag in Majority Vote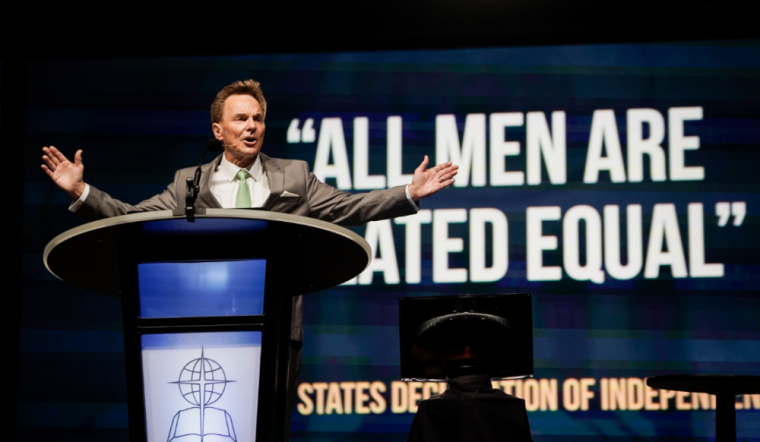 Over 90 percent of messengers at the Southern Baptist Convention repudiated the Confederate flag in a vote Tuesday that calls on all Christians and member churches to remove the divisive symbol from public display.
Stephen Rummage, senior pastor of Bell Shoals Baptist Church in Brandon, Florida, and chairman of the SBC Committee on Resolutions, spoke in favor of the resolution, saying, "We ask you to join us in calling Southern Baptists to take a further step in the right direction concerning racial unity for the sake of our witness to Jesus Christ."
Resolution 7 states: "With full respect of the autonomy of the local church, we call brothers and sisters in Christ who display the Confederate battle flag as a memorial … to consider prayerfully whether to limit, or even more so, discontinue its display. We urge fellow Christians to exercise sensitivity so that nothing brings division or hinders the unity of the Body of Christ to be a bold witness to the transforming power of Jesus."
Messengers spoke both in favor and against the resolution. One critic who spoke against the resolution argued that it would lead to a slippery slope of censorship.
"To incorrectly link a historic symbol based on the Saint Andrews cross would raise further questions. Number one, would we further challenge United States symbols?" he asked. "For instance, the United States flag that flew over slave ships. Or George Washington, who owned slaves. I would hope we wouldn't make that move to political correctness."
James Merritt, lead pastor of Cross Pointe Church who said he was descended from two Confederate veterans, explained that he supported Resolution 7 for the sake of the Gospel.
"This is not a matter of political correctness. It is a matter of spiritual conviction and biblical compassion," said Merritt. "Southern Baptists are not a people of any flag. We march under the banner of the Cross of Jesus and the Grace of God.
"This flag is a stumbling block to many African-American souls to our witness. And I rise to say that all the Confederate flags in the world are not worth one soul of any race."
For several years, periodic debates have surfaced over Confederate flags, monuments, and other imagery made to commemorate ancestors who fought for Southern secession.
Debate over Confederate flag displays became especially contentious in the summer of 2015 when Dylann Roof committed a racially-charged massacre at a historic African-American church.
On June 17, 2015, Roof entered Emanuel African Methodist Episcopal Church and shot nine people dead with the expressed intention of starting a race war.
Roof's highly publicized flying of the Confederate flag in personal photos contributed to South Carolina voting to remove a Confederate battle flag from their capitol grounds.
"It's time to move the flag from the capitol grounds," said South Carolina Gov. Nikki Haley at a press conference held last June.
"One hundred fifty years after the end of the Civil War, the time has come … [the flag] does not represent the future of our great state."
In advance of the 2016 SBC annual meeting, Pastor W. Dwight McKissic Sr. of Cornerstone Baptist Church in Arlington, Texas, introduced the resolution.
McKissic posted the original text of the resolution on his website in April, titled "Resolution on the Elimination of the Confederate Flag from Public Life."
The text called on the SBC to "acknowledge the controversial and necessarily divisive symbol of racism conveyed by the ongoing public display of the Confederate battle flag.
"… we call on all persons, along with public, governmental, and religious institutions to discontinue the display of the Confederate battle flag and work diligently to remove vestigial symbols of racism from public life as evidence of the fruits of repentance that we have made for our past bigotries and as a step in good faith toward racial healing in America, to the end that we truly become — in word and deed — 'one nation, under God, with liberty and justice for all.'"