Stephen Baldwin Shares Message From Holy Spirit for Rihanna After Watching 'What Now' Music Video?
'You Can Return to Jesus,' Actor Shares Purported Message From God to Pop Singer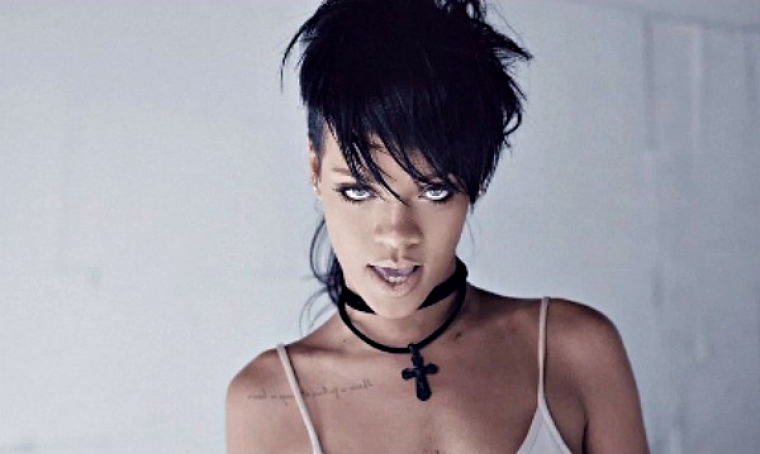 Insisting that he does not "usually do this," actor and outspoken Christian Stephen Baldwin posted a message online Tuesday that he says the Holy Spirit revealed to him while watching pop star Rihanna's emotional and gritty "What Now" music video.
"I usually don't do this but just saw the @rihanna vid 'what now' near the end they flash the cross & the next thing she sings ... is 'I don't know where to go' & the Holy Spirit responded with these words ... 'yes you do, you have known me all along, from when you were a child you remember the name of Jesus, His light on your face, His joy in your heart, You can return to Jesus,'" Baldwin wrote Tuesday, in a message apparently meant for Rihanna, born Robyn Rihanna Fenty.
He added, "[And] then perhaps by chance? The YouTube time code in that moment was 3:29 ... & I felt the Holy Spirit say 'book of John'. & John 3:29 Reads as follows … 29 'He that hath the bride is the bridegroom: but the friend of the bridegroom, which standeth and heareth him, rejoiceth greatly because of the bridegroom's voice: this my joy therefore is fulfilled.'"
The video Baldwin references in his statement, "What Now," appears on Rihanna's seventh studio album, Unapologetic from 2012. The video, filmed in 2013, appears below:
Rihanna's "What Now" song was praised by critics, some of whom also noted the similarity of the related music video to the setting of a horror film. In a preview article for "What Now," Rihanna herself describes the video as "eerie, very creepy" and "a little demented."
Although Rihanna, 26 and from the overwhelming Christian island of Barbados, sports a cross tattoo, references God in interviews and is a big fan of Christian preacher and author Joyce Meyer, it was unclear if the singer claims Christianity as her faith. Tweets she posted in 2012 in which she appeared to tell off Satan also drew the attention of fans, some of whom have longed questioned how her faith might affect her music career.
The tweets mentioning Satan were apparently so disturbing to some, that at least one blogger suggested that people "pray for Rihanna."
The blogger, suggesting at the time that spiritual warfare was at play in Rihanna's on- and off-again relationship with singer Chris Brown, who physically assaulted her in 2009, suggested that those concerned about her welfare should pray that she would "reconnect with God."
While it was unclear if Rihanna was a practicing Christian, it has been reported that she grew up with a strong Christian influence, and regularly had a bishop visit her home to minister to her family. During the 2013 American Music Awards, Rihanna's mother presented the singer with the first-ever Icon Award, and said before addressing her daughter at the mic, "First of all, I'd like to say all praises and honor be to God Almighty through Jesus."
Baldwin, who says he became a born-again Christian after the Sept. 11, 2001, terrorist attacks, posted his message concerning Rihanna for his 35,000 Twitter followers to read. It was not known if Baldwin had attempted to contact the singer privately.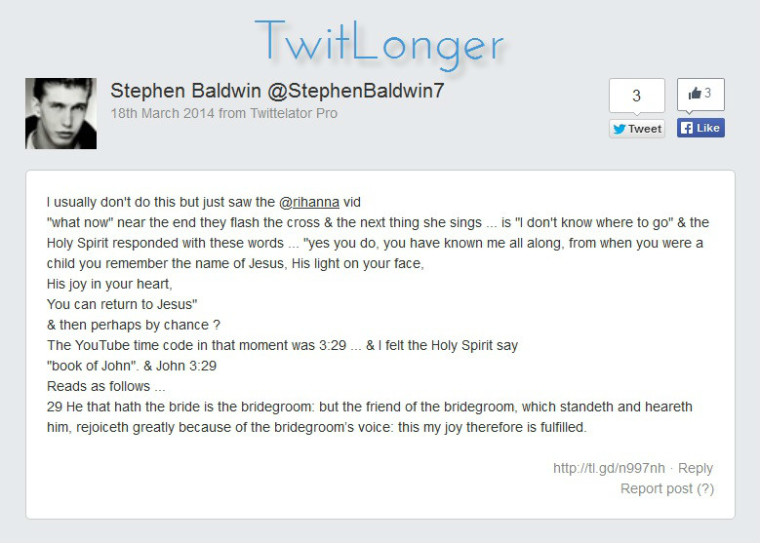 Watch Baldwin share his testimony on his life before and after becoming a Christian in the following "I Am Second" video: