Steve Harvey Meets His Doppelganger, a Pastor, on 'Family Feud'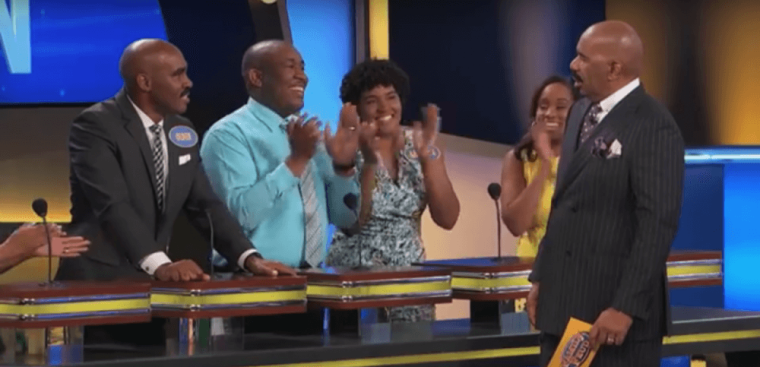 One North Carolina pastor is gaining national attention for appearing on comedian Steve Harvey's "Family Feud" game show looking strikingly similar to the host.
Pastor Olden Thornton of Raleigh International Church in Raleigh, North Carolina, insists that he loves his job but joked about getting compensated by Steve Harvey.
"Every single day of my life people come up to me and call me Steve Harvey," he told the "Family Feud" host in an Aug 31 clip that has gone viral this week. "And I don't even have your money! I think I should get compensated or something."
Harvey admitted that there is a striking resemblance between himself and the pastor of 17 years.
"I hate to say this but I'm an honest guy. You're actually a little better looking than I am," the comedian said with a laugh.
While Harvey himself is not a pastor, he is a devout Christian who has been very vocal about his faith in the past.
Harvey mentors young men with his Steve Harvey Mentoring Program and explained how God provided him with a platform to help others.
"My plan was to tell jokes until I was 68, then I was going to retire. I didn't see myself with a boy's camp or none of this," Harvey previously told The Dallas Weekly. "So that just goes to show you God's plan is always better than yours."
The entertainer revealed that this was not always his plan for his own life.
"This wasn't my mission. My dream was to be one of the premier stand ups (comedians) in the country," Harvey said. "That's all I ever asked God for. Now his plan for me was much greater."
The comedian and talk show host let it be known that his fame can be used for a bigger purpose.
"Well this is one of the most important works I do. I think God put me in the position to do all of those other things to do this," Harvey told The Dallas Weekly. "I have taken the fame he bestowed upon me and I use it in a way that would be beneficial to some young men who otherwise may not get opportunities to sit with some positive men who can show them what manhood is really about."