Steve Harvey Offers 'Sexy Scripture' to Help Woman With Church Dating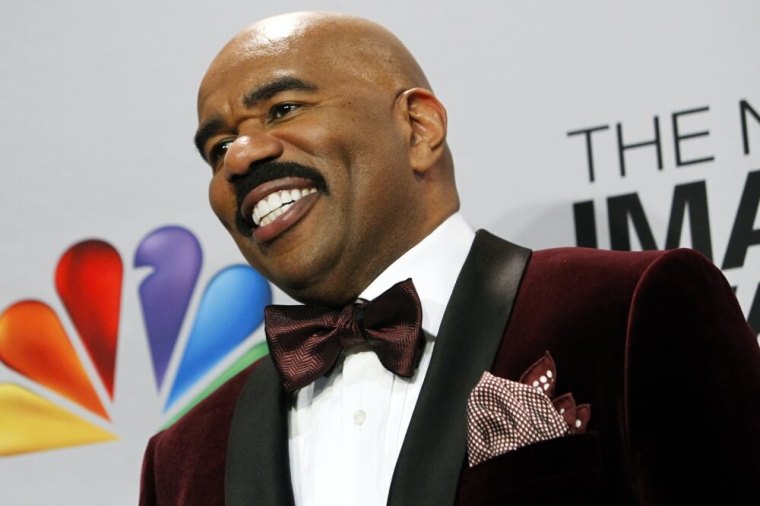 Steve Harvey is pairing his relationship expertise and Christian faith to help one woman flirt with men at her church using Scripture.
On Friday, one audience member from his "Steve Harvey" daytime talk show asked for advice about using "sexy scriptures" when dating men from her church.
"I've been trying to only date good quality guys. So lately I've been dating guys from my church," the woman in Harvey's audience revealed during the "Ask Steve" segment of the show. "The problem Steve is that they only want to talk about the Bible. Although I love the Lord, this makes our conversation very stale and boring."
She went on to ask Harvey, "Do you have any sexy scriptures I may use to get a little flirty with the guys?"
The audience erupted in laughter while the comedian-turned-host attempted to compose himself. Harvey, the author of the 2009 relationship book Act Like a Lady, Think Like a Man that inspired two films, told his audience member that limiting herself to the men in her church may be a bad idea.
"You know, there's a lot of good men not at your church. I think you've shrunk your pool down pretty bad," he said before honoring her request. "Now, let's come up with a scripture."
After a brief moment, Harvey chuckled before sharing a scripture found in Luke 6:31.
"Ok, I got one. 'Do unto others as you would have them do unto you,'" Harvey said before imitating the woman in a manner that was met with laughter from his audience.
"'... Because right now I'm thinking about slipping my tongue down your throat! ... Praise the Lord!"
What began as a career in comedy has now evolved into countless people seeking advice from Harvey on both his syndicated radio show and daytime talk show. Last year, Harvey revealed that his relationship with God served as a key to his success.
In a Forbes report last year, the entertainment mogul gave people a glimpse into his prayer life.
"Every morning before I get started, I do the same thing every day. I go to my notes section of my phone," the best-selling author and philanthropist told Forbes. "I pull up my morning gratitude prayer and I read this list of things that I am grateful for everyday. Then I get to this break and I read this whole list of everything I am asking God for today."