'Sunday Best' Exclusive: Candace Benson, Geoffrey Golden Talk Being Final Two
'Sunday Best' Exclusive: Candace Benson, Geoffrey Golden Talk Being Final Two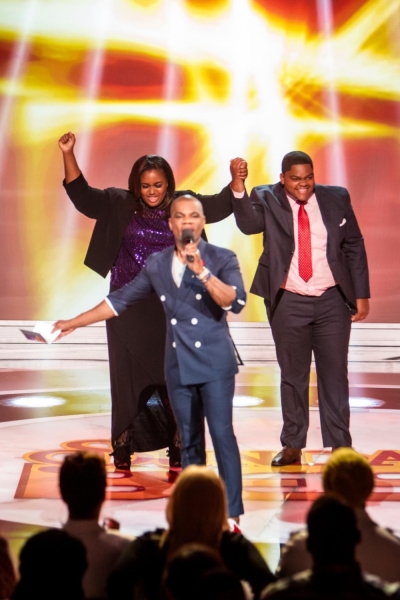 Candace Benson and Geoffrey Golden beat out countless contestants to become the final two remaining singers in BET's "Sunday Best" gospel music competition, yet both vocalists are younger than a quarter century.
Benson, the 22-year-old Pottstown, Penn. native, told The Christian Post she and Geoffrey,20, have became good friends who are both in awe with God blessing them in their young age.
"..The whole process we're just like 'yo twin, buddy! Look at what God is doing in our lives!' Benson told The Christian Post. "We're so young and we're just so happy that 'Sunday Best' is also showcasing our love for God."
While Benson and Golden's sense of humility and sincerity may have helped carry them through a singing competition where strong vocalists were picked as the Top 20, the latter admits that he has grown since beginning his "Sunday Best" journey. Golden, the Cleveland, Ohio native who has been wanting to sing gospel music since he was a small child, was nervous when he first realized the magnitude of the competition.
"When we were preparing for the first show. I was a lot more nervous and starstruck than I thought I would be," he revealed to CP. " I was really nervous because I understood just how professional these people are and how much they've done for gospel music and really for the music industry in general."
The popular BET music competition does not just feature gospel music singing hopefuls, but also legends in the industry such as host and producer Kirk Franklin, mentor Kim Burrell, and judges Donnie McClurkin, Yolanda Adams and Kierra Sheard.
Facing that panel of legendary musicians was no easy task for Benson, who admitted she was intimidated by the big names who had a front row seat to her performances each week.
"I said 'wow Candace you really have to step up your game. You're not only just singing in front of people, you're singing in front of well known singers,'" she recalled to CP. "They're going to judge you on every part of your voice and every note that you hit because they're singers as well. So at first I was petrified."
However, Benson's belief in God helped her put things into perspective.
"God has blessed me with the opportunity so I wanted to embrace the moment, captivate the moment and seize the day," she told CP. "I was intimidated, but they are just so nice. They're very hands on kind of people, they're very approachable so it was like, 'you know I can do this.'"
Golden found the experience surreal and could not believe the same gospel music icons who he listened to growing up were willing to help him break into the industry.
"I think that one thing I didn't expect is how nice they all were, just how kind they were in helping," he told CP. "None of them were arrogant, none of them were proud. They were all so ready to help if you had a question to ask anyone about their experience in the industry."
While Golden grew up in a family involved in music and ministry, it would take more than that for him to make it out of the Top 20 singers as the best suited to compete on the show. Golden believes he stood out in the competition because he was sincere in being himself each night.
"There's so many other people who are amazing singers from the outset. The top 20 was full of amazing singers," he told CP. "People who were just as anointed, who were just as powerful. But I think it was probably just that sincerity that led me to this and being true to myself."
While Benson grew up in a family who were passionate about gospel music, she believes her ability to transform on the stage has set her apart from her competitors.
"I think when I'm on the stage, I'm a totally different person. When it comes to my singing, I have a fight and a fire inside of me," she told CP. "In my opinion I think the judges liked that about me, that Candace doesn't have a big head or anything. People expect so much from my (performance), they think that i'm like that as a person."
She went on to further to compare who she is as a performer to the humble, easy going person that people normally know her to be.
"Something about the stage and my music brings the strength out of me and the fire out of me. Opposed to that, I'm just a laid back person, very humble," Benson said. "I was taught to be very mannerable and that's just in me to do so. I really think it's my character that made me stand out."
Benson and Golden may be competing for the title of "Sunday Best" winner this week, but outside of the show, they are actually friends who are grateful to have even been involved in the contest.
"I would say that my BET 'Sunday Best' experience has been amazing. My top 20 family, we've really become a family," Golden told CP. "We've really become close. I'm excited about what God is going to do through all of us."
Despite the outcome of the competition, Benson cannot stop raving about how "Sunday Best" has changed her life.
"It's been a blessing honestly. It's been such a mind blowing experience," she told CP. "I feel like my life is already changed just by being on the show. 'Sunday Best' has been such a dream come true."
Watch one of the remaining two hopefuls be named as the season 7 "Sunday Best" winner on BET tomorrow at 8 p.m. ET.