Surface Pro 3 vs. iPad Pro convertible tablet comparison
Surface Pro 3 vs. iPad Pro convertible tablet comparison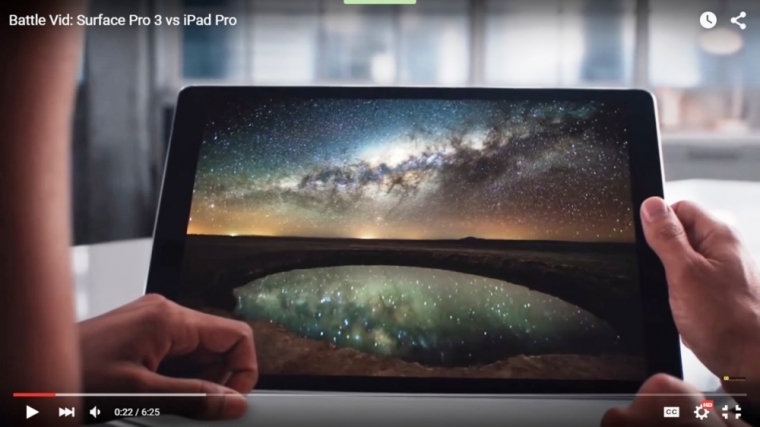 Apple finally unveiled the new iPad Pro during its recent September event, and the crowd was wowed with the company's largest tablet yet, but there are some who are already pitching it against the Microsoft Surface Pro 3 to see which gadget is better.
When it comes to design, the iPad Pro has a lot of similarities with the Surface Pro 3. There is only a small difference in terms of size and weight, but Apple is adamant that its new tablet is 0.2 inch thicker, according to Digital Trends.
The similarities in the two devices end in Surface 3's microSD slot for storage expansion and file transfer. Other than that, they are both very similar. For the design category, it is a tie.
In terms of display, the iPad Pro's screen is definitely larger by 0.9 inch, but the real takeaway is its 265 PPI resolution. The Surface Pro 3 has a 216 PPI rating. Both devices boast of 10-point multi-touch screen with stylus support. However, the Apple tablet has special stylus functions for drawing on notes, annotating emails, writing on the screen, opening software features, and others.
As for the performance, it is quite difficult to determine which device is the clear winner without further testing. Apple says the iPad Pro's 64-bit A9X CPU runs 1.8 times faster than its previous processor, and that it has twice the previous memory and storage capacity. On the other hand, the Surface Pro 3 runs on an Intel Core i3, i5, or i7 dual-core chip.
Looking at the features, it all comes down to the operating system because almost everything else between the two gadgets is very similar, including the detachable keyboard and stylus, Wired reports.
The Surface Pro 3 takes home the trophy because it runs full Windows 10 Pro, which is a very reliable OS. The iPad Pro's iOS is very popular among mobile devices, but there are issues with the OS working well in a high-performance gadget.
In conclusion, the iPad Pro holds more advantage over the Surface Pro 3. Consumers who favor high-end convertible tablets should go for the iPad Pro, while those who want a similar device but do not want to spend that much can go for the Surface Pro 3.