Survivor Expert Bear Grylls Shares Meal of Worms, Maggots With Rick Warren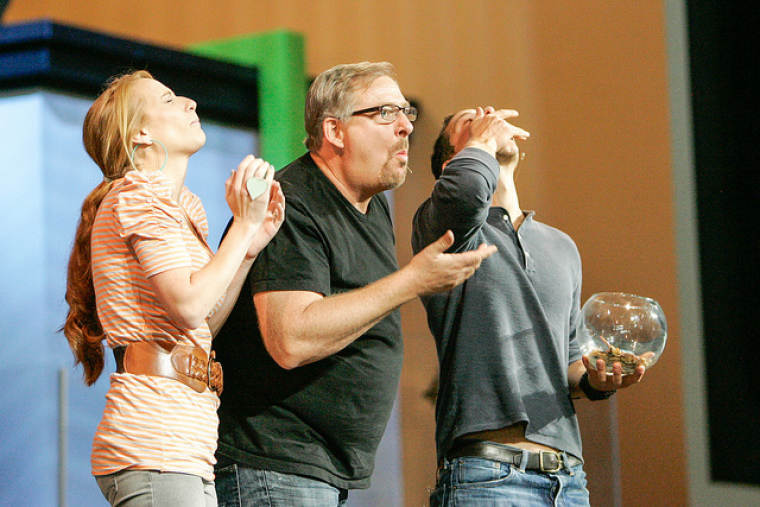 LAKE FOREST, Calif. – Extreme-survivor expert and "Man vs. Wild" star Bear Grylls made a special appearance at Saddleback Church Saturday – at one point receiving some audience participation from the church's pastor, Rick Warren.
"What's the worst thing you've eaten?" asked Grylls' assistant host, Jamie Haith, at the free event promoted primarily by the church's men's ministry, but open to everyone.
"It's a long list," Grylls responded. "They all blend into a bad experience." However, one meal topped the list: raw goat testicles offered to him by a Saharan tribesman – a symbol of honor that Grylls could not refuse.
Naturally, Haith then asked Grylls to eat a few live bugs. "Listen. It's fine when it's for survivial," said Grylls. "But I don't need to eat it here at home." After a little pressure, Grylls gave in. "I'll eat a worm and a maggot if someone does it with me." He looked out into the audience, looking for a willing victim. He spotted his target, Pastor Rick.
2 photos
(Photo: Saddleback Church/Trent Adams)
"Who wants to see your pastor eat a maggot?"
Warren calmly let Grylls place a few live maggots and worms in the palm of his hand. "Wait, we need to bless this!" said Pastor Rick. "Lord, bless this food to the nourishment of our bodies, and our bodies to your service. Oh, and thank you for the protein." He then not only ate the maggots and worms in his palm, but grabbed an extra handful from Grylls and tossed them in his mouth.
"Now you know your pastor is totally and utterly crazy," Grylls said.
Warren stayed on stage to talk with Grylls about his faith. "I've learned that it takes a proud man to say he never needs help," Grylls said. "Faith has been the quiet backbone of my life. We're loved, we're forgiven and empowered. We're home. You know, you don't meet too many atheists in the 'death zone.' But it's not about us. It doesn't matter if we have doubts, because we're forgiven."
Grylls proved to be an inspiration in many ways – as someone who has braved fear and challenges with focus and honesty, a father and husband who places family as his main priority, and a man who relies on his faith to weather the inevitable storms of life.
In classic Grylls fashion, he began the show by appearing in the rafters of the two-story building.
After dropping his rapel cord, Grylls asked for a little help from the show's host. "Any ideas for me, mate?" The audience took it in stride. This was nothing new for the man who is famous for finding a way out of sticky situations. After some deliberation, Grylls grabbed another wire and repelled down into the middle of the audience and took to the stage amidst applause.
"Ladies and gentlemen, Bear Grylls!" exclaimed the host. "Don't you ever use the door?"
Over the next two hours, Grylls shared about his upbringing on a small island in the U.K., his schooling, experience as a soldier, and how he came to be the host of one of cable TV's most watched shows.
Grylls grew up in a family that encouraged adventure and exploration. His father was an avid climber and passed along that passion to his son. Grylls studied at Eton College where he quickly became known as the boy who could scale just about anything. He often led other boys in climbing expeditions and even starting the school's first mountaineering club.
After finishing school, Grylls joined and graduated from the elite Special Air Service (SAS). This program showed Grylls' metal – out of 180 recruits who began the program, only four graduated.
"The program looks for spirit," Grylls said. "It's not about the biggest guy, it's about working hard, smiling when the chips are against you, and knowing how to look after yourself."
Grylls indicated that this time in his life gave the skills he would need in his future experiences, including his Man vs. Wild expeditions. It also gave him lifelong buddies that he is still in contact with today.
Grylls was transparent about the challenges he has faced in his life, including an unexpected tragedy that occurred while he was doing something he loved, skydiving. While on leave from the SAS, Grylls went skydiving in South Africa. Though seemingly routine, this dive went horribly wrong when the parachute emerged from its pack ripped and useless. He plummeted through the sky and crashed into the desert floor, his back was broken in three spots.
Grylls shared that his doctors weren't sure if he would ever walk again, and it was this frightful diagnosis that fueled Grylls.
"It was a dark time. I knew life would never be the same. In rehab, what is happening with you physically also begins to happen to you mentally," he explained. "I felt guilty, I felt doubts. I had to cling to the simple stuff to make it through; family, friends. And that's when I began to dream about climbing Everest. So much of my identity in life grew around climbing the highest stuff. I wanted to find that identity again.
"Sometimes everything is going swimmingly and then you get knocked from the side. It takes that knock to realize what you value in life. It gave me a second chance. I was going to do everything in my power to recover."
Not only did Grylls fully recover, but just a short time later, he was climbing Everest. "As I stood up on top of the mountain, on top of the world, I just remember crying. The little part of me that, in the hospital, never believed I could do this was silenced."
His successful Everest climb opened the door to his film and TV career. He was asked to film a piece on joining the French Foreign Legion, an elite military team made up of men from around the world. The Legion's training, which took place in North Africa, is considered the most physically and psychologically challenging training in the world.
"It truly showed what kind of man you were inside," Grylls said. "They have a saying in the Legion that it gives you a sense of pride, but that pride comes at the cost of 1,000 barrels of sweat."
After the filming of the Legion training was completed, Grylls was asked be a part of a show for the Discovery Channel. He originally turned down the request. "I didn't want to be a smiley TV host. TV was nothing I ever aspired to."
But the network assured Grylls that they were looking for a real, raw experience, and Grylls agreed to do one pilot show. His plan was to film one segment and see if he had any interest in continuing. And now, seven seasons later, "Man vs. Wild" has been ranked as cable TV's most-watched show, and Grylls ranks as one of the world's most influential and popular TV stars.
He recounted the challenging situations the crew finds itself in, and the camaraderie that exists between members because of these shared experiences.
"The difference between success and failure often rests on a knife's edge. But when we're in the zone, what I love is when it starts to go wrong. The adventure begins when things start to go wrong. You form incredible bonds with people when you depend on them for your life every day," he said.
When asked if he ever feels fear, Grylls responded, "Yeah, I'm human. We're not asked to be fearless. But I've learned to channel it into an emotion to sharpen it."
Sarah Cruz is the lead writer and editor for Saddleback Church in Lake Forest, Calif., by day and a worship leader, roller girl, surfer, missionary, snowboarder, and wanderer by night. Connect on Twitter: @sarahcruzer.
READ THE LIVE BLOG OF BEAR GRYLLS' WILD DAY AT SADDLEBACK CHURCH