Suspected Muslims Burn Christian TV Station in Pakistan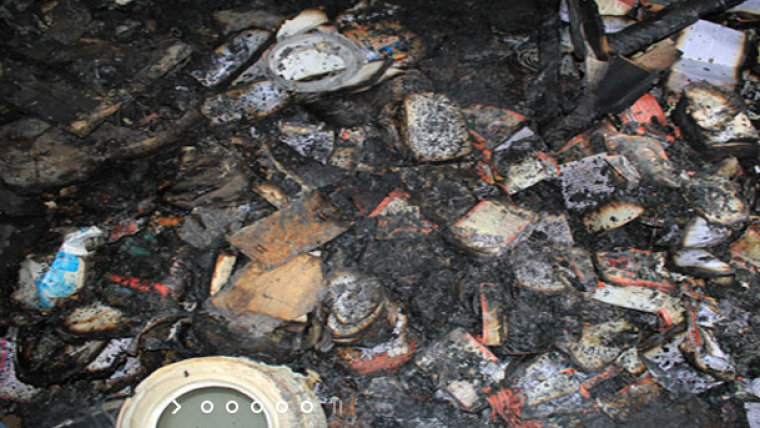 In what could be one of the most heartbreaking attacks against Christianity in the Pakistani town of Karachi, a Christian TV station has been reduced to ashes by masked men who are suspected to be Muslims.
According to Breitbart, the fire started to consume the entire building at 2:30 a.m. on Wednesday, with the masked men spotted by some sources fleeing the arson scene.
Gawahi TV is a Christian TV station that sits in the middle of a Muslim majority community, and while it aims to spread the good news of Jesus through news stories and corresponding, it seems the Muslims are not pleased with the station's activities.
One of the employees, who was among the people who probably lost their jobs after the fire destroyed the entire complex asked, "How could anyone do this? I saw with my tears-filled eyes the Holy Bible's pages blackened by the fire. How could their heart allow them to set ablaze this truth?"
Previous reports state that the television station has received multiple threats from Muslim radicals, and according to the reports, the local authorities have done nothing but fail to provide the necessary protection that the station requested after having been threatened by a community that sees Christianity as a sin.
Being a 24/7 station, Gawahi TV not only tackles reflections from the Holy Book's pages but it also offers a string of Christian music and a sermons from various preachers for the fewer Christians in the area. The channel also seeks to evangelize the youth with the message of salvation and hope for a better life.
Javed Williams, along with his brother Sarfraz, and a team of Christians who still believe in the mercy of the cross, run the channel. Williams is also the head of Gawahi Mission Trust, and while he watched the complex burn to the ground, he said the team will be working on whatever they have left to keep their goals running.
"We have halted our mission for the time being but we will not let our hopes die down. We were doing our God's work and will continue to do so with the divine help," Williams said.