Syria Vote Splits Senate Republicans: McCain, Rubio, Paul Disagree on Use of Force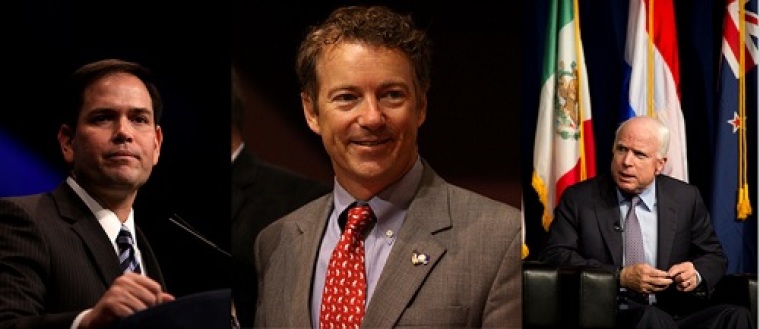 A close vote by the Senate Foreign Relations' Committee to bring President Barack Obama's Syria plan to the entire chamber revealed a lack of consensus within either party on Wednesday.
In the 10-7 vote, with freshman Senator Edward Markley (D-MA) voting present, seven Democrats and three Republicans voted to approve an intiative that would authorize Obama to use force in Syria but limit its duration to 60 days and prevent U.S. ground troops for combat operations. Opposing the measure were two Democrats and five Republicans.
The final vote revealed particular new tensions within the Republican Party. Representing the more traditional, hawkish, foreign policy outlook were Jeff Flake (R-AZ,) Bob Corker (R-TN,) and John McCain (R-AZ), who expressed frustration with a bill he believed was not doing enough to end Syrian leader Bashar al-Assad's presidency. Before the commitee voted, McCain was able to convince the committee to include amdendments that he argued would "change the military equation on the battlefield."
Opposing them, were James Risch (R-Idaho), Marco Rubio (R-Fla.), Ron Johnson (R-Wis.), John Barrasso (R-Wyo.) and Rand Paul (R-Ky.). Headline makers since their election in 2011 and media frontrunners for the 2016 presidential nomination, Rubio and Paul had no problem defending their divergent votes.
Earlier this week, Paul argued that he wasn't against all intervention, but that he saw little reason that the current proposals for American intervention would prove effective.
"Small wars sometimes become big wars," he said on the Laura Ingraham show. "But I'm not saying we never get involved in the Middle East. I think we do have interests in the Middle East. I think Israel is a friend, I think Turkey is a friend, I think Jordan is a friend. Right now Jordan is being overwhelmed with refugees. Does anybody really argue that when we bomb Syria there's going to be less refugees? I think there's going to be more refugees."
Rubio explained in a statement that he had long expressed support for arming the rebels but that he had "never supported the use of U.S. military force in the conflict" and remained "unconvinced that the use of force proposed here will work."
Read more here: http://miamiherald.typepad.com/nakedpolitics/2013/09/sen-marco-rubio-votes-no-on-giving-president-obama-the-green-light-on-attacking-syria.html#storylink=cpy
On the Democratic side, the vote was also split and arguably reminsicent of 2002, when 29 Democrat senators voted in favor of the Iraq War and 21 opposed. In contrast, only one Republican senator voted against.
Committee Chairman Robert Menendez (D-N.J.) and Sens. Barbara Boxer (D-Calif.) Benjamin Cardin (D-Md.), Jeanne Shaheen (D-N.H.), Christopher Coons (D-Del.), Richard Durbin (D-Ill.), Tim Kaine (D-Va.) all voted to approve Obama's plan.
Two of the Senate's most progressive legislators, Sens. Tom Udall (D-N.M.) and Christopher Murphy (D-Conn.) voted against it.
The bill will now move its way to the Senate. If it makes it through the chamber it will move on to the House, where it is likely to split political parties again.