Syrian Christian Family Turned Back at Philadelphia Airport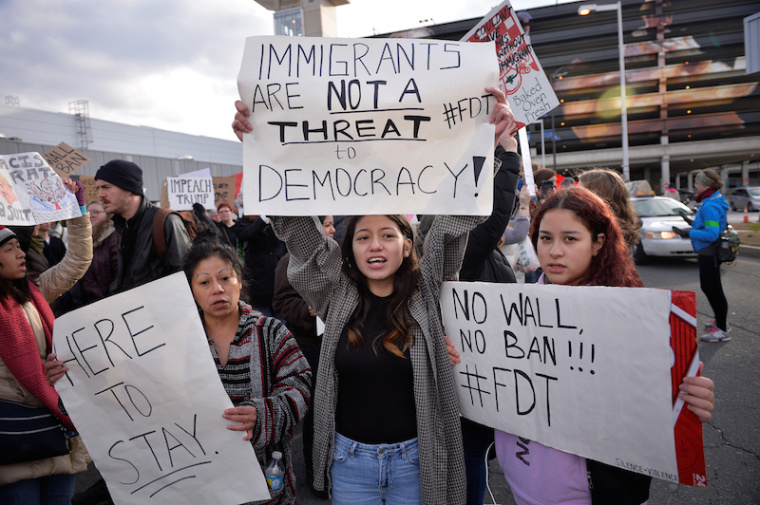 An Orthodox Christian family from war-torn Syria had been working for about one and a half decades to join their family members in the United States, but when they arrived at a Pennsylvania airport over the weekend, they were turned away due to the temporary immigration ban by the Donald Trump administration.
Two brothers, their wives and children, who had crossed the border from Syria into Lebanon, flew from Beirut to Doha, Qatar, and then to Philadelphia on Saturday, but they were told to get on a flight back to Doha, according to CNN.
On Friday, Trump signed an executive order to "keep radical Islamic terrorists out of the United States of America." 
The two Christian families from Syria were held at the airport and not allowed to make calls or use the Internet, according to their relatives in the United States. The family members do not speak English well and were told by authorities they could either be detained and have their visas taken away, or they could take the first flight back to Doha.
"We bought them a house, we furnished it for them, to help them start a new life," a relative was quoted as saying.
Philadelphia Mayor Jim Kenney responded to the deportation in a statement.
"I am sickened by reports that federal officials, without knowledge or cooperation of PHL Airport staff, detained and then turned away two Syrian families," Kenney said. "By several accounts, these families waited months to obtain the proper documentation so they could come to our country legally. And still, they were sent back to a war-torn nation that has used chemical warfare against its own people. The Trump administration very well may have just given these families a death sentence."
According to the new order, there will be a 120-day moratorium on any new refugees entering the country so that the government gets the time to formulate a plan to prioritize persecuted Christians.
Trump also plans to suspend issuing visas for people from the predominantly Muslim countries of Iran, Iraq, Libya, Somalia, Sudan, Syria and Yemen for at least 30 days.
The order also creates an "extreme vetting" process for any and all immigrants and visitors to the U.S., according to Fox News, which said Trump is also directing the Pentagon and the U.S. State Department to prepare a plan to create safe zones in Syria and the surrounding area within 90 days.
Also on Friday, Trump pledged to give priority to persecuted Christians as refugees. "We are going to help them (persecuted Christians). They've been horribly treated," he told CBN News. "Do you know if you were a Christian in Syria it was impossible, at least very tough to get into the United States? If you were a Muslim you could come in, but if you were a Christian, it was almost impossible and the reason that was so unfair, everybody was persecuted in all fairness, but they were chopping off the heads of everybody but more so the Christians. And I thought it was very, very unfair."
In the fiscal year of 2016, the United States admitted 84,995 refugees, out of which 12,587 were from Syria, according to the Pew Research Center. President Obama had a plan to admit 110,000 refugees into the country in 2017, but President Trump is likely to bring the number down to 50,000.
The Refugee Processing Center data shows that more than 98 percent of the Syrian refugees who were allowed into the U.S. in 2016 were Sunni Muslims, and Christian refugees accounted for a mere 0.5 percent.