Syrian Christians Attacked by Al-Qaeda-Linked Group, Churches Shelled, Orphans Flee to Caves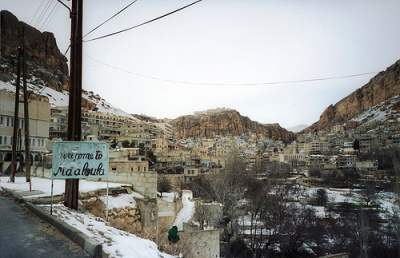 An Al-Qaeda-linked Syrian rebel group has attacked the small, historically Christian village of Maaloula on Wednesday.
Early Wednesday morning, a suicide bomber blew himself up at a government checkpoint entrance to the village. The fighter was believed to be a member of the Jabhat al-Nusra group, said Rami Abdul-Rahman, the director of the Britain-based Observatory for Human Rights.
After the blast, Syrian rebels fought government forces, seizing the checkpoint and taking over a mountain top hotel. From there, they fired shells into the village below, damaging Christian churches with their blasts. The temple of the Holy Prophet Elijah was also damaged in a related fire.
The rebels were also successful in killing eight soldiers and dismantling two tanks.
One hundred of Maaloula's 2,000 residents fled their homes to a convent in the village, according to an account from a local nun given to The Associated Press. She also confirmed that the convent's 27 orphans had, in turn, fled to nearby caves.
Rebels left late early Thursday morning, though fighting was reported in the mountainside between al-Nursa and government forces.
Maaloula's Christian heritage traces back hundreds of years. Currently on UNESCO's world heritage candidate list, it attracts hundreds of pilgrams and tourists each year who come to see its ancient Orthodox Christian relics. Its residents also speak Aramaic, the language believed to have been the tongue Jesus spoke.
Since protests and fighting began in 2011, many Syrian Christians, wary that their safety will be compromised if Islamist rebels take over the country, have backed President Bashir Al-Assad. As Assad has grown more violent and brutal towards the Syrian population, Christians have increasingly become a target for rebels.
As the United States' debates whether to use military force in Syria, some Syrian Christians have warned against potential strikes on their country, worried about the implications it poses to them.
"We heard a lot about democracy and freedom from the U.S. in Iraq, and we see now the results -- how the country came to be destroyed," said Chaldean Catholic Bishop Antoine Audo of Aleppo in a recent interview as reported by The National Catholic Reporter. "The first to lose were the Christians of Iraq. We must say that, what the U.S. did in Iraq, we don't want repeated in Syria."
Patriarch Ignatius Joseph III Younan of the Syrian Catholic church in Damascus explained that many Middle Eastern Christians blame the Western world for inciting Islamic radicalism and regional anti-Christian sentiments.
"I believe there will be a time coming when Christians of the Middle East will no longer look to the West for support and perhaps to better strengthen their roots with the Eastern culture and civilization ... [to] Russia, to India, to China," he said in May.
While fighting ceased in Maaloula on Wednesday night, rebel forces attacked Damascus and a nearby town on Thursday. A car bomb killed four people outside a research center of the Ministry of Industry in Soumariya. Rebels also shelled residential neighborhoods in Damascus, injuring three people.