Tahoe Plane Crash: Pilot Dies, Wife Saved by Passer-by (VIDEO, PHOTO)
A Tahoe plane crash has killed a pilot near South Lake Tahoe Airport, according to reports on Tuesday.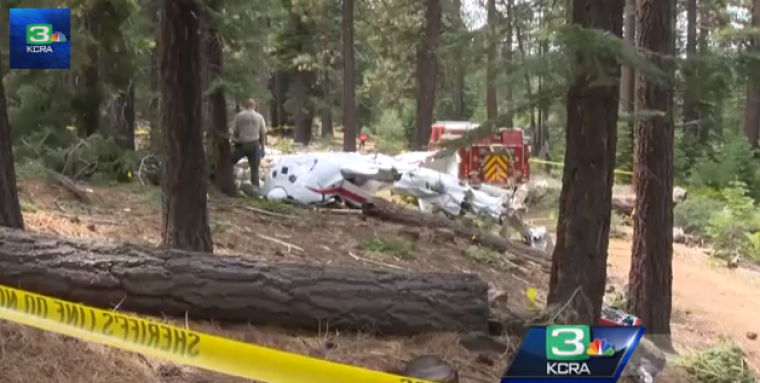 The pilot was reportedly flying a single-engine Mooney M20C when it went down just east of South Lake Tahoe Airport at about 11 a.m. local time Tuesday morning.
Lt. Pete Van Arnum of the El Dorado County Sheriff's Office has confirmed that the aircraft crashed shortly after take-off.
Some eye-witnesses have described that they saw the plane drop and lose altitude shortly after it took off from the airport. They said it banked to the left, before crashing into a large group of pine trees.
Van Arunum said: "Several witnesses said that the aircraft was having difficulty getting lift as it was taking off from the airport and then it veered to the east and started loosing altitude and went down in forested area near a meadow area, crashed and flipped over."
The pilot has since been identified as Steven A. Lefton of Palo Alto. He was 67 years old.
The pilot leaves behind his wife, Karen, who was also onboard the plane at the time of the crash. However, she was able to escape the wreckage after an off duty nurse, who was passing near the crash site, came to her aid and offered her medical attention.
Beth Frisby, who is an off-duty California Shock Trauma Air Rescue flight nurse, has reported that she saw the crash and rushed to the woman's aid. She explained that once she reached Karen she provided her with medical attention and remained with her until the Lake Valley Fire Department arrived and was able to get her out from the plane wreckage.
Karen was then taken by helicopter to to Renown Regional Medical Center in Reno.
Here is a video news report into the crash:
Pilot dies in South Lake Tahoe plane crash