Taliban 'Defiled' Me in Front of My Children, Kidnapped American Woman Reveals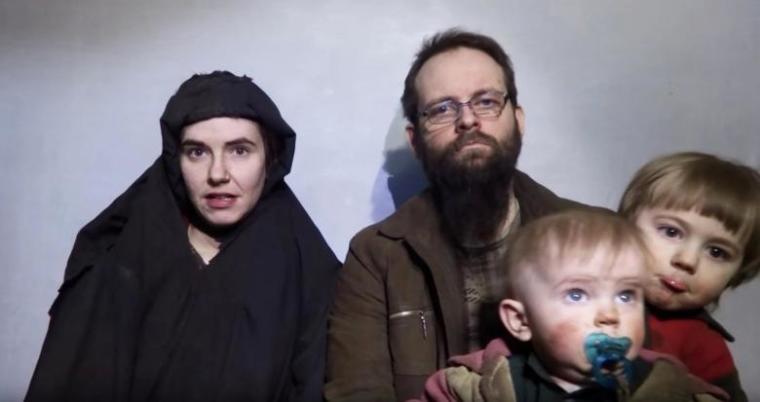 A Canadian-American family held hostage by the Taliban in Afghanistan since 2012 have been shown in a new video begging U.S. President Barack Obama and President-elect Donald Trump for help, with the mother revealing that she was "defiled" before their children.
"We understand both sides hate us and are content to leave us and our two surviving children in these problems," said Caitlan Coleman, the American wife of Canadian citizen Joshua Boyle, in the video.
"But we can only ask and pray that somebody will recognize the atrocities these men carry out against us as so-called retaliation in their ingratitude and hypocrisy."
Reuters reported that the couple were kidnapped inside Afghanistan while on a backpacking trip in 2012. Coleman, who was pregnant at the time, has since given birth to two boys, who are now also held in captivity with the couple.
"My children have seen their mother defiled," the mother revealed, and asked both Obama and Trump for help.
"They want money, power, friends. You must give them these things before progress can be made," she added.
Taliban figures uploaded the latest video on social media through the Haqqani network, and said that they are demanding the release of three senior Taliban members in exchange for the kidnapped couple.
American officials responded to the video by referring to statements in August by State Department spokesman John Kirby, who at the time called for the family's "immediate release on humanitarian grounds," and said the U.S. would "continue to work aggressively" to free American hostages.
Michael O'Shaughnessy, spokesman for the Canadian Department of Global Affairs, sent a simular statement to the Guardian.
"We are deeply concerned for the safety and wellbeing of Joshua Boyle, Caitlan Coleman and their young children and call for their unconditional release," O'Shaughnessy responded.
Jim and Lyn Coleman, Caitlan's parents, pleaded with Taliban officials to release their daughter in a message shared with Circa News Network in July.
"As a man, father and now grandfather, I am asking you to show mercy and release my daughter, her husband, and our beautiful grandchildren," Jim Coleman asked.
"Please grant them an opportunity to continue their lives with us, and bring peace to their families."
Coleman also shared what he would like to tell Taliban leader Mawlawi Habitullah Akhundzada, if he could meet him in person:
"I'm sure that you who are holding my daughter probably are feeling the same way about your families, and I think we have a bond there where we are no different in that respect."
Caitlin Coleman reportedly last sent a letter to her family in November 2015, announcing the birth of her second child, and asked her parents not to forget her.
"Give my love to each member of the family, and share this letter with everyone. Claire, as silly as it sounds, I wish you were here with me. Mom, I'd love to hear about all your cooking in delicious detail," the kidnapped woman wrote, referencing her younger sister, Claire.