TD Jakes and Christian Entertainers Speak Out Against Libya's Slave Trade (Video)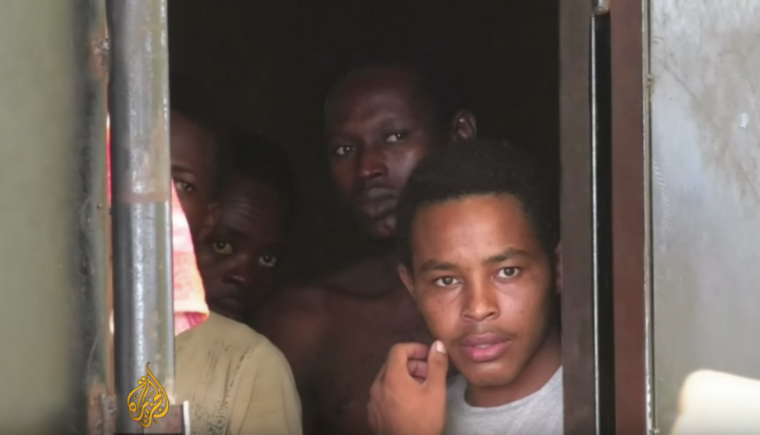 Christian leaders and entertainers are up in arms after hearing that African migrants in present day are being sold into slavery in Libya, Africa.
Last week, CNN published a report claiming that men are being sold to others to carry out farm work in Libya. The news network shared a video, reportedly filmed in August, that shows an auctioneer selling African migrants for only a few hundred bucks.
"Big strong boys," the man is heard saying in the video. "400 ... 700 ... 800."
CNN said the men were sold for just $400 each.
Upon seeing the reports and hearing the news, Senior Pastor T.D. Jakes of megachurch The Potter's House in Dallas, Texas made a video of his own, encouraging his friends in ministry to take a stand.
"Nearly a million migrants have fled into Libya and are being sold into slavery, that's atrocious!" Jakes said. "For the price of $400, a person loses their future, dignity, their pride and sometimes their life."
He then issued a charge to people of every color to speak out and bring an end to this form of human trafficking.
"I've got friends black, white and brown who say, had they lived in slavery times they wouldn't have made it because they would have said something. Well the bad old times are back and I wanna challenge you to say something!" he declared.
"Why aren't we hearing more about this in the press, in the paper, on the news?" Jakes urged. "We've got to say something. We can not be silent, not again."
Actress and Christian Megan Good also shared her reaction toward the news on Instagram.
"This is completely unacceptable!!!!!!!!!!!!!!!!!!!!! WE WILL NOT BE SILENT! WE MUST BAND TOGETHER AND RAISE OUR VOICES! We must do everything within our own and collective power to fight against this!!!!!!"
Popular worship artist Pastor William Mcdowell echoed their sentiments.
"My heart has been burdened as I learned about the horrible things currently happening in Libya," he stated. "I've been to one of the former slave fortresses in Cape Coast, Ghana called 'The point of no return' where slaves were shipped from. I wept then both for the past and because of the realization that this could possibly happen again. And it is happening now. Don't turn a blind eye. Pay attention to it. @bishopjakes has outlined some solutions to how we can add actions along with our prayers. "
Award-winning Gospel artist Kirk Franklin also spoke out, saying, "I know I'm supposed to promote the tour I'm on right now, but that would be a punk move today in light of the horror we've left this country in.... SLAVE TRADING IN 2017..... we must help Libya."
Other people of faith in the industry such as Tasha Cobbs-Leonard and Jeannie Mai also shared their support to finding solutions to end the slave trade in Libya.
"In a law-less country, nearly 1 mil migrants are trapped, (raped, beaten, tortured, and sold) as slaves. For the past 3 yrs more than 150,000 refugees have attempted the treacherous journey from Europe to Libya for freedom but +3,000 people have drowned each of the past four years trying to cross," Mai posted on Instagram.
Since news broke of the trade, it's been reported that the Libyan government has launched an "investigation into slave auctions" in the country. The Department of International Relations and Cooperation also condemned what's happening, calling for its immediate end.
"These inhumane acts are incongruent with the ideals of the African Union and relevant African and international instruments, including the African Charter on Human and Peoples' Rights," the department said in a statement.
To get involved in combating the slave trade, contact International Organization for Migration, the United Nations or visit endslaverynow.org.