Teen Girl Scout Member Calls for Boycott Over Group's Transgender Policy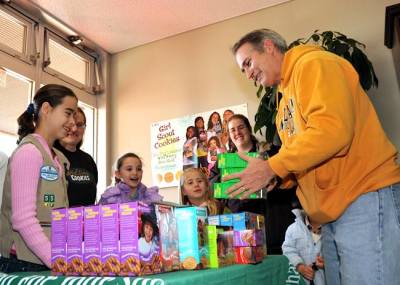 As celebrations for the Girl Scouts' 100-year anniversary continue with the introduction of a new cookie for its 2012 Girls Scouts Cookie Season, one teen member from California, is calling for a nationwide boycott of the nonprofit organization overs its admittance of transgenders.
In a press release sent to religious publications and pro-family groups, a group called HonestGirlScouts.com shares a video of a 14-year-old girl giving her reasons as to why she is calling for Americans to boycott Girl Scout Cookies and voice their disagreement with the organization's inclusion of males who identify as females as troop members.
In the video, the teen lays out her argument for why the Girls Scouts of America should be pressured to change its policies regarding the admittance of youths from kindergarden to 12th grade born males but who identify and live as if they are females.
"Why is GSUSA willing to break its own safety rules and go against its own Research Institute findings to accommodate transgender boys?" the girl asks. "Unfortunately, I think it is because GSUSA cares more about promoting the desires of a small handful of people than it does for my safety and the safety of my friends and sister Girl Scouts."
The girl's family covered her troop number for the video and did not want her identity to be known due to fear of retribution from the organization, Susan Riedley, editor of HonestGirlScouts.com, initially told The Christian Post in an email.
However, the Ventura County, Calif., family had a change of heart and eventually informed CP through Riedley that the girl's name is Taylor and that she belongs to The Girl Scouts of California's Central Coast Council.
Reidley emphasized that Taylor made the video to inform and educate the public to the Girl Scout's controversial policies, and not for notoriety.
The call for a boycot stems from the case involving a Denver mother who, in Oct. 2011, approached a local chapter of the Girl Scouts of Colorado to have her seven-year-old son, whom she claims is transgender, admitted into the program. After media attention over its refusal to grant the mother's request reportedly because her child had "boy parts," the Colorado chapter relented and said it infact welcomes transgenders.
As reported at the time, the Girl Scouts of Colorado said in a statement that it was an "inclusive organization" and had no problem welcoming a child who may "live life as a girl." Rachelle Trujillo, vice president of Communication for Girl Scouts of Colorado, told The Christian Post that when families request membership for their daughters "we do not require proof of gender" in respect of families' decisions.
"We are accelerating our support systems and training so that we're better able to serve all girls, families and volunteers," Trujillo's statement read.
The Girl Scouts of the USA eventually revealed that various chapters throughout the country deal with the issue of female-identifying males joining the organization individually, implying that, in fact, transgenders were already in the girl's program.
"Acceptance of transgender youth is handled on a case-by-case basis, with the welfare and best interests of the child in question as a top priority," the national organization said in a statement.
LGBT-friendly groups sided with the Girl Scouts' decision to change its policy, seeing the Denver mother's desire to have her female-identifying son join the organization.
"If some little kid wants to do little kid things at the Girl Scouts, then they should be allowed to," Mara Keisling, Executive Director of the National Center for Transgender Equality, told Fox News, adding that "the Girl Scouts did the right thing" by accepting the 7-year-old.
Concerned parents overseeing local Girl Scout chapters, however, disagreed. In the wake of the controversy, three local chapters disassociated themselves from the Girl Scouts. Others concerned with the Girl Scouts' policies have also been seeking out alternative groups that reflect their moral and family values, such as the American Heritage Girls organization (which has since seen a boost in membership).
Now, disappointed parents and youth who feel endangered by the Girl Scout's policy to include transgenders are calling for a boycott of the organization's Girl Scout Cookie Program, a $700 million business run entirely by girls who sell the cookies for about $3.50-$4 per box.
The Girl Scouts was founded by Juliette "Daisy" Gordon Low in Savannah, Ga., in 1912. The Girl Scout Cookies being sold this year amid the group's 100th anniversary are called "Savannah Smiles," named so in honor of the girl's organization's founder.
In addition to HonestGirlScouts.com, there are a handful of other groups speaking out against the Girl Scout's acceptance of trasngenders, such as Make the Girl Scouts Clean Again on Facebook. Most groups have been circulating a boycott information flyer that offers information about The Girl Scout's alleged questionable practices and affiliation with certain groups, such as Planned Parenthood.
On HonestGirlScouts.com's Facebook page, a 19-year-old former Girl Scout member named Amber Dawn Johnson expresses her concern with the organization, and her desire to simply have the Girl Scouts reformed and not "eliminated."
"When I've posted material that you guys put up, one of my FB friends (who also was my Girl Scout leader when I was a kid) is upset and thinks I'm attacking the Girl Scout program and has called me intolerant," Johnson wrote. "I personally am NOT attacking the program, since I benefited a lot from being a Girl Scout for 12 years, but I feel that the national leadership either needs to be changed completely or that the materials need to be dramatically altered back to the way they were without the sexuality and pro-abortion nonsense. That's why I am a part of this group."