Teenage Missionary Charged With Raping Children at African Orphanage; Lawyer Says He Was Victim of 'Psychological Voodoo'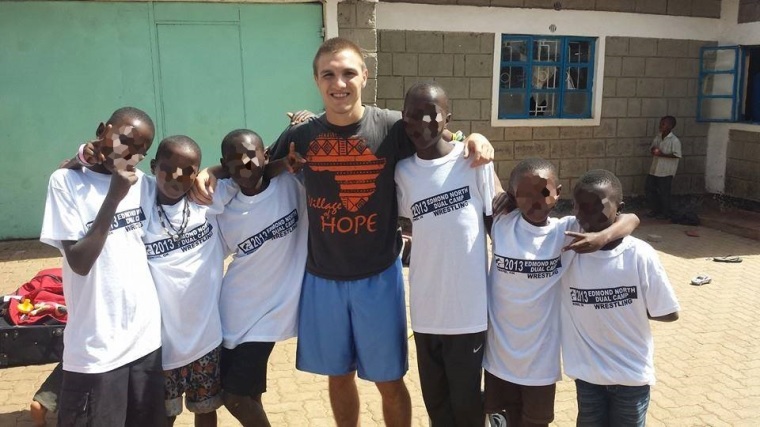 A teenage missionary from Edmond, Oklahoma, said to be struggling with pornography and homosexuality, is now facing life in prison after he allegedly raped underage girls and forced young boys to perform oral sex on him at a Kenyan orphanage while other children watched. His lawyer charges, however, that he was the victim of "psychological voodoo."
In a press release Monday the FBI revealed that the teenager, Matthew Lane Durham, 19, was arrested last Thursday and appeared before a United States Magistrate Judge on Friday. He is being held without bond and a preliminary hearing is scheduled for Aug. 1.
"This is a young man in our community that made choices to exploit children in an orphanage," said U.S. Attorney Sanford Coats in a KTLA5 report. "It's a true tragedy all the way around."
The criminal complaint against Durham alleges that he assaulted the children, at least one of whom is HIV-positive, while he was a volunteer with the Christian charity project, Upendo Children's Home in Nairobi, Kenya. Upendo was founded by a Christian Kenyan-American couple now living in Edmond. The home specializes in helping neglected Kenyan children through the provision of food, clothes, shelter, school and religion. It is funded through donations and sponsorships, and often sought American volunteers from an Oklahoma church, which is unnamed in the complaint.
Durham is alleged to have volunteered with Upendo in June of 2012, June of 2013, December of 2013, and from April 30 through June 17.
In April, Eunice Menja, who founded Upendo with her husband, had nothing but praise for Durham and his Christian character in a Facebook post just before he left for Kenya.
"Team Upendo Kids is stronger each day because of men such as Matthew Durham. I had the opportunity to pray over this man of God who is headed to Kenya today. Our kiddos at Upendo Chidren's home will be thrilled to see you. Sshhhh-what a surprise to them!" she wrote in the Facebook post.
"I am humbled beyond words. Matthew, your love for these kids is really amazing, and every time you go an extra mile for Upendo kiddos, it brings joy into my heart. As I ask my Facebook friends to pray for your safety, I also want the world to know how blessed our kids are to know you as their big brother and an encourager," she continued.
"You are the reason why we will not stop to make a difference in their lives. Go with the peace of God and remember the angels are sleeplessly watching over you. The armies of heaven are rising up to hinder every power of darkness from reaching to you because you are a faithful servant. #journeymercies till we see you soon," it ended.
According to the complaint, however, a darkness did reach Durham on that trip and he committed grave deeds.
"For the latest trip to Kenya, Durham specifically requested to stay at the children's home in an 'overflow bunk,' rather than an offsite facility with a sponsor family. Durham explained that he would be in a better position to assist the children if he stayed with them at the facility," it said.
The complaint explains that a live-in caretaker at the home first noticed odd behavior from Durham toward the children in early June. He reportedly stayed with the children in their beds late at night and often gave them "lingering embraces."
When the caretaker inquired about Durham's behavior, "several of the children stated Durham often touched them in a sexual manner or told them to touch themselves while he watched."
The founder of the home was told about the allegations and confronted Durham in early June. He denied the allegations "but admitted to be struggling with homosexuality and child pornography."
On June 17, however, after the founder and several church members confronted Durham, he broke down and admitted he performed sex acts on several of the children who are between the ages of 4 and 10. The founder videotaped Durham's confession and when his confession became too unbearable for her to listen, she asked him to write it down.
"I would take her to the bathroom at night and would hold her down and rape her. This happened on several occasions. I also made her watch me do things to [child's name withheld for privacy reasons]. I told her never to tell anyone, and that I loved her," the complaint said Durham wrote.
"I took her to the bathroom and force [sic] her to have sex with me. This happened on more than one occasion. I made her swear to never tell anyone. Any time I try to read the Bible or pray, this image comes to my head," he added.
Durham's attorney, Steven Jones, told NewsOK that, "the affidavit is shot through with inaccuracies."
"The events that occurred in Kenya the last maybe five, six days that Matt was there frankly reveal some sort of pseudo-tribal psychological voodoo practiced on him, including confiscating his passport, false imprisonment, keeping food from him one day, delay in allowing him to depart from the country, misleading his parents. I don't think Hollywood could make up what happened at this so-called orphanage.
"We're on the ground in Kenya now. We're finding out a lot about these people. This place is right on the outskirts of Nairobi. It's like some cult over there," Jones said.
READ FULL DETAILS FROM THE AFFIDAVIT BELOW: