Texas Church Slaughter: Christians Decry 'Demonic Act;' Trump Says Mental Health, Not Guns to Blame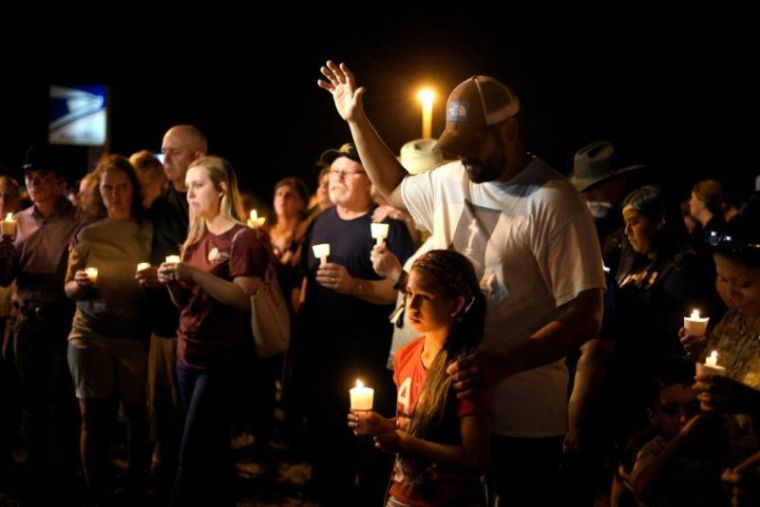 Christian leaders have decried the mass shooting at First Baptist Church of Sutherland Springs, Texas, on Sunday, which left 26 worshipers dead, as a "demonic act." 
"Shirley and I are heartbroken by today's horrific church shooting. Words cannot express the sorrow we feel for the residents of this small Texas community that has been ripped apart by a truly heinous and senseless act. Tragically, as one pastor said when interviewed, this was a demonic act of wanton murder. Indeed it was," Dr. James Dobson, founder and president of Family Talk, said in a statement following the mass shooting.
Sunday's slaughter, which took place in a small town of just a few hundred people, is "the largest mass shooting" in the state's history, according to Texas Gov. Greg Abbott. At least eight of the victims were members of the same family, CNN reported. The 14-year-old daughter of the church's pastor, Rev. Frank Pomeroy, was also killed.
"There were many other personal tragedies within this small town, where most of the residents knew each other. I grew up in that part of Texas and I loved the humble families who lived in that part of the State," Dobson said.
"Now I ask people of faith to express their heart-felt prayers on behalf of those who are grieving. Psalm 34:18 is written for them: 'The LORD is close to the brokenhearted and saves those who are crushed in spirit.'"
Several media sources, including Fox News, identified the shooting suspect as 26-year-old Devin Patrick Kelley, who was shot dead after opening fire in the church Sunday morning. Kelley previously served in the U.S. Air Force. He was court-martialed in 2012 for assaulting his wife and his child.
Kelley received a bad conduct discharge from the Air Force due to his actions and was confined for 12 months.
President Donald Trump, speaking from Tokyo, said at a joint news conference that he believes mental health is to blame for the shooting.
"Mental health is your problem here," Trump said, adding that "preliminary reports" depict the shooter as "a very deranged individual."
"This isn't a guns situation. This is a mental health problem at the highest level. It's a very, very sad event."
Trump earlier called the shooting an "act of evil."
"We cannot put into words the pain and grief we all feel and we cannot begin to imagine the suffering of those who lost the ones they love," Trump said.
Texas Gov. Greg Abbott joined more than 100 people who gathered after dark for a prayer vigil on Sunday at a corner not far from First Baptist Church.
"The people of this church are wonderful people," said one man, Mike Gonzales, who lives nearby.
"We're coming together to pray for them and show the world that now, in the midst of darkness, there is light."
Dr. Ronnie Floyd, the senior pastor of Cross Church and president of the National Day of Prayer, commented on the tragic shooting:
"When attacks of hate and terror happen in our places of worship, they shake us to the core. We must beg God for His mighty hand of protection on our nation and the world. May God be with the victims of this shooting. Only God is our refuge in these times of trouble."
Catholics joined in the mourning, with Cardinal Daniel N. DiNardo, of Galveston-Houston, president of the United States Conference of Catholic Bishops, warning that there is a grave problem within society.
"With Archbishop Gustavo García-Siller, I extend my prayers and the prayers of my brother bishops for the victims, the families, the first responders, our Baptist brothers and sisters, indeed the whole community of Sutherland Springs. We stand in unity with you in this time of terrible tragedy -- as you stand on holy ground, ground marred today by horrific violence," DiNardo said.
"This incomprehensibly tragic event joins an ever-growing list of mass shootings, some of which were also at Churches while people were worshiping and at prayer. We must come to the firm determination that there is a fundamental problem in our society," he continued.
"A Culture of Life cannot tolerate, and must prevent, senseless gun violence in all its forms."