Texas churches pray for rain as dogged drought conditions linger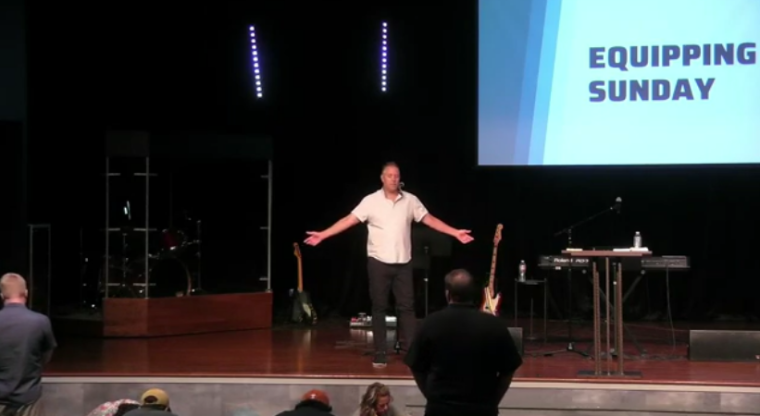 "We believe that it is the time of rain in our region, so we are asking/petitioning the Father for rain."
Pastor Tim Darnell of Hill Country Church is going straight to the source as extreme drought conditions persist across central Texas. 
Darnell and his congregation spent the last week praying for rain at their local courthouse in San Marcos, just outside the Austin metro area in Hays County. It's been this way over the last few months as Darnell's church has engaged other local pastors to "consistently" pray for rain.
And undoubtedly, Hays County could use the prayer.
According to official data, 100% of the county still remains in drought after experiencing the third-driest July in nearly 130 years of record-keeping. The region has seen its annual rainfall total cut by about 4.5 inches this year.
In fact, January through July marked the 35th driest year to date — and no sign that things will change anytime soon.
So Darnell says he's heeding the words found in the epistle of James — "the prayer of the righteous is powerful and effective" — and doing what Elijah the prophet did: cry out to God and trust Him to act.
"We can pray from faith that God has created the earth to bear the fruit in season," Darnell told The Christian Post via email. "We are then praying for the blessing God has in store for the land. We pray for rain out of the desire for our region to be blessed and fruitful that all would see the goodness of God."
Drought conditions in Hays County have extended into neighboring areas, forcing the closure of a swimming area at Blue Hole Regional Park in Wimberley, roughly 10 miles northeast of San Marcos.
Officials say the swimming area will be closed because the water depth is no longer safe, according to KSAT-TV.
And with a drought impacting ranchers and other businesses in the area, Darnell said he would continue to point people to the One who sends rain upon the just and the unjust alike.
"One of our highest beliefs is that we are called to be the light of the world in all seasons, metaphorically in drought or in abundance of rain or in hard times or victories," he explained. "God has called his church to display his glory — nature — to all those around us. 
"We want to display the truth that the Father cares for all people and that He sends rain on all."
It's in the season of drought, Darnell added, that the world can more closely see the light of Christ in His people. 
"It is not the avoidance of difficulties but how we look to Him in the midst of challenge that will inspire others to look to God in all circumstances," he said.
Last month, Texas Gov. Greg Abbott issued a wildfire disaster declaration in response to persistent fire conditions that have left roughly 8,500 acres burned statewide as of Aug. 1.
"Cecilia and I continue to pray for the brave first responders who are responding to these dangerous wildfires and others across Texas and our country as they answer the call to protect and serve their fellow Americans," Abbott said in a statement.
The governor's declaration covered 205 Texas counties — roughly 75% of the state — including some of Texas' most populated counties such as Austin and Dallas counties.