Texas Lesbian Couple Carried Same Baby in Medical First; Bioethics Center Warns It Could Cause Harm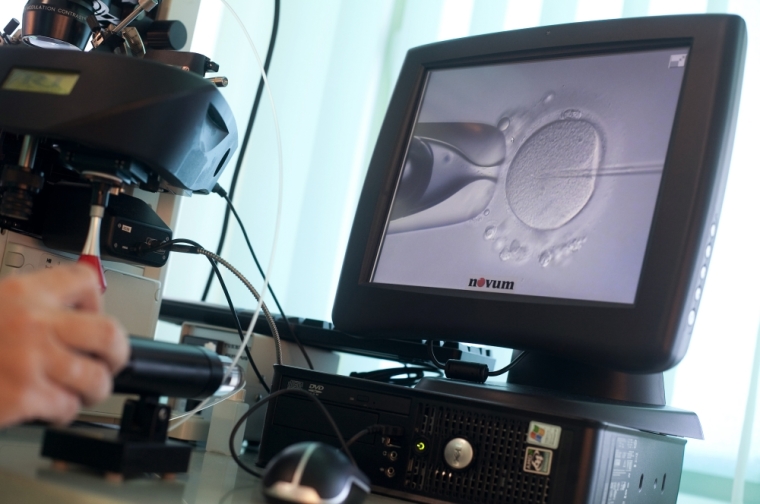 A lesbian couple from Texas reportedly carried the same baby in what is believed to be a "medical first" through reciprocal in-vitro fertilization.
A Christian bioethics center has warned that technological manipulations of the embryo could cause harm to the baby, however.
USA Today reported that the married same-sex couple, Ashleigh Coulter, 28, and Bliss Coulter, 36, wanted to find a way in which they could both become mothers to the same baby.
Fertility specialists Dr. Kathy Doody and her husband, Dr. Kevin Doody, of the CARE Fertility in Bedford, Texas, explained that they made that goal happen by starting with traditional IVF.
"Bliss went through the stimulation of her ovaries and the egg harvest," Kathy Doody said.
"Instead of placing the sperm and Bliss' eggs into incubators in a lab, which is called reciprocal IVF and has been carried out for same-sex couples for years, they go into the chamber of the INVOcell device immediately after egg retrieval. The device is placed into Bliss' body for five days where early embryo development begins," the article explains.
Later in the process, Coulter had her uterus evaluated, was given estrogen and then progesterone, before her wife's embryos were transferred to her body, which made her pregnant.
"She got to carry him for five days and was a big part of the fertilization, and then I carried him for nine months," Coulter said. "So that made it really special for the both of us — that we were both involved. She got to be a part of it, and I got to be a part of it."
Paige Comstock Cunningham, executive director of The Center for Bioethics & Human Dignity, which provides a Christian conception of bioethics, warned in comments to The Christian Post that such a procedure could have complications, however.
"Reciprocal IVF" is a form of assisted reproduction used by lesbian couples, where one woman provides the egg that is fertilized by sperm from a male selected by the intended parents. The other partner gestates and gives birth to the child. While the stated desire is for both women to be connected to their child, is this in the child's best interests?" Comstock told CP.
She pointed to a survey of nearly 80 studies that showed that where there is a genetic "mismatch" between the woman's body in an egg donation (ED) pregnancy, there are higher health risks for both mother and child.
"More recent studies have identified risks to the child where the egg donor is not the one who gives birth to the child: a blood-related autoimmune disease, prematurity, low birthweight, and caesarean section. There are no known long-term studies of risks to mother or child."
Comstock stated that "this new variation — where one woman carries the new embryo (in a device) in her body for a few days before transfer to the other partner's womb — is yet another technology that treats the developing child as a project of medical technology, rather than as the fruit of procreation. Each technological manipulation of the embryo, however well intended, opens the door to increased harm."
"This is not a routine reproductive intervention. Nor is it medically necessary. It is not designed to cure any disease or protect the health of either mother or child. It is medical experimentation upon a future child, without the ethical safeguards put in place to protect human subjects of research," she stated.
"Why would parents risk unnecessary harm to their own child?"
When it comes to religious objections against the procedure, Kathy Doody pushed back against critics, however.
"Well, I would respectfully disagree," she told USA Today.
"I think that family, relationship, children is exactly everything that was meant to be in our world."
The Coulters say that they gave birth to a baby boy, now 5 months old, who is "happy and healthy."