'The Masked Saint' True Story of Pro Wrestler-Turned-Pastor Aims to Bring People to Christ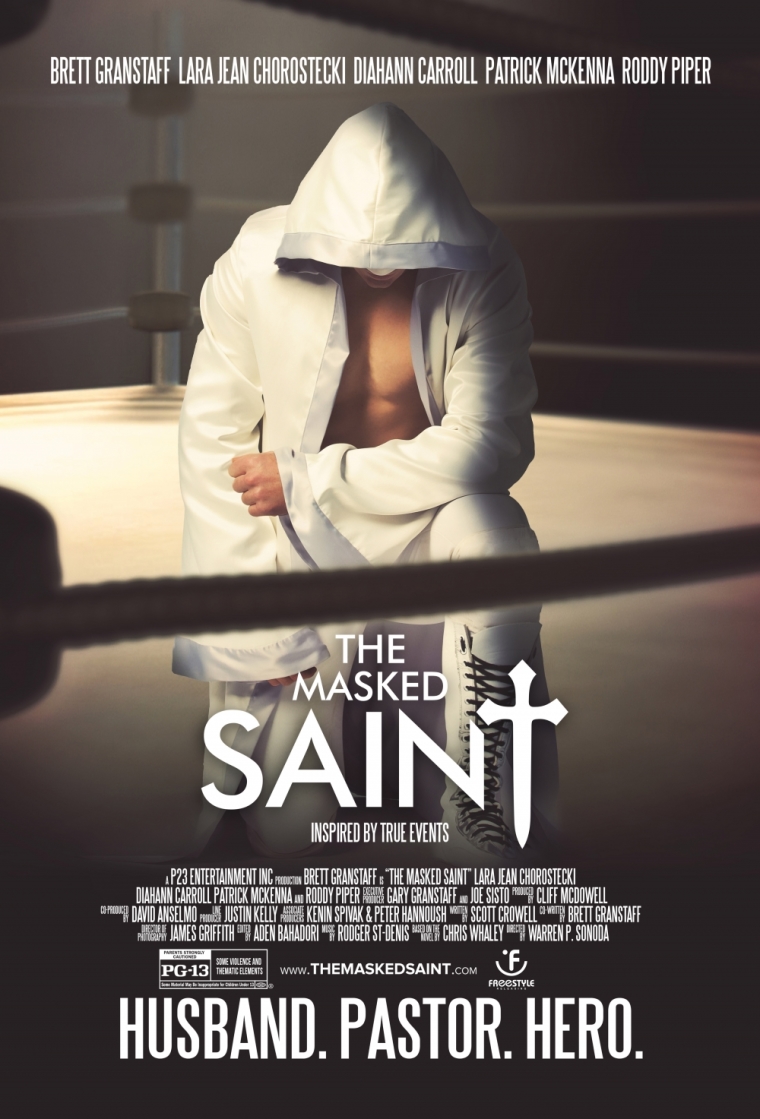 "The Masked Saint" hits theaters Friday and lead actor Brett Granstaff says the film's message, told through the lens of wrestling, will reach a whole new audience.
"For people that say wrestling is bad or movies are bad, well, my gift is story telling and making movies, and maybe that's where God wants me to bring the Word to more people," Granstaff told The Christian Post.
"I think God gives a gift to everyone. Anyone can use a talent to help people find Christ," he said. "If you look at this movie, it might not be the typical faith-based movie [but] one of the reasons I wanted to do this film was because I think Christian films in general kinda preach to the choir."
"The Masked Saint" stars Granstaff ("Vice") as Christopher 'The Saint' Samuels, who retires from the ring to settle down as a small town pastor. When Samuels witnesses rampant problems in the community, he decides to moonlight as a masked vigilante fighting injustice. While facing crises at home and at the church, Samuels must evade the police and somehow reconcile his secret, violent identity with his calling as a pastor.
"What it shows is the journey," Granstaff said. "As the church gets better he gets better, so it was a lot of symbolism in terms of finding yourself and second chances. It was a second chance going from a pro-wrestling career to a preacher."
The 35 year old told CP he was intrigued by the script because of how different it was.
"Unless you're a hardcore believer you're probably not going to see a faith-based movie," he said. "But there's always other people out there who love to go to movies. They might not go to church or have Christ in their life or even be exposed to the Lord in any type of way, but they go see movies. So why not do a movie that isn't a beat you over the head type Christian film, [but] that's filled with Christian values that has something else that can draw people into the theater [on] the secular side."
"I do big Hollywood movies — that's my normal thing. But I'm also a person a faith so I wanted to use this to say, 'Let's do a movie that has Hollywood values (so the production value is high), Hollywood storytelling, and lets try and bring in some people that wouldn't normally go see a Christian movie and maybe they'll be touched by the Lord," he added.
Granstaff is the president of Ridgerock Entertainment Group, and is charged with the overall production strategy of the firm. "The Masked Saint" is the first of many faith-based films that was produced by Ridgerock Entertainment Group's newly formed "Ridgerock Faith." Granstaff also served as writer for the film.
"God has given me a talent for filmmaking and I'm hopefully going to use that to bring Christ to more people." the multitalented actor asserted.
The family-friendly action flick features a lot of live wrestling scenes in which Granstaff says he got to do his own stunts.
James Preston Rogers "The Reaper" plays Granstaff's opponent in the film. Standing at 6 feet 5 inches tall, the hulking, muscular actor worked with Granstaff to help improve his wrestling by using the professional skills he attained at the WWE's training camp.
jeannie.law@christianpost.com